Handley Page H.P.42 Video - Newsreel
Handley Page H.P.42 Video - Documentary clip
Handley Page H.P.42 Aircraft Information
Handley Page H.P.42
HP.42 / HP.45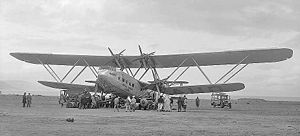 Picture - Handley Page H.P.42 G-AAUD Hanno
Role: Civilian airliner
Manufacturer: Handley Page
First flight: 14 November 1930
Introduced: June 1931
Retired: 1940 (all lost)
Primary users: Imperial Airways Royal Air Force
Number built: 4 HP.42, 4 HP.45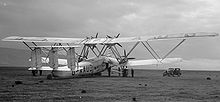 Picture - Hanno ready for takeoff.
The Handley Page H.P.42 and H.P.45 were British four-engine long-range biplane airliners designed to a 1928 Imperial Airways specification by Handley Page of Radlett in Hertfordshire.
The H.P.42/45 were the land-based airliners of Imperial Airways and along with the airline's later flying boats are well remembered. Eight aircraft were built, four of each type; all were named, with names beginning with the letter "H". One was destroyed in an airship hangar fire in 1937 but the remainder survived to be impressed into Royal Air Force service at the outbreak of the Second World War. No lives were lost in civilian service (a record thought to be unique for contemporary aircraft) but by 1940 all had been destroyed.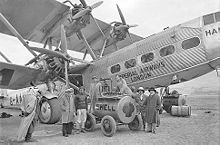 Picture - Refuelling Hanno, showing more detail.
Design and development
The H.P.42 was designed for the long-range, Eastern routes and the similar H.P.45 was built for the European routes. In Imperial Airways service, the H.P.42 was designated the H.P.42E (E for "Eastern" routes - India and South Africa), while the H.P.45 was called the H.P.42W (W for "Western" i.e. European routes). The H.P.42 and H.P.45 designations were Handley Page's identifiers but this was not commonly known at the time. The H.P.42 was a large unequal-span biplane of all-metal construction except for the fabric coverings of the wings, tail surfaces and rear fuselage. The wings were braced by Warren girders. The tailplane was of biplane configuration with three fins. The H.P.42 was powered by four Bristol Jupiter XIFs of 490 hp (370 kW) each, while the H.P.45 used four Bristol Jupiter XFBM [[supercharged engines of 555 hp (414 kW), greater fuel consumption being traded for more power. In both cases, two engines mounted on the upper wing and one on each side of the fuselage on the lower wing.
The crew compartment was enclosed-a new development-and there were two passenger cabins, one forward and one aft of the wings. The H.P.42 carried six (later 12) in the forward compartment and twelve in the aft. There was substantial baggage room. The H.P.45 seated 18 forward and 20 aft, with reduced baggage capacity.
Operational history
The first flight was on 14 November 1930, by G-AAGX later to be named Hannibal, with Squadron Leader Thomas Harold England at the controls. The certificate of airworthiness was granted in May 1931, permitting commercial service; the first flight with fare-paying passengers was to Paris on 11 June of that year.
When the H.P.42s were finally withdrawn from civil service on 1 September 1939, they had recorded almost a decade of service without causing any major accidents.
Individual aircraft histories
Four H.P.42 and another four H.P.45 aircraft were delivered:
H.P.42
The long-distance H.P.42 was intended for the long-distance Africa and India services. They were based in Cairo.
The prototype, Hannibal's first flight was on 14 November 1930. The aircraft was named after Hannibal Barca, the Carthaginian military commander. It was lost over the Gulf of Oman in RAF service on 1 March 1940 with eight aboard including the First World War ace Group Captain Harold Whistler.
G-AAUC was originally named Hecate after the Greek goddess; it was soon renamed Horsa, after the legendary conqueror of Britain and brother of Hengest. The aircraft first flew on 11 September 1931. It was impressed into No. 271 Squadron RAF as AS981. The aircraft burned after a forced landing on uneven ground at Moresby Parks, near Whitehaven, Cumberland, on 7 August 1940.
G-AAUD, production number 42/3, was named after the Carthaginian explorer Hanno the Navigator, who explored the Atlantic coast of Africa in approx. 570 BC. Hanno first flew on 19 July 1931 and was later converted to a H.P.42(W) (Hannibal class). In Imperial Airways markings, it starred in the 1937 short film Air Outpost - 24 Hours at the City and Airport of Sharjah in the Persian Gulf. The aircraft was impressed into No. 271 Squadron RAF and was destroyed in a gale at Whitchurch Airport, Bristol when it was blown together with Heracles and damaged beyond repair on 19 March 1940.
G-AAUE, production number 42/2, was named after the Roman emperor Hadrian. Hadrian's first flight was on 24 June 1931. On the outbreak of the Second World War, Hadrian was impressed into No. 261 Squadron RAF as AS982, at RAF Odiham. On 6 December 1940, Hadrian was torn loose from its moorings at Doncaster Airport in a gale, cartwheeled, and ended up inverted on a railway track next to the airport. The aircraft was too badly damaged to be worth repairing.
H.P.45
The H.P.45 carried more passengers but with a reduced range and baggage capacity, and was intended for Imperial Airways' European routes.
G-AAXC was named after Heracles, also known as Hercules, who was the son of Zeus and Alcmene in Greek mythology and was noted for his extraordinary strength. Heracles first flew on 8 August 1931 and was impressed into service with the RAF on 3 March 1940. The aircraft was destroyed in a gale on 19 March 1940 at Whitchurch Airport, Bristol, when it was blown together with Hanno and damaged beyond repair.
It stars in Yoko Tsuno's fifth album, Message pour l'éternité, and features in Roy Lockwood's 1934 short Documentary film Airport (a 'day in the life' of London's Croydon Airport).
G-AAXD was named after Horatius, a legendary Roman hero. Horatius first flew on 6 November 1931. In September 1938, Horatius suffered damage to its port undercarriage and lower port wing in a forced landing at Lympne. The aircraft was repaired and returned to service. It was impressed into RAF service in the Second World War. Returning from France on a transport mission on 7 November 1939, the aircraft could not find its destination of Exeter due to bad weather and was forced to make an emergency landing at Tiverton Golf Course; during this, it hit two trees and was destroyed. A four-bladed wooden propeller from the aircraft was salvaged and is now on display at the Croydon Airport Visitor Centre, situated in the former terminal building of Croydon Airport.
G-AAXE was originally named Hesperides, but was soon renamed after Hengist, brother of Horsa and legendary conqueror of Britain. Hengist first flew on 8 December 1931. It was later converted from a European to an Eastern aircraft. Hengist was caught in an airship hangar fire and burned at Karachi on 31 May 1937, making it the only H.P.42/45 not to survive until the Second World War.
G-AAXF was named after Helena, also known as Helen of Troy. It first flew on 30 December 1931. Like Hengist, it was converted to an Eastern aircraft. Helena was impressed into service with No. 271 Squadron RAF in May 1940 . After a hard landing the aircraft was grounded later that year; post-accident inspection condemned the airframe due to corrosion, and it was scrapped in 1941, except for the front fuselage section which was used as an office by the Royal Navy for several years.
Operators
United Kingdom
Imperial Airways
Royal Air Force
No. 271 Squadron RAF

Specifications (H.P.42E)
Data from Handley Page Aircraft since 1907
General characteristics
Crew: 4
Capacity: 24 passengers
Length: 92 ft 2 in (28.09 m)
Wingspan: 130 ft (39.62 m)
Height: 27 ft (8.23 m)
Wing area: 2,989 sq ft (278 m˛)
Airfoil: RAF 28
Empty weight: 17,740 lb (8,047 kg)
Max takeoff weight: 28,000 lb (12,700 kg)
Powerplant: 4x— Bristol Jupiter XIF radial engine, 490 hp (365 kW) each

Performance
Maximum speed: 120 mph (104 knots, 193 km/h)
Cruise speed: 100 mph (87 knots, 161 km/h)
Range: 500 mi (435 nmi, 805 km)
Rate of climb: 790 ft/min (4 m/s)

Gallery of images
A. T. Pannirselvam

Bibliography
Barnes, C.H. Handley Page Aircraft since 1907. London: Putnam, 1976. ISBN 0-370-00030-7.
Barnes, C. H. Handley Page Aircraft Since 1907. London: Putnam & Company, Ltd., 1987. ISBN 0-85177-803-8.
Clayton, Donald C. Handley Page, an Aircraft Album. Shepperton, Surrey, UK: Ian Allan Ltd., 1969. ISBN 0-7110-0094-8.
Jackson, A.J. British Civil Aircraft since 1919. London: Putnam, Second edition, 1973. ISBN 0-370-10010-7.
Swanborough, Gordon. "H.P. 42: First of the million milers". Air International, Vol. 42 No. 3, March 1992, pp. 139-144. ISSN 0306-5634.

Handley Page H.P.42 Pictures and Handley Page H.P.42 for Sale.
Living Warbirds: The best warbirds DVD series.
Source: WikiPedia