Handley Page H.P.54 Harrow Video - Picture
Handley Page H.P.54 Harrow Aircraft Information
Handley Page H.P.54 Harrow
H.P.54 Harrow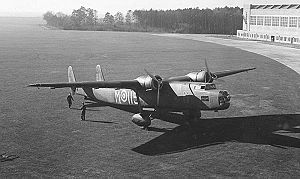 Picture - Harrow of No. 115 Squadron RAF
Role: Heavy bomber
Manufacturer: Handley Page
Designed by: G.V. Lachmann
First flight: 10 October 1936
Introduced: 1937
Retired: 1945
Primary users: RAF Fleet Air Arm
Produced: 1936-1937
Number built: 100

The Handley Page H.P.54 Harrow was a British heavy bomber of the 1930s built by Handley Page and used by the Royal Air Force, being used for most of the Second World War as a transport. It was a twin-engine, high-wing monoplane with a fixed undercarriage.
Development
The H.P. 54 Harrow was the production version of the earlier Handley Page H.P.51 design, itself a monoplane conversion of the three-engined Handley Page H.P.43 biplane. The two monoplanes were both designed by Dr. G.V. Lachmann. Initially Handley Page intended to offer the H.P.51 to Air Ministry specification C.26/31 for a bomber-transport, then saw the H.P.54 as a more likely winner. In the end neither type was a candidate for C.26/31, since in June 1935 the Air Ministry, anxious to expand and modernise the RAF wrote specification B.29/35 around the Harrow, emphasising its bomber role though retaining its transport capability. In August, 14 months before the first Harrow flew, the Ministry put in an order for 100 aircraft. Powered by Bristol Pegasus X engines of 830 hp (620 kW), the first Harrow flew on 10 October 1936 from Radlett. The Harrow was designed to have powered nose, dorsal and tail turrets, and carried a bomb load of 3,000 lb (1,400 kg) under the cabin floor.
Operational history
The first Harrow was delivered to No. 214 Squadron RAF on 13 January 1937, with all 100 delivered by the end of the year, with five bomber squadrons of the RAF being equipped with the Harrow. The Fleet Air Arm ordered 100 Harrows but Handley Page lacked the production capacity to supply them. Despite being fitted with cabin heating by steam boilers using exhaust heat, the Harrow gained a reputation of being a cold and draughty aircraft owing to the turret design. As the delivery of more modern bombers increased, the Harrow was phased out as a front-line bomber by the end of 1939, but continued to be used as a transport. 271 Squadron was formed on 1 May 1940 with a mixture of Harrows, Bristol Bombays and impressed civil aircraft. While the other aircraft equipping 271 squadron were replaced by Douglas Dakotas, it retained a flight of Harrows (sometimes nicknamed "Sparrows" due to their new nose fairings to give a more streamlined fuselage) as transports and ambulance aircraft until the end of the Second World War in Europe.
Harrows were used occasionally to operate risky flights between England and Gibraltar, two being lost on this route . Harrows were used to support the Allied forces in their advance into Northwest Europe, being used to evacuate wounded from the Arnhem operation in September 1944. Seven Harrows were destroyed by a low level attack by Luftwaffe fighters of JG 26 and JG 54 on Brussels-Evere airfield as part of Operation Bodenplatte, the German attack on allied airfields in North West Europe on 1 January 1945 , leaving only five surviving Harrows. These were eventually retired on 25 May 1945.
The Harrow also served in a novel operational role at the height of the German night Blitz against Britain in the winter of 1940-1941, with six Harrows equipping No. 420 Flight RAF (later to become No. 93 Squadron RAF) which used lone Harrows to tow Long Aerial Mines (LAM) into the path of enemy bombers. The LAM was an explosive charge on the end of a long cable. This unorthodox tactic was credited with the destruction of six German Bombers or 4-5, depending on the source The experiment was however judged of poor value and the planned deployment of Douglas Havocs in the LAM role cancelled. Nine Harrows were also used by 782 Naval Air Squadron, Fleet Air Arm as transports . After flight refuelling trials, three Harrows were operated by Flight Refuelling Limited. They were used to refuel Short Empire Flying Boats on transatlantic services, two were based in Gander, Newfoundland and one based in Foynes, Ireland. In 1940, the two aircraft based at Gander were impressed into service with the Royal Canadian Air Force.
Variants
Harrow Mk.I Powered by two 830 hp (620 kW) Bristol Pegasus X engines, 19 built. Harrow Mk.II Powered by two 925 hp (690 kW) Pegasus XX engines, 81 built.
Operators
Canada
Royal Canadian Air Force

United Kingdom
Royal Air Force
No. 37 Squadron RAF
No. 75 Squadron RAF
No. 93 Squadron RAF
No. 115 Squadron RAF
No. 214 Squadron RAF
No. 215 Squadron RAF
No. 271 Squadron RAF
No. 420 Flight RAF
No. 1680 Flight RAF
Fleet Air Arm
782 Naval Air Squadron
Flight Refuelling Limited

Specifications (Harrow II)
Data from P Lewis, The British Bomber since 1914
General characteristics
Crew: Five
Capacity: 20 fully equipped soldiers or 12 stretcher cases (used as transport)
Length: 82 ft 2 in (25.05 m)
Wingspan: 88 ft 5 in (26.96 m)
Height: 19 ft 5 in (5.92 m)
Wing area: 1,090 ft² (101.3 m²)
Empty weight: 13,600 lb (6,180 kg)
Loaded weight: 23,000 lb (10,500 kg)
Powerplant: 2x— Bristol Pegasus XX nine-cylinder radial engine, 925 hp (690 kW) each

Performance
Maximum speed: 174 kn (200 mph, 322 km/h)
Cruise speed: 142 kn (163 mph, 262 km/h)
Range: 1,096 nmi (1,260 mi, 2,029 km)
Service ceiling: 22,800 ft (6,950 m)
Rate of climb: 710 ft/min (3.6 m/s)
Wing loading: 21.1 lb/ft² (103 kg/m²)
Power/mass: 0.0804 hp/lb (0.132 kW/kg)

Armament
Guns: 4 x— 0.303 in (7.7 mm) Lewis Guns
Bombs: Up to 3,000 lb (1,400 kg) of bombs internally.

Havoc Mk I (Pandora) intruder - also used for Long Aerial Mine (LAM) operations

Comparable aircraft
Armstrong Whitworth Whitley
Bristol Bombay
Junkers Ju 52

Related lists
List of aircraft of the RAF

Bibliography
Barnes, C.H. Handley Page Aircraft since 1907. London: Putnam Publishing, 1987. ISBN 0-85177-803-8.
Clayton, Donald C. Handley Page, an Aircraft Album. Shepperton, Surrey, UK: Ian Allan Ltd., 1969. ISBN 0-7110-0094-8.
Lewis, Peter. The British Bomber since 1914. London: Putnam Aeronautical Books, 1980. ISBN 0-370-30265-6.
Mason, Francis K. The British Bomber since 1914. London: Putnam Aeronautical Books, 1994. ISBN 0-85177-861-5.
Mondey, David. The Hamlyn Concise Guide to British Aircraft of World War II. London: Aerospace Publishing, 1994. ISBN 1-85152-668-4.
Thetford, Owen. Aircraft of the Royal Air Force, 1918-57. London: Putnam Aeronautical Books, 1957.

Handley Page H.P.54 Harrow Pictures and Handley Page H.P.54 Harrow for Sale.
Living Warbirds: The best warbirds DVD series.
Source: WikiPedia