Handley Page Heyford Video -
Handley Page Heyford Aircraft Information
Handley Page Heyford
HP.50 Heyford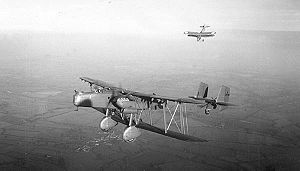 Role: heavy night bomber
Manufacturer: Handley Page Aircraft
Designed by: George Rudolph Volkert
First flight: 12 June 1930
Introduced: 1934
Primary user: Royal Air Force
Produced: 1933 - 1936
Number built: 125

The Handley Page Heyford was a twin-engine British biplane bomber of the 1930s. Although it had a short service life, it equipped several squadrons of the RAF as one of the most important British bombers of the mid-1930s, and was the last biplane heavy bomber to serve with the RAF.
Design and development
The Heyford was built to Air Ministry specification B.19/27 for a heavy night bomber to replace the Vickers Virginia, competing with the Vickers Type 150 and the Fairey Hendon designs. The prototype, the Handley Page HP.38, was designed by Handley Page's lead designer G R Volkert and first flew on 12 June 1930 at Handley Page's factory at Radlett, powered by two 525 hp (390 kW) Rolls-Royce Kestrel II engines driving two-blade propellers.
The aircraft was of mixed construction having fabric-covered metal-frame wings, while the fuselage had an aluminium monocoque forward section with a fabric-covered frame to the rear, with open positions for the pilot and both the nose and dorsal gunners. The Heyford had a novel configuration, with the fuselage attached to the upper wing and the bomb bay in the thickened centre lower wing. This provided a good defensive field of fire for the nose and dorsal guns as well as the ventral retractable "dustbin" turret, each equipped with a single .303 in (7.7 mm) Lewis Gun. The fixed undercarriage consisted of large, spat-covered wheels. The design allowed ground crews to safely attach bombs while the engines were running, but the result was that the pilot was some 17 ft (5 m) off the ground.
The HP.38 proved successful during service trials at Martlesham Heath and with No. 10 Squadron RAF and was chosen as the winner of the B19/27 competition, being ordered as the HP.50 Heyford. Production Heyford Is were fitted with 575 hp (429 kW) Kestrel III engines and retained the two-blade propellers, while the IAs had four-blade propellers. Engine variations marked the main Mk II and III differences; the former being equipped with 640 hp (480 kW) Kestrel IVs, supercharged to 695 hp (518 kW) in the Heyford III.
Operational history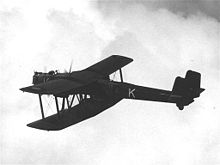 Picture -
The Heyford I entered service with No. 99 Squadron RAF, at RAF Upper Heyford in November 1933, and later with No. 10 Squadron and 7 Squadron, re-equipping with the Heyford IA and II in August 1934 and April 1935 respectively. As part of the RAF's Expansion scheme, orders were placed for 70 Heyford IIIs in 1936, with steam condenser-cooled Rolls-Royce Kestrel VI engines. The delivery of these aircraft allowed the RAF to have nine operational Heyford Squadrons by the end of 1936.
These squadrons of Heyfords formed the major part of Bomber Command's night bomber strength in the late 1930s. Heyfords flew many long night exercises, sometimes flying mock attacks against targets in France. Disaster struck on one of these long-range exercises on 12 December 1936, when a flight of seven Heyfords of No. 102 Squadron RAF flying from Northern Ireland, encountered fog and icy weather conditions as they approached their base at RAF Finningley, Yorkshire. Four crashed and two had to make forced landings resulting in three crewmen killed and three injured.
The Heyford started to be replaced in 1937, with the arrival in service of Armstrong Whitworth Whitleys and Vickers Wellesleys, finally being retired from frontline service in 1939. Some remained flying until 1940 as bombing and gunnery trainers, being declared obsolete in July 1939. At least two examples found experimental use; one for airborne radar and the other for inflight refuelling, and it is reported that one was still flying as late as 1944.
Variants
Heyford I Powered by 575 hp (429 kW) Rolls-Royce Kestrel III engines: 15 built, serial numbers K3489-K3902 (last aircraft built as Mk.II prototype).
Heyford IA Engine support changes, power-driven generator, four-blade propellers: 23 built, serial numbers K4021-K4043.
Heyford II Powered by 640 hp (480 kW) Kestrel IV engines: 16 built, serial numbers K4863-K4878.
Heyford III Supercharged 695 hp (518 kW) Kestrel VI engines: 70 built in two batches, serial numbers K5180-K5199 and K6857-K6906.
For a total of 125 (including the prototype, J9130)
Operators
United Kingdom
Royal Air Force
No. 7 Squadron RAF
No. 9 Squadron RAF
No. 10 Squadron RAF
No. 30 Squadron RAF
No. 38 Squadron RAF
No. 58 Squadron RAF
No. 78 Squadron RAF
No. 97 Squadron RAF
No. 99 Squadron RAF
No. 102 Squadron RAF
No. 148 Squadron RAF
No. 149 Squadron RAF
No. 166 Squadron RAF

Survivors
No aircraft, or significant parts from one, survive. The Royal Air Force Museum has some Heyford components: a pair of main wheels, two blades of a Heyford propeller and tailplane parts of Heyford III, K6875 of 166 squadron, recovered from its crash site in the Peak District.
Specifications (Heyford I)
Data from British Aircraft Directory
General characteristics
Crew: 4 (pilot, Navigator/bomb-aimer/forward gunner, wireless operator/mid-upper gunner, rear-gunner
Length: 58 ft (17.68 m)
Wingspan: 75 ft (22.86 m)
Height: 17 ft 6 in (5.34 m)
Wing area: 1,470 ft² (136.6 m²)
Empty weight: 9,200 lb (4,180 kg)
Loaded weight: 16,900 lb (7,680 kg)
Powerplant: 2x— Rolls-Royce Kestrel III-S (or III-S5) V-12 inline piston engine, 575 hp (429 kW) each

Performance
Maximum speed: 123 kn (142 mph, 229 km/h)
Range: 800 nmi (920 mi, 1481 km)
Service ceiling: 21,000 ft (6,400 m)
Wing loading: 11.5 lb/ft² (56.2 kg/m²)
Power/mass: 0.068 hp/lb (0.111 kW/kg)
Climb to 10,000 ft (3,050 m): 15.3 minutes

Armament
Guns: 3 x— .303 in (7.7 mm) Lewis guns (nose, dorsal and ventral 'dustbin' positions)

Bibliography
Barnes, C. H. Handley Page Aircraft Since 1907. London: Putnam & Company, Ltd., 1987.
Clayton, Donald C. Handley Page, an Aircraft Album. Shepperton, Surrey, UK: Ian Allan Ltd., 1969. ISBN 0-7110-0094-8.
Halley, James J. Royal Air Force Aircraft: K1000 to K9999. Tonbridge, Kent, UK: Air-Britain (Historians) Ltd., 1976. ISBN 0-85130-048-0.
Mason, Francis K. The British Bomber Since 1914. London: Putnam Aeronautical Books, 1994. ISBN 0-85177-861-5.
Moyes, Philip J.R. Bomber Squadrons of the RAF and their Aircraft. London: Macdonald and Jane's (Publishers) Ltd., 1964 ( new edition 1976). ISBN 0-354-01027-1.
Moyes, Philip J.R. The Handley Page Heyford (Aircraft in Profile number 182). Leatherhead, Surrey, UK: Profile Publications Ltd., 1967.
Thetford, Owen. Aircraft of the Royal Air Force 1918-57, 1st edition. London: Putnam, 1957.

Handley Page Heyford Pictures and Handley Page Heyford for Sale.
Living Warbirds: The best warbirds DVD series.
Source: WikiPedia