Handley Page Hyderabad Video - Picture
Handley Page Hyderabad Aircraft Information
Handley Page Hyderabad
Hyderabad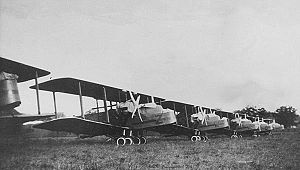 Role: Heavy Bomber
Manufacturer: Handley Page
First flight: October 1923
Introduced: 1925
Retired: 1933
Primary user: Royal Air Force
Number built: 44
Developed from: Handley Page W.8
Variants: Handley Page Hinaidi

The Handley Page H.P.24 Hyderabad was a British twin-engine biplane heavy bomber built by Handley Page which served with the Royal Air Force between 1925 and 1933. It was the last wooden heavy bomber to serve with the RAF.
Design and development
The Hyderabad was a development of the Handley Page W.8 airliner, initially designated the W.8D, to meet Air Ministry Specification 31/22 for a replacement for the Vickers Vimy for the Royal Air Force.
The Hyderabad was structurally similar to the W.8, and was an all-wooden, three-bay biplane powered by two Napier Lion engines. It was fitted with a single fin and rudder, and was one of the first large aircraft to be fitted with Handley Page leading edge slats, giving good lateral stability .
A single prototype W.8D was ordered by the Air Ministry in January 1923, first flying in October 1923 and was delivered to Aeroplane and Armament Experimental Establishment (A & AEE) at Martlesham Heath for evaluation against the Vickers Virginia . On the basis of this evaluation, the aircraft, now called the Hyderabad was ordered for use by the RAF .
Operational history
The Hyderabad entered service with No. 99 (Bomber) Squadron RAF at RAF Bircham Newton in December 1925 , replacing the single engined Avro Aldershot bomber. Deliveries were slow, and accidental losses were high, with a second squadron, No. 10 Squadron RAF at RAF Upper Heyford only forming in 1928 . In 1928 and 1929, two Special Reserve squadrons were formed, receiving the Hyderabad as equipment. The two regular squadrons were re-equipped with the Handley Page Hinaidi, an all-metal development of the Hyderabad in 1931, while the final reserve Squadron, No 503, continued with the Hyderabad in service until 1933..
Operators
United Kingdom
Royal Air Force
No. 10 Squadron RAF
No. 99 Squadron RAF
No 502 (Ulster) Squadron RAF Special Reserve
No 503 (County of Lincoln) Squadron RAF Special Reserve

Specifications (Hyderabad)
Data from The British Bomber since 1914
General characteristics
Crew: Four
Length: 59 ft 2 in (18.04 m)
Wingspan: 75 ft 0 in (22.87 m)
Height: 16 ft 9 in (5.11 m)
Wing area: 1,471 ft² (136.7 m²)
Empty weight: 8,910 lb (4,050 kg)
Loaded weight: 13,590 lb (6,177 kg)
Powerplant: 2x— Napier Lion V or VA twelve cylinder, water cooled "broad arrow" engine, 500 hp (373 kW) each

Performance
Maximum speed: 95 kn (109 mph, 175 km/h)
Range: 435 nmi (500 mi, 805 km)
Service ceiling: 14,000 ft (4,270 m)
Rate of climb: 800 ft/min (4.1 m/s)
Wing loading: 9.24 lb/ft² (45.2 kg/m²)
Power/mass: 0.074 hp/lb (0.12 kW/kg)

Armament
Guns: 3 x— .303 in (7.7 mm) Lewis Guns in nose, dorsal and ventral positions
Bombs: 1,100 lb (499 kg) bombs carried externally

Related development
Handley Page W.8
Handley Page Hinaidi
Handley Page Clive

Comparable aircraft
Vickers Vimy
Vickers Virginia

Related lists
List of aircraft of the RAF

Bibliography
Barnes, C. H. Handley Page Aircraft Since 1907. London: Putnam & Company, Ltd., 1987. ISBN 0-85177-803-8.
Clayton, Donald C. Handley Page, an Aircraft Album. Shepperton, Surrey, UK: Ian Allan Ltd., 1969. ISBN 0-7110-0094-8.

Handley Page Hyderabad Pictures and Handley Page Hyderabad for Sale.
Living Warbirds: The best warbirds DVD series.
Source: WikiPedia