Hawker Hector Video - Westland Lysander - Hawker Hector replacement
Hawker Hector Aircraft Information
Hawker Hector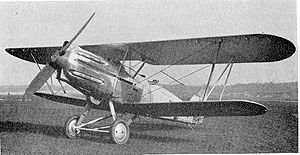 Role: Army cooperation
Manufacturer: Hawker Aircraft
First flight: 14 February 1936
Number built: 179
Developed from: Hawker Hart

The Hawker Hector was intended as a replacement for the Hawker Audax Army co-operation aircraft. Because of the demand for Rolls-Royce Kestrel engines required for the Hawker Hind program, an alternative power plant was specified. Consequently the Napier Dagger III was used.
Although both the design and the building of the prototype was done by Hawkers, the subsequent production aircraft were built by Westland Aircraft in Yeovil, Somerset. The prototype first flew on on 14 February 1936 with George Bulman as pilot. One prototype and 178 production aircraft were built. 13 of these were supplied to Eire in 1941-2.
The Hector equipped seven RAF army co-operation squadrons, but began to be replaced by Westland Lysanders in 1938. The Hectors were transferred to Auxiliary Air Force squadrons; 613 Squadron used theirs to attack German troops advancing through northern France in May 1940. Two aircraft were lost in combat over Calais, before the squadron was evacuated. Hectors were used by the RAF from 1940 as target-towers, and for towing the General Aircraft Hotspur training glider.
Irish Air Corps examples were received after the Dunkirk Evacuation. In general they were in poor condition. They were sold by the British War Office to the Irish Free State upon requests for aircraft. The Irish military were wholly unprepared for major warfare, but still relied almost totally on military supplies from Britain. The defence of Ireland was also in the British interest, but with the Battle of Britain raging in the skies, could afford to sell the Irish Government nothing better than the Hector. The type was deeply unpopular with ground crews due to the complicated nature of the engine, which had 24 cylinders, with 24 spark plugs and 48 valves, all of which required frequent maintenance.
Variants
Hector Mk I : Two-seat army co-operation aircraft for the RAF.

Operators
Ireland
Irish Air Corps

United Kingdom
Royal Air Force
No. 2 Squadron RAF
No. 4 Squadron RAF
No. 13 Squadron RAF
No. 26 Squadron RAF
No. 53 Squadron RAF
No. 59 Squadron RAF
No. 296 Squadron RAF
No. 602 Squadron RAF
No. 612 Squadron RAF
No. 613 Squadron RAF
No. 614 Squadron RAF
No. 615 Squadron RAF

Specifications (Hector)
Data from Hawker Aircraft since 1920
General characteristics
Crew: Two
Length: 29 ft 9¾ in (9.09 m)
Wingspan: 36 ft 11½ in (11.26 m)
Height: 10 ft 5 in (3.18 m)
Wing area: 346 ft² (33.1 m²)
Empty weight: 3,389 lb (1,537 kg)
Loaded weight: 4,910 lb (2,227 kg)
Powerplant: 1x— Napier Dagger III 24-cylinder air-cooled H-block engine, 805 hp (601 kW)

Performance
Maximum speed: 162 kn (187 mph, 301 km/h) at 6,560 ft (1,999 m)
Stall speed: 44 kn (50 mph, 80.5 km/h)
Range: 261 nmi (300 mi, 483 km)
Service ceiling: 24,000 ft (7,815 m)
Wing loading: 14.2 lb/ft² (67.3 kg/m²)
Power/mass: 0.17 hp/lb (0.27 kW/kg)
Climb to 10,000 ft (3,050 m): 5 min 40 s

Armament
Guns:
1 x— forward-firing .303 in (7.7 mm) Vickers machine gun Mk.V
1 x— .303 in (7.7 mm) Lewis gun in the rear cockpit on a Hawker mount
Bombs: Mountings for a camera, flares, and 2 x— 112 lb (50 kg) bombs (or containers)

Related development
Hawker Hart
Hawker Audax

Bibliography
Air Transport Auxiliary Ferry Pilots Notes (reproduction). Elvington, York, UK: Yorkshire Air Museum, 1996. ISBN 0-9512379-8-5.
Crawford, Alex. Hawker Hart Family. Redbourn, Hertfordshire, UK: Mushroom Model Publications Ltd., 2008. ISBN 83-89450-62-3.
Mason, Francis K. Hawker Aircraft since 1920. London: Putnam, 1961 (Third revised Edition 1991). ISBN 0-85177-839-9.
Mason, Francis K. The British Bomber since 1914. London: Putnam. 1994. ISBN 0-85177-861-5.

Living Warbirds: The best warbirds DVD series.
Source: WikiPedia