Hawker Henley Video - Picture
Hawker Henley Aircraft Information
Hawker Henley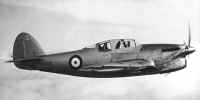 Role: Target tug
Manufacturer: Hawker
Designed by: Sydney Camm
First flight: 10 March 1937
Introduced: 1938
Retired: 1942
Primary user: Royal Air Force
Number built: 200
Variants: Hawker Hotspur

The Hawker Henley was a British two-seat target tug derived from the Hawker Hurricane that was operated by the RAF during the Second World War.
Design and development
In 1934 Britain's Air Ministry issued Specification P.4/34 which called for a light bomber that could also be deployed in a close-support role. Fairey, Gloster and Hawker all rushed to fulfill this need, and competition was tight to attain the highest performance possible.
Seeing as the aircraft required only a modest bomb load, and with performance being paramount, the Hawker design team chose to focus its efforts on developing an aircraft similar in size to the Hurricane fighter. The Hurricane itself was then in an advanced design stage, and it was thus beneficial both economically and production-wise if some assemblies could be common to both aircraft. This resulted in the Henley, as it was to become known, sharing identical outer wing panel and tailplane jigs with the Hurricane. Both were also equipped with the Rolls-Royce Merlin engine as it offered the best power/weight ratio as well as a minimal frontal area. The Henley's cantilever fabric-covered monoplane wing was mid-set, retractable tailwheel type landing gear was selected, and accommodation provided for a pilot and observer/air gunner, which differed from the Hurricane's single-seat accommodation.
Although construction of a Henley prototype began as early as mid-1935, with all priorities going to Hurricane development it was not until 10 March 1937 that it was first flown, powered by a Merlin "F" engine; shortly after the competing Fairey P.4/34. Subsequently the aircraft was refitted with light alloy stressed-skin wings and a Merlin I engine, and further test flights confirmed the excellence of its overall performance. However, the Air Ministry had by this point decided that it no longer required a light bomber, and the Henley was thus re-designated as a target tug. Henley production was subcontracted to Gloster Aircraft, and 200 were ordered into production. The second prototype was fitted with a propeller-driven winch to haul in the drogue cable after air-to-air firing sorties, in recognition of its new role, and was first flown on 26 May 1938.
Operational history

Picture - Hawker Henley deploying drogue target
Production aircraft, designated Henley III, entered service with Nos. 1, 5 and 10 Bombing and Gunnery Schools, as well as with the Air Gunnery Schools at Barrow, Millom and Squires Gate. Unfortunately, it was soon discovered that unless the aircraft were restricted to an unrealistically low tow speed of 220 mph (355 km/h), the rate of engine failures was unacceptably high. This resulted in Henleys being withdrawn from this role and relegated to towing larger drogue targets with anti-aircraft co-operation units. Predictably, the Henley proved to be even more unsuited to this role, and the number of engine failures increased. Several Henleys were lost after the engine cut-out and the drogue could not be released quickly enough. A solution was never found to this problem, and in mid-1942 the Henley was withdrawn from service, and replaced by Boulton Paul Defiants, as well as purpose-built Miles Martinets.
Variants
Henley I Prototype. Henley II Second prototype. Henley III Two-seat target tug aircraft for the RAF, 200 built. Hawker Hotspur Prototype two seater fighter variant of the Henley with a four-gun power-driven turret. This did not reach production, the requirement being met by the Defiant and the Blackburn Roc.
Operators
United Kingdom
Royal Air Force
No. 264 Squadron RAF
No. 266 Squadron RAF
No. 291 Squadron RAF
No. 587 Squadron RAF
No. 595 Squadron RAF
No. 631 Squadron RAF
No. 639 Squadron RAF
No. 679 Squadron RAF
No. 695 Squadron RAF

Specifications (Henley Mk III)
General characteristics
Crew: 2
Length: 36 ft 5 in (11.10 m)
Wingspan: 47 ft 10˝ in (14.59 m)
Height: 14 ft 7˝ in (4.46 m)
Wing area: 342 ft˛ (31.77 m˛)
Empty weight: 6,010 lb (2,726 kg)
Max takeoff weight: 8,840 lb (3,846 kg)
Powerplant: 1x— Rolls-Royce Merlin II inline piston engine, 1,030 hp (768 kW)

Performance
Maximum speed: (with drogue) 272 mph at 17,500 ft (438 km/h at 5,300 m)
Cruise speed: 235 mph at 15,000 ft (378 km/h at 4,500 m)
Range: 950 mi (1,529 km)
Service ceiling: 27,000 ft (8,200 m)
Rate of climb: 1,150 ft/min (340 m/min)
Wing loading: 25.9 lb/ft˛ (121 kg/m˛)
Power/mass: 0.121 hp/lb (0.200 kW/kg)

Boulton Paul Defiant
Blackburn Roc

Related development
Hawker Hotspur

Comparable aircraft
Hawker Hotspur
Hawker Hurricane
Fairey Battle

Bibliography
Cooper, H.J.,O.G. Thetford and C.B. Maycock. Aircraft of the Fighting Powers - Volume II. Leicester, UK: Harborough Publishing, 1942.
Gunston, Bill. Classic World War II Aircraft Cutaways. London: Osprey, 1995. ISBN 1-85532-526-8.
Hannah, Donald. Hawker FlyPast Reference Library. Stamford, Lincolnshire, UK: Key Publishing Ltd., 1982. ISBN 0-946219-01-X.
James, Derek N. Hawker, an Aircraft Album No. 5. New York: Arco Publishing Company, 1973. ISBN 0-668-02699-5. (First published in the UK by Ian Allan in 1972)
Mason, Francis K. Hawker Aircraft since 1920. London: Putnam, 1991. ISBN 0-85177-839-9.
Mondey, David. The Hamyln Concise guide to British aircraft of World War II. London: Hamlyn/Aerospace, 1982. ISBN 0-600-34951-9.

Living Warbirds: The best warbirds DVD series.
Source: WikiPedia