Hawker Hoopoe Video - Picture
Hawker Hoopoe Aircraft Information
Hawker Hoopoe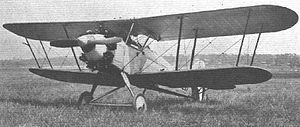 Picture - Hawker Hoopoe, N237.
Role: Prototype naval fighter
National origin: United Kingdom
Manufacturer: H G Hawker Engineering Company Ltd.
First flight: 1928
Status: Scrapped 1932
Number built: 1

The Hawker Hoopoe was a British prototype naval fighter aircraft designed and built in 1927 by Hawker Aircraft.
Service trials found the aircraft to be unsatisfactory, and it was superseded by the same company's Nimrod design.
Design and development
Named after the bird, the Hoopoe was a private venture design proposal to meet Specification N.21/26 although the aircraft did not follow the specification closely. The Hoopoe was a single-seater biplane with an open cockpit and fixed undercarriage. Floats were also later tested.
Redesign of the wings changed the layout from a two-bay biplane to a single-bay configuration. Three engine types were fitted during the short trial period, two variants of the Bristol Mercury were later replaced by an Armstrong Siddeley Jaguar and Panther with an increase in performance.
Trials at Felixstowe in 1929 with floats fitted showed that the aircraft was severely underpowered with the Mercury powerplant, requiring the change to the Jaguar engine. Service interest in the type had waned by autumn 1930 although the single prototype continued in development flying with Armstrong Siddeley and the Royal Aircraft Establishment until 1932 when the Hoopoe was scrapped.
Specifications (Hoopoe - Single bay wings, Panther III)
Data from
General characteristics
Crew: One
Length: 24 ft 6 in (7.5 m)
Wingspan: 33 ft 2 in (10.1 m)
Height: ()
Wing area: 288.5 ft² (26.8 m²)
Empty weight: 2,785 lb (1,263 kg)
Loaded weight: 3,910 lb (1,774 kg)
Powerplant: 1x— Armstrong Siddeley Panther radial piston engine, 560 hp (418 kW)

Performance
Maximum speed: 196.5 mph at 12,000 ft. (316.2 km/h)
Service ceiling: 23,600 ft (7,193 m)

Related development
Hawker Nimrod

Comparable aircraft
Gloster Gnatsnapper

Bibliography
Mason, Francis K. Hawker Aircraft since 1920. London: Putnam, 1991. ISBN 0-85177-839-9

Living Warbirds: The best warbirds DVD series.
Source: WikiPedia