Hawker Hotspur Video - Picture
Hawker Hotspur Aircraft Information
Hawker Hotspur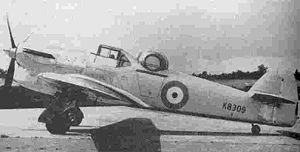 Picture - Hawker Hotspur (BAE Systems photo)
Role: Fighter
Manufacturer: Hawker
Designed by: Sydney Camm
First flight: 14 June 1938
Primary user: Royal Air Force(intended)
Number built: 1
Variants: (Derivative of Hawker Henley)

The Hawker Hotspur was a Hawker Henley redesigned to take a Boulton-Paul semi-powered four gun turret. It was designed in response to Air Ministry Specification F.9/35, which required a powered turret as the main armament to replace the Hawker Demon.
Design and development
In the same fashion as the Henley, the Hotspur utilised standard Hurricane outer wing panels. One prototype aircraft, K8309, was built in 1937, fitted with armament of four 0.303 in (7.7 mm) Brownings in a B-P dorsal turret plus one .303 in (7.7 mm) Vickers gun mounted in the front fuselage. The completion of the prototype was delayed until 1938, by which time the rival Boulton Paul Defiant had already flown. The Hotspur first flew on 14 June 1938 with only a wooden mock-up of the turret and with ballast equivalent to the weight of armament.
Testing and evaluation
As Hawker was committed to the production of Henleys and Hurricanes the project was abandoned. The mock-up turret was removed and a cockpit fairing installed. Planned production by Avro to Specification 17/36 was abandoned and the prototype, with turret removed, served at the RAE Farnborough on miscellaneous test programmes of flap and dive brake configurations until 1942.
Specifications (Hotspur)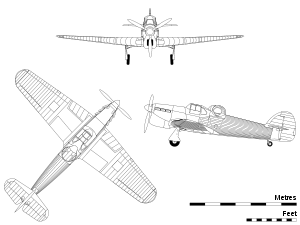 Picture - Orthographic projection of the Hotspur prototype, without armament fitted.
Data from Hawker Aircraft since 1920
General characteristics
Crew: Two (pilot & gunner)
Length: 32 ft 10½ in (10.02 m)
Wingspan: 40 ft 6 in (12.34 m)
Height: 13 ft 10 in (4.22 m)
Wing area: 342 ft² (31.8 m²)
Empty weight: 5,800 lb (2,630 kg)
Max takeoff weight: 7,650 lb (3,470 kg)
Powerplant: 1x— Rolls-Royce Merlin II hp V-12 inline piston engine, 1,030 hp (768 kW)

Performance
Maximum speed: 275 kn (316 mph, 510 km/h)
Service ceiling: 28,000 ft (8,500 m)

Armament
4 x— .303 in (7.7 mm) Browning machine guns in a Boulton-Paul turret.
1 x— .303 in (7.7 mm) Vickers machine gun in nose

Related development
Hawker Henley

Comparable aircraft
Boulton Paul Defiant
Blackburn Roc

Related lists
Bibliography
Brew, Alex. The Turret Fighters - Defiant and Roc. Ramsbury, Marlborough, Wiltshire, UK: Crowood Press, 2002. ISBN 1-86126-497-6.
Hannah, Donald. Hawker FlyPast Reference Library. Stamford, Lincolnshire, UK: Key Publishing Ltd., 1982. ISBN 0-946219-01-X.
James, Derek N. Hawker, an Aircraft Album No. 5. New York: Arco Publishing Company, 1973. ISBN 0-668-02699-5. (First published in the UK by Ian Allan in 1972.)
Mason, Francis K. The British Fighter since 1912. Annapolis, MD: US Naval Institute Press, 1992. ISBN 1-55750-082-7.
Mason, Francis K. Hawker Aircraft since 1920. Annapolis, MD: US Naval Institute Press, 1991. ISBN 1-55750-351-6. (3rd US edition, originally published in the UK by Putnam Aeronautical Books in 1961 and 1971)

Living Warbirds: The best warbirds DVD series.
Source: WikiPedia