Hawker Hunter Video - Takeoff - Miss Demeanor
Hawker Hunter Video - Color historical video
Hawker Hunter Aircraft Information
Hawker Hunter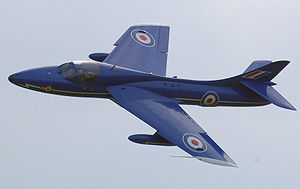 Picture - Privately-owned Hunter T.7 "Blue Diamond"
Role: Fighter and ground attack
National origin: United Kingdom
Manufacturer: Hawker Siddeley
First flight: 21 July 1951
Introduced: 1956
Status: Still in combat roles with Lebanese AF
Primary users: Royal Air Force Indian Air Force Lebanese Air Force Swiss Air Force
Number built: 1,972

The Hawker Hunter was a British jet fighter aircraft of the 1950s and 1960s. The Hunter served for many years with the Royal Air Force and was widely exported, serving with 19 air forces. A total of 1,972 Hunters were produced by Hawker Siddeley and under licence.
Development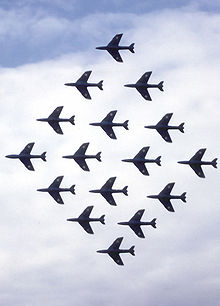 Picture - Sixteen Hunters of the RAF Black Arrows perform aerobatics at the Farnborough Airshow, England (circa 1960)
The origins of the Hunter trace back to the Hawker Sea Hawk straight-wing carrier-based fighter. Seeking better performance and fulfillment of the Air Ministry Specification E.38/46, Hawker Aircraft's chief designer Sydney Camm created the Hawker P.1052, which was essentially a Sea Hawk with a 35-degree swept wing. First flying in 1948, the P.1052 demonstrated good performance but did not warrant further development into a production aircraft. As a private venture, Hawker converted the second P.1052 prototype into the Hawker P.1081 with swept tailplanes and revised fuselage, with a single jet exhaust at the rear. First flying on 19 June 1950, the P.1081 was promising enough to draw interest from the Royal Australian Air Force but development went no further and the sole prototype was lost in a crash in 1951.
Meanwhile, in 1946, the Air Ministry issued Specification F.43/46 for a daytime jet-powered interceptor. Camm took the basic P.1052 design and adapted it for the upcoming Rolls-Royce Avon turbojet. The Avon's major advantage over the Rolls-Royce Nene, used in the Sea Hawk, was the axial compressor, which resulted in a much smaller engine diameter and better thrust. In March 1948, the Air Ministry issued Specification F.3/48, to cover development of the project. Initially fitted with a single air intake in the nose and a T-tail, the project rapidly evolved to the more familiar shape. The intakes were moved to the wing roots, to make room for weapons and radar in the nose. A more conventional tail arrangement was devised, as a result of stability concerns.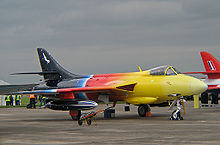 Picture - "Miss Demeanour" - a privately owned Hawker Hunter F 58A in England.
The sequence of project numbers should have caused the Hunter to be the P.1066. However Mr Camm decided not to use 1066 as the name "Hawker Hastings" would come to mind for an aircraft with this number. Handley-Page used the name "Hastings" for their transport aircraft.
The P.1067 first flew from MoD Boscombe Down on 20 July 1951, powered by a 6,500 lbf (28.91 kN) Avon 103 engine from an English Electric Canberra bomber. The second prototype was fitted with production avionics, armament and a 7,550 lbf (33.58 kN) Avon 107 turbojet. It first flew on 5 May 1952. As a back-up, Hawker was asked to adapt the new fighter to another British axial turbojet. The third prototype with an 8,000 lbf (35.59 kN) Armstrong Siddeley Sapphire 101 flew on 30 November 1952. The two Avon-engined aircraft were duck-egg green in color, while the Sapphire prototype was silver.
The Ministry of Supply ordered the Hunter into production in March 1950, a year before the first flight. The first production Hunter F 1 with a 7,600 lbf (33.80 kN) Avon 113 turbojet flew on 16 March 1953. The first 20 aircraft were, in effect, a pre-production series and featured a number of "one-off" modifications such as blown flaps and area ruled fuselage. On 7 September 1953, the sole Hunter Mk 3 (the modified first prototype, WB 188) flown by Neville Duke broke the world air speed record, achieving 727.63 mph (1,171.01 km/h) over Littlehampton. However, the record stood for less than three weeks before being broken by a Supermarine Swift on 25 September 1953.
Design
The Hunter was a conventional all-metal monoplane. The pilot sat on a Martin-Baker 2H or 3H ejector seat. The two-seat trainer version used the Mk 4H ejection seats. The fuselage was of monocoque construction, with a removable rear section for engine maintenance. The engine was fed through triangular air intakes in the wing roots and had a single jetpipe in the rear of the fuselage. The mid-mounted wings had a leading edge sweep of 35° and slight anhedral. The tailplanes and fin were also swept. The controls were completely conventional. A single airbrake was fitted under the ventral rear fuselage. The aircraft had conventional retractable tricycle landing gear.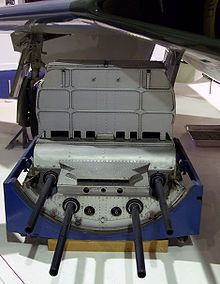 Picture - The Hunters' removable pack for 4x— 30 mm ADEN cannons
A noteworthy feature of the single seat fighter version was the armament of four 30 mm (1.18 in) ADEN cannons. The cannon and ammunition boxes were contained in a single pack that could be removed from the aircraft for rapid re-arming and maintenance. Interestingly, the barrels of the cannon remained in the aircraft when the pack was removed. In the two seat version, either a single ADEN cannon was carried or, in some export versions, two 30 mm (1.18 in) ADEN cannon, with a removable ammunition tank. A simple Ekco ranging radar was fitted in the nose. Later Marks (Mks) of Hunter had SNEB Pods fitted. These were 68 mm (2.68 in) rockets in 18-round Matra pods, giving a strike capability against road convoys and trains.
According to Jonathon "Flapjack" Whaley, veteran Hunter pilot and owner of Hunter F 58A "Miss Demeanour", the type's cockpit layout was never satisfactorily designed to allow ease of use and the problem persisted throughout the development of the aircraft's many variants:
"As later Mks developed, absolutely no attempt seems to have been made to improve the ergonomics. In fact quite the reverse. The approach seems to have been: if something had to be fitted, find a likely spot where it might fit and relocate anything that was in the way. Relocate meant sticking it in a smaller gap somewhere else. It was perfectly normal to have a squadron of aircraft with nearly every aircraft having its armament switches in different places."
"As later Mks developed, absolutely no attempt seems to have been made to improve the ergonomics. In fact quite the reverse. The approach seems to have been: if something had to be fitted, find a likely spot where it might fit and relocate anything that was in the way. Relocate meant sticking it in a smaller gap somewhere else. It was perfectly normal to have a squadron of aircraft with nearly every aircraft having its armament switches in different places."
Operational history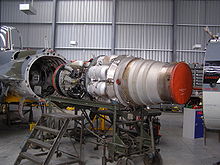 Picture - The rear fuselage can be removed to gain access to the engine for maintenance
The Hunter F 1 entered service with the Royal Air Force in July 1954, and the F 2 very soon after. It quickly became apparent that the new fighter had insufficient fuel capacity. Although the intakes were identical for both Avon- and Sapphire-powered aircraft, the early Avon had poor surge margins and suffered compressor stalls when the cannon were fired, which often resulted in flameouts. The pragmatic but inelegant solution of "fuel dipping", reducing fuel flow to the engine when the cannon were fired, was entirely satisfactory. As gunfiring bursts were rarely more than a second or so, the performance loss was not significant. The 100 series Avon could still surge at high altitude throughout its service if treated roughly, but recovery was achieved simply by throttling back a little. The F 2 produced at the same time which used the Armstrong-Siddeley Sapphire engine did not suffer these problems, but the engines proved to be unreliable for other reasons.
Furthermore, ejected cannon ammunition links had a tendency to strike and damage the underside of the fuselage. The original split flap airbrakes caused adverse changes in pitch trim and were quickly replaced by a single ventral airbrake. Unfortunately, this meant the airbrake could not be used for landings. Finally, the canopy suffered from fogging and icing during rapid descents.
Its short range was crippling for the new British fighter, with a maximum flight endurance of about an hour. On 8 February 1956, a flight of eight Hunters was redirected to another airfield due to inclement weather. Six aircraft ran out of fuel and crashed, with one pilot killed. One of the aircraft that landed ran out of fuel while taxiing. On the positive side, the aircraft possessed good handling characteristics and even the early F 1 version would exceed sonic speed in a 30°-40° dive at full throttle from 40,000 ft (12,192 m) and above with comparatively minor trim changes.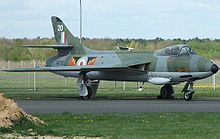 Picture - Hawker Hunter at Luftwaffe Museum - Gatow-Berlin.
The first Hunter prototype was fitted with an afterburning Avon RA.7R with 9,600 lbf (42.70 kN) of thrust and other aerodynamic refinements (most noticeably a pointed nose). Dubbed Hunter Mk 3, on 7 September 1953 it set a speed record of 722.2 mph (628.1 kn, 1,163.2 km/h) over a 1.86 mi (1.62 nmi, 3 km) course.
To address the problem of range, a production Hunter F 1 was fitted with a modified wing which featured bag-type fuel tanks in the leading edge and "wet" hardpoints. This increased the internal fuel capacity from 337-414 Imp gals (404-497 US gal, 1,533-1,833 l). In addition, a single 100 Imp gal (120 US gal, 454 l) external fuel tank could be carried under each wing. The resulting Hunter F 4 first flew on 20 October 1954, entering service in March 1955. A distinctive Hunter feature added on the F 4 was the pair of blisters under the cockpit, which collected spent ammunition links to prevent airframe damage. Crews dubbed them "Sabrinas" after the contemporary movie star. The Sapphire-powered version of the F 4 was designated the Hunter F 5. Although the Sapphire did not suffer from the flameout problems of the Avon and had better fuel economy, it had other problems and the Sapphire-powered Hunters had many engine failures; those versions had very short service lives. The RAF elected to persevere with the Avon in order to simplify supply and maintenance, since the same engine was also used by the Canberra bomber.
The RAF had long wanted more thrust then was available from the Avon 100 series; after the brief flirtation with afterburning on the prototype WB 188, the decision was made to install a bigger engine without afterburner. Rolls-Royce developed the Avon 200 series engine. This was almost wholly a new design, with a new compressor which had no surge problems, annular combustion chamber, and improved fuel control system. The resulting Avon 203 produced 10,000 lbf (44.48 kN) of thrust and was fitted to XF 833, which became the first Hunter F 6. Some other revisions on the F 6 included a revised fuel tank layout, the centre fuselage tanks being replaced by new ones in the rear fuselage, and the "Mod 228" wing, which has a distinctive "dogtooth" leading edge notch to alleviate the pitch-up problem, and four "wet" hardpoints, finally giving the aircraft a good ferry range. The notch reduced spanwise flow of air and prevented tip stalling. The Hunter F 6 was given the designation Hawker P.1099.
The Hunter F 6 was retired from its day fighter role in the RAF by 1963, being replaced by the English Electric Lightning. However, many F 6s were given a new lease of life in the close air support role, after being converted into the Hunter FGA 9 variant. This had a further strengthened wing and greater external fuel and weapons capability. The FGA 9 saw front line use from 1960 to 1971, alongside the closely related Hunter FR.10 tactical reconnaissance variant. The F.6 and FGA.9 continued in service with the RAF at the Tactical Weapons Unit at RAF Brawdy in South Wales and at RAF Chivenor in Devon. A variant of the F 6, the F 6A, was also flown at Brawdy; they were essentially F 6 aircraft with 230 gal (1,045 l) under-wing tanks and brake parachutes fitted. The component squadrons of the TWU were No.63 and No. 234 with No. 79 Squadron acting as the standards organisation and for the training of foreign and Commonwealth students from the Singapore Air Force. The types remained in service until shortly after the Hawk T.1 entered service in the mid-1970s.
Two-seat trainer versions of the Hunter, the T 7 and T 8 remained in use for training and secondary roles by the RAF and Royal Navy until the early 1990s.
In December 2006, the Hunter re-entered RAF service with two ex-Swiss examples leased from a private operator to act as targets for a surface to air missile program. They were allocated RAF serials ZZ190 and ZZ191. This was followed by a two-seat aircraft in April 2007, which reverted to its original RAF serial XF995.
The Hunters were used by two RAF display units, the "Black Arrows" of No. 111 Squadron who set a record by looping and barrel rolling in formation 22 Hunters, and later the "Blue Diamonds" of No. 92 Squadron that used 16 Hunters.
Others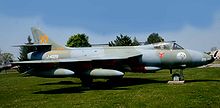 Picture - Former Patrouille Suisse Hawker Hunter F.58A J-4029, at the RCAF Museum, Trenton, Ontario, Canada, circa 2007
Switzerland and Singapore
Perhaps the most enthusiastic Hunter users were Switzerland and Singapore, who used it from 1958 to 1994, both improving it in service and often choosing to retain it in lieu of newer aircraft.
The Swiss AF for some years ran a display team using Hawker Hunter Mk 58s, which performed internationally. Some Hunters in private hands are ex-Swiss AF. (The aerobatic demonstration team of Swiss Air Force is the Patrouille Suisse, which now flies six Northrop F-5E Tiger II jets).
Sweden
In the early 1950s, the Swedish Air Force saw the need for an interceptor that could reach enemy bombers at a higher altitude than the J 29 Tunnan that formed the backbone of the fighter force. A contract for 120 Hawker Hunters was therefore signed in 1954 and the first one was delivered in August 1955. The model was designated J 34 and was assigned to the F 8 and F 18 wings that defended Stockholm. The J 34 was armed with four 30 mm (1.18 in) cannons and two Sidewinders. The Swedish Air Force's aerobatic team Acro Hunters used five J 34s during the late 1950s. The J 34s were gradually replaced by supersonic J 35 Draken and re-assigned to less prominent air wings, F 9 in Gothenburg and F 10 in x"ngelholm, during the 1960s. The last ones were retired in 1969.
A project to improve the performance of the J 34 by installing a Swedish-designed afterburner proved successful in 1958. However, the cost turned out to be prohibitive, so the project was shelved.
Combat history
Middle East
During the Suez Crisis of 1956, Hunters of No. 1 and No. 34 Squadrons based at RAF Akrotiri in Cyprus flew escort for English Electric Canberra bombers on bombing missions into Egypt for just one day before being put on local air defence due to their lack of range.
In 1967 during the Six-Day War, Hunters of the Iraqi air force were used. While flying a Hunter from Iraqi Airbase H3, Flt. Lt. Saiful Azam of PAF (originally from East Pakistan-now Bangladesh) shot down two Israeli jets including a Mach 2.2 Mirage IIIC. Some missions were also flown by the Jordanian AF, but most of the Jordanian Hunters were destroyed on the ground on the first day of the war. However, FLt Lt Saiful Azam, flying for the Jordanian airforce before he was transferred to the Iraqi airforce, destroyed an Israeli Mystere and damaged another attacking Mafraq airbase in Jordan the day before. A total of 16 were lost in air-to-air battles. Iraqi Hunters flew from Egypt and Syria also but many were lost in combat.
Aden
In Aden in May 1964 Hunter FGA 9s and FR 10s of No. 43 Squadron RAF and No. 8 Squadron RAF were used extensively and effectively during the Radfan campaign against insurgents attempting to overthrow the Federation of South Arabia, predominantly using 3 inch high explosive rockets and 30 mm Aden cannon. Both squadrons continued operations with their Hunters until the UK withdrew from Aden in November 1967.
Brunei Revolt and Borneo Confrontation
During the Brunei Revolt in 1962, the Royal Air Force deployed Hunters over Brunei to provide support for British ground forces. In one event, several Bruneian and Expatriate hostages were about to be executed by rebels.Hunter aircraft flew over Limbang in the afternoon after the hostages had been rescued by Royal Marines from 42 Commando in a fierce battle. In the following years of the Borneo Confrontation, Hunters were deployed along with other RAF aircraft in Borneo and Malaya.
Chile
Hunters played a role in the military coup that overthrew the socialist president of Chile, Salvador Allende, on 11 September 1973 Chilean coup d'état. Hunters of Squadron No 7 of the Chilean Air Force bombarded the presidential palace, Allende's house in Santiago, and radio stations loyal to the government.
Somalia
The regime of Siad Barre used Hunters for bombing during the civil war in Somalia in the late 1980s.
Rhodesia
The Rhodesians (now Zimbabwe) used their Hunter FGA 9s extensively against ZANU/ZAPU insurgents in the late 1960s and throughout the 1970s, including cross-border strikes.
Zimbabwe
Zimbabwe used its Hunters (inherited from the Rhodesian Air Force) to support Laurent Kabila during the Second Congo War and they were supposedly also involved in the fighting in Mozambique.
Lebanon
The Lebanese Air Force operated Hawker Hunters from 1958. A Lebanese Hawker Hunter shot down an Israeli jet over Kfirmishki in early 1960s; its pilot was captured by the LAF. One Lebanese Hawker Hunter was shot down on the first day of the Six-Day War by the Israeli Air Force. They were used infrequently during the Lebanese Civil War, flying their last sorties in a period from 1 September to 15 September 1983.
On 20 August 2007, reports indicated that the Lebanese Armed Forces may restart using them after the conflict with Fatah al-Islam militants in the Nahr el-Bared camp north of Tripoli. Further statements have since been made indicating that Lebanon is returning eight FGA 70 and T 66C Hunters to airworthy condition for operational combat sorties against guerillas. However, the programme has been held up in recent times by lack of certain parts for the aircraft, most notably cartridges for the Martin-Baker ejection seats.
On 12 November 2008, the Lebanese Air Force succeeded in returning the Hawker Hunter into service 50 years after its original introduction. The Hawker Hunter fighters of the Lebanese Air Force participated in the aerial show over Lebanese skies on the 22 November as part of the 65th independence anniversary. There have also been recent military exercises conducted with Hawker Hunters, such as those reported to have taken place on 12 July 2010..
Indo-Pakistan Wars
1971
Hunters flown by the Indian Air Force participated extensively in the war of 1971. An audacious attack by the Pakistani 51st Infantry Brigade, backed up by its 1st Armoured Brigade, on the Indian outpost of Longewala was successfully countered by the Indian Army and became famous as the Battle of Longewala. IAF Hunters played a crucial role in blunting the attack. The Hunters destroyed several Pakistani tanks (mostly T-59s, of Chinese origin) in a classic 'turkey shoot' and turned the tide of battle. The aircraft were also used for strategic bombing of the Attock Oil refinery, which resulted in a severe oil supply shortage in Pakistan during the war.
Variants
Operators
Picture - A retired 140 Squadron, Republic of Singapore Air Force (RSAF) Hawker Hunter F.74 - serial number 527 (ex-RAF XF458), parked outside the RSAF Museum. Also, note the number of hardpoints and the ADEN gun ports which had been faired over
Abu Dhabi
Belgium
Chile
Denmark
Iraq
India
Jordan
Kenya
Kuwait
Lebanon
Netherlands
Oman
Peru
Qatar
Rhodesia
Saudi Arabia
Singapore
Somalia
Sweden
Switzerland
United Kingdom
Zimbabwe

Belgium and Netherlands produced the Hunter under licence, through Avions Fairey and Fokker respectively
Picture - Privately-owned ex-RAF Hunter T7A restored by Delta Jets at Kemble Airport, England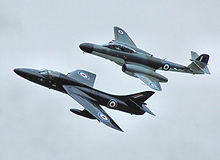 Picture - Gloster Meteor NF11 flies with Hawker Hunter T7A at Kemble Air Show 2009
Civil operators
Apache Aviation
Operates from Istres in southern France 3 examples (2x— single-seater and 1x— two-seater) contracted by French Navy.

Delta Jets
Operates from Kemble Airport near Cirencester, England with three operational Hunters.

Dutch Hawker Hunter Foundation.
Operates a Hunter T.8C two-seat in classic RNLAF paint and a single seat Hunter F.6A with the original Dutch colours and markings. The Hawker Hunter T.8C and the F.6A are based at Leeuwarden Air Base in the Netherlands

Embraer
Operates an ex-Chilean Air Force Hunter T.72 as a flight test chase plane

Hawker Hunter Aviation.
Operates a fleet of 10 ex-Swiss F 58As and a pair of two seaters (a T 7 and T 8), as well as a single Blackburn Buccaneer and a Sukhoi Su-22.

Hunter Flying Ltd.
Based at Exeter International Airport in England, Hunter Flying Ltd maintain over 15 privately owned examples of the Hunter.

Lortie Aviation Inc. (formerly Northern Lights Combat Air Support)
This company, based in Quebec City, Canada, owns and operates 12 Hunters (mainly ex-Swiss F.58 variants) for military co-operation duties such as FAC training, radar calibration, radar target facilities and missile simulation.
Thunder City
Seven Hunters are based at Thunder City at Cape Town International Airport in South Africa.
Aircraft on display
There are a large number of surviving Hunters in private and museum collections.
Specifications (Hunter F 6)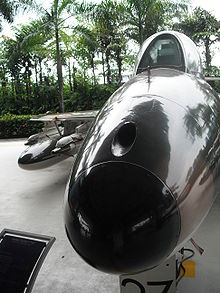 Picture - Mounted above the Hunter's nose (ex-RAF XF458) is the G-10 gun camera port.
Data from The Great Book of Fighters
General characteristics
Crew: One
Length: 45 ft 11 in (14.00 m)
Wingspan: 33 ft 8 in (10.26 m)
Height: 13 ft 2 in (4.01 m)
Wing area: 349 ft² (32.42 m²)
Empty weight: 14,122 lb (6,405 kg)
Loaded weight: 17,750 lb (8,050 kg)
Max takeoff weight: 24,600 lb (11,158 kg)
Powerplant: 1x— Rolls-Royce Avon 207 turbojet, 10,145 lbf (45.13 kN)

Performance
Maximum speed: Mach 0.94, 620 kn (715 mph, 1,150 km/h) at sea level
Combat range: 385 nmi (445 mi, 715 km)
Ferry range: 1,650 nmi (1,900 mi, 3,060 km) with external fuel
Service ceiling: 50,000 ft (15,240 m)
Rate of climb: 17,200 ft/min (87.4 m/s)
Wing loading: 51.6 lb/ft² (251.9 kg/m²)
Thrust/weight: 0.56

Armament
Guns: 4x— 30 mm (1.18 in) ADEN cannons in a removable gun pack with 150 rpg
Rockets:
4x— Matra rocket pods (each with 18 x— SNEB 68 mm (2.68 in) rockets) or
24x— Hispano SURA R80 80 mm (3.15 in) rockets
Missiles:
Air-to-air missile: 4x— AIM-9 Sidewinder
Air-to-surface missile: 4x— AGM-65 Maverick
Bombs: 7,400 pounds (3,400 kg) of payload on 4x— under-wing hardpoints (upgraded Singapore Hunters had 1x— centreline & 6x— under-wing hardpoints), including a variety of unguided iron bombs and drop tanks for extended range.

Avionics
Ekco Ranging radar

Hawker Hunter Tower Bridge incident
Battle of Longewala

Related development
Hawker Sea Hawk
Hawker P.1052
Hawker P.1081

Comparable aircraft
Dassault Super Mystx¨re
F-100 Super Sabre
Mikoyan MiG-17

Bibliography
Deacon, Ray. Hawker Hunter - 50 Golden Years. Feltham,, UK: Vogelsang Publications, 2001. ISBN 0-9540666-0-X.
Griffin, David. Hawker Hunter 1951 to 2007. Tacoma, WA: Lulu Enterprises, www.Lulu.com, 2007. ISBN 1-4303-0593-4.
Hannah, Donald. Hawker FlyPast Reference Library. Stamford, Lincolnshire, UK: Key Publishing Ltd., 1982. ISBN 0-946219-01-X.
"Hawker Hunter." Vliegend in Nederland 4 (in Dutch). Eindhoven, Netherlands: Flash Aviation, 1990. ISBN 978-90-71553-09-7.
Jackson, Robert. Modern Combat Aircraft 15, Hawker Hunter. Shepperton, Surrey, UK: Cromwell Books, 1982, ISBN 0-7110-1216-4.
James, Derek N. Hawker: Aircraft Album No. 5. New York: Arco Publishing Company, 1973 (First published in the UK by Ian Allan in 1972). ISBN 0-668-02699-5.
Mason, Francis K. Hawker Aircraft since 1920. London: Putnam, 1991. ISBN 0-85177-839-9.
McLelland, Tim. The Hawker Hunter. Manchester, UK: Crécy Publishing Ltd., 2008. ISBN 978-0-85979-123-6.
Winchester, Jim, ed. "Hawker Hunter." Military Aircraft of the Cold War (The Aviation Factfile). London: Grange Books plc, 2006. ISBN 1-84013-929-3.
Bradley, Paul. "The Hawker Hunter: A Comprehensive Guide". SAM Publications, 2009. ISBN 0-95518589-0.

Living Warbirds: The best warbirds DVD series.
Source: WikiPedia