Hawker Nimrod Video - Engine Start
Hawker Nimrod Video - Duxford
Hawker Nimrod Aircraft Information
Hawker Nimrod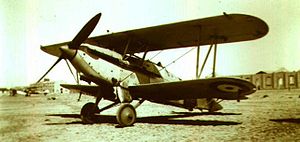 Picture - Hawker Nimrod at El Amriya, 1936
Role: Naval fighter
Manufacturer: Hawker
Designed by: Sydney Camm
First flight: 14 October 1931
Introduction: 1933
Number built: 92
Developed from: Hawker Fury

The Hawker Nimrod was a British carrier-based fighter aircraft built between the First World War and the Second World War by Hawker Aircraft.
What would become the Nimrod was developed as a private venture as the Hawker Norn. The Air Ministry wrote Specification 16/30 for the production version which was given the name Nimrod.
Design and development
The Nimrod arose out of the need for more modern aircraft within the Royal Navy. By 1932, such was the state of the Navy's Fleet Air Arm, that its principal fighter, the Fairey Flycatcher had become so obsolete in terms of its speed, that RAF officers often joked that a sprightly fly might actually give the plane a run for its money. As a result the Air Ministry put out a tender for a new naval fighter. Designed by Sydney Camm the Nimrod followed the standard design philosophy of the time in being a single-seater biplane with open cockpit, fixed undercarriage, and twin machine guns using interrupter gear to fire through the propeller. With a top speed of 193 mph (311 km/h), it was vastly better than the Flycatcher, though marginally slower than its land-based counterpart, the Hawker Fury. Both the Nimrod and the Fury had been replaced by more modern designs such as the Gloster Gladiator and Sea Gladiator by the start of World War II.
Operational history
The first production Nimrod Is entered service in 1933 with 801 Naval Air Squadron, 802 Naval Air Squadron and 803 Naval Air Squadron of the Fleet Air Arm. The Nimrod II with arrestor gear, more powerful engines, and increased area tail surfaces followed in September 1934, One aircraft was supplied to Japan, one to Portugal, and two went to Denmark, where they were known as the Nimrodderne.
Variants
Nimrod I Single-seat fighter aircraft for the Royal Navy, powered by a 477 hp (356 kW) Rolls-Royce Kestrel II MS piston engine; 57 built. Nimrod II Single-seat fighter aircraft for the Royal Navy, modified version, powered by a 608 hp (453 kW) Rolls-Royce Kestrel V piston engine; 30 built. Danish Nimrod Hawker built pattern aircraft, powered by a Rolls-Royce Kestrel III piston engine; two built and exported to Denmark. Nimrodderne Single-seat fighter aircraft for the Royal Danish Navy; ten built under licence in Denmark. AXH1 A single Hawker Nimrod I supplied to the Imperial Japanese Navy Air Service for evaluation in 1934.
Operators
Denmark
Marinens Flyvevx¦sen (Royal Danish Navy Aviation) received 2 aircraft called Nimrx¸dderne. A further 10 were built locally under license 1934-35 at Orlogsvx¦rftet; called L.B.V (Landbased Biplane 5). The 8 survivors were German spoils of war in 1940.

Japan
Imperial Japanese Army Air Service received one aircraft, designated AXH.

Portugal
Portuguese Air Force received one aircraft.

United Kingdom
Fleet Air Arm
759 Naval Air Squadron
780 Naval Air Squadron
781 Naval Air Squadron
800 Naval Air Squadron
801 Naval Air Squadron
802 Naval Air Squadron
803 Naval Air Squadron

Specifications (Nimrod Mk.II)
Data from Holmes, 2005. p. 89.
General characteristics
Crew: one
Length: 26 ft 6 in (8.09 m)
Wingspan: 33 ft 7 in (10.23 m)
Height: 9 ft 10 in (3.00 m)
Wing area: 300 ft² (27.96 m²)
Empty weight: 3,110 lb (1,413 kg)
Max takeoff weight: 4,050 lb (1,841 kg)
Powerplant: 1x— Rolls-Royce Kestrel VFP inline piston engine, 525 hp (391 kW)

Performance
Maximum speed: 168 kn (194 mph, 311 km/h)
Range: 265 nmi (305 mi, 488 km)
Service ceiling: 28,000 ft (8,535 m)

Armament
2 x— forward firing fixed .303 in (7.7 mm) machine guns
4 x— 20 lb (9 kg) bombs on underwing racks

Related development
Hawker Fury
Hawker Norn

Bibliography
Crawford, Alex. Hawker Fury & Nimrod. Sandomierz, Poland/Redbourn, UK: Mushroom Model Publications, 2007. ISBN 83-8945-041-8.
Hannah, Donald. Hawker FlyPast Reference Library. Stamford, Lincolnshire, UK: Key Publishing Ltd., 1982. ISBN 0-946219-01-X.
Holmes, Tony (2005). Jane's Vintage Aircraft Recognition Guide. London: Harper Collins. p. 89. ISBN 0 0071 9292 4.
James, Derek N. Hawker, an Aircraft Album No. 5. New York: Arco Publishing Company, 1973. ISBN 0-668-02699-5. (First published in the UK by Ian Allan in 1972.)
Mason, Francis K. Hawker Aircraft since 1920. London: Putnam, 1991. ISBN 0-85177-839-9

Living Warbirds: The best warbirds DVD series.
Source: WikiPedia