Hawker P.1081 Video - Featured at Farnborough 1950
Hawker P.1081 Aircraft Information
Hawker P.1081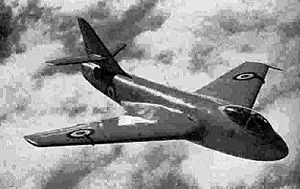 Role: Research aircraft
Manufacturer: Hawker Aircraft
First flight: 19 June 1950
Status: Destroyed in flying accident - 3 April 1951
Primary user: Royal Aircraft Establishment
Number built: 1
Developed from: Hawker P.1052

The Hawker P.1081, also known as the "Australian Fighter" was a British jet aircraft from the mid-twentieth century.
Design and development
Hawker Aircraft, a British manufacturer, submitted a proposal to meet a specification put out by the Australian government. It was for a swept-wing-and-tail fighter using a Rolls-Royce Tay engine. Work was started to modify the second prototype of the Hawker P.1052 (serial numberVX279). The existing Rolls-Royce Nene engine was used for the prototype aircraft. The rear fuselage of the P.1052 was completely replaced with one having a straight-through jet pipe and swept tail surfaces. The first flight of the P.1081 took place on 19 June 1950 but, in November of that year, the Australian project was discontinued. The aircraft was handed over to the Royal Aircraft Establishment (RAE). Its swept tail increased the Mach number above that of the P.1052 into the Mach 0.9-0.95 region, providing valuable information for the axially-powered Hawker Hunter. The sole P.1081 was lost with its pilot, Squadron Leader T.S. "Wimpy" Wade, on 3 April 1951.
Operators
United Kingdom
Royal Aircraft Establishment

Specifications
Data from Mason:
General characteristics
Crew: one
Length: 37 ft 4 in (11.38 m)
Wingspan: 31 ft 6 in (9.6 m)
Height: 10 ft 10 in (3.30 m)
Wing area: 258 ft² (23.97 m²)
Empty weight: 11,200 lb (5,080 kg)
Loaded weight: 14,480 lb (6,570 kg)
Powerplant: 1x— Rolls-Royce Nene RN2 turbojet exhausting through tailpipe, 5,000 lbf (22.2 kN)

Performance
Maximum speed: 604 kn (1,119 km/h)
Service ceiling: 45,600 ft (13,900 m)

Related development
Hawker P.1052

Bibliography
Hannah, Donald. Hawker FlyPast Reference Library. Stamford, Lincolnshire, UK: Key Publishing Ltd., 1982. ISBN 0-946219-01-X.
James, Derek N. Hawker, an Aircraft Album No. 5. New York: Arco Publishing Company, 1973. ISBN 0-668-02699-5. (First published in the UK by Ian Allan in 1972)
Mason, Francis K. Hawker Aircraft since 1920. London: Putnam, 1991. ISBN 0-85177-839-9

Living Warbirds: The best warbirds DVD series.
Source: WikiPedia