Heinkel He 178 Video - First Jet Pilot - Flight Captain Erich Warsitz
Heinkel He 178 Video - Overview
Heinkel He 178 Aircraft Information
Heinkel He 178
Heinkel He 178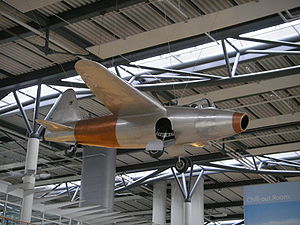 Picture - He 178 replica at Rostock-Laage Airport
Role: Experimental prototype/Pioneer aircraft
Manufacturer: Heinkel
First flight: 27 August 1939

The Heinkel He 178 was the world's first aircraft to fly under turbojet power, and the first practical jet plane, the pioneering example of this type of aircraft. It was a private venture by the German Heinkel company in accordance with director Ernst Heinkel's emphasis on developing technology for high-speed flight and first flew on 27 August 1939 piloted by Erich Warsitz. This had been preceded by a short hop three days earlier.
Development
In 1936, a young engineer named Hans von Ohain had taken out a patent on using the exhaust from a gas turbine as a means of propulsion.
He presented his idea to Heinkel, who agreed to help develop the concept. Von Ohain successfully demonstrated his first engine in 1937, and plans were quickly made to test a similar engine in an aircraft. The He 178 was designed around von Ohain's third engine design, the HeS 3, which burned diesel fuel. The result was a small aircraft with a metal fuselage of conventional configuration and construction. The jet intake was in the nose, and the plane was fitted with tailwheel undercarriage. The main landing gear was eventually intended to have been made retractable, but remained fixed in its "down" position throughout its flight trials.
The high-mounted wooden wings had the characteristic Gx¼nter brothers elliptical trailing edge. Photos showing a "straight wing" (straight-line-taper in the wing planform, for both the leading and trailing edge) were of the second prototype He 178 V2, which never flew under power.
The aircraft was a success; however, speeds were limited to 598 km/h (375 mph) at the proposed service altitude, and combat endurance was only 10 minutes. Its fall to official indifference was that Hermann Gx¶ring favoured the higher-developed piston engined fighters of the day which had already achieved higher performance standards, as opposed to investing more money into developing the jet engine. On 1 November 1939, Heinkel arranged a demonstration of the jet for the Reichsluftfahrtministerium ("Reich Aviation Ministry", RLM), where both Ernst Udet and Erhard Milch watched the aircraft perform. However, due to the conservative approach to aircraft design then favoured by both men, no official interest in the concept was shown. Nevertheless, Heinkel was undeterred, and decided to embark on the development of a twin-engine jet fighter, the He 280 as a private venture using what had been learned from the He 178.
The He 178 was placed in the Deutsches Technikmuseum ("German Technical Museum") in Berlin, where it was destroyed in an air raid in 1943.
Specifications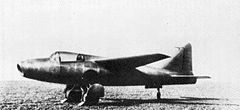 Picture - The He 178 V2 (note the squared-off wingtips). Contrary to the caption, this particular aircraft only flew as an unpowered glider.
Data from
General characteristics
Crew: One
Length: 7.48 m (24 ft 6 in)
Wingspan: 7.20 m (23 ft 3 in)
Height: 2.10 m (6 ft 10 in)
Wing area: 9.1 m² (98 ft²)
Empty weight: 1,620 kg (3,572 lb)
Max takeoff weight: 1,998 kg (4,405 lb)
Powerplant: 1x— HeS 3 turbojet, 4.4 kN (992 lbf)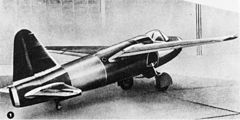 Picture - The He 178 Drawing board design
Performance
Maximum speed: 598 km/h (380 mph)
Range: 200 km (125 mi)

Comparable aircraft
Heinkel He 280

Bibliography
Warsitz, Lutz: The First Jet Pilot - The Story of German Test Pilot Erich Warsitz, Pen and Sword Books Ltd., England, 2009, ISBN 9781844158188.

Heinkel He 178 Pictures and Heinkel He 178 for Sale.
Living Warbirds: The best warbirds DVD series.
Source: WikiPedia