Henschel Hs 126 Video - Picture
Henschel Hs 126 Warbird Information
Henschel Hs 126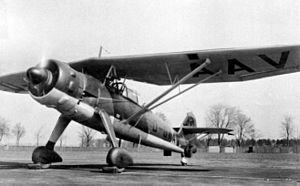 Role: Reconnaissance
Manufacturer: Henschel
First flight: August 1936
Introduction: 1937
Retired: 1942
Primary users: Luftwaffe Bulgaria Greece Croatia Spain
Produced: 1937 - 1942
Variants: Hs 126A-0, Hs 126A-1, Hs 126B-1

The Henschel Hs 126 was a German two-seat reconnaissance and observation aircraft of World War II that was derived from the Henschel Hs 122. The pilot was seated in a protected cockpit under the parasol wing and the gunner in an open rear cockpit. The prototype aircraft frame was that of a Hs 122A fitted with a Junkers engine. The Hs 126 was well received for its good short takeoff and low-speed characteristics which were needed at the time. It was put into service for a few years, but was soon superseded by the general-purpose, STOL Fieseler Fi 156 Storch and the medium-range Focke-Wulf Fw 189 "flying eye".
Development
The first prototype was not entirely up to Luftwaffe standards; it was followed by two more development planes equipped with different engines. Following the third prototype, ten pre-production planes were built in 1937. The Hs 126 entered service in 1938 after operational evaluation with the Legion Condor contingent to the Spanish Civil War.
Operational history
By the time the Hs 126A-1 joined the Luftwaffe, the re-equipping of reconnaissance formations was already well advanced, and by the start of World War II in September 1939, Germany already had several good short range observation and long range recon aircraft. Late in the war, it was used in glider tug and night ground attack roles, but production of the Hs 126 ended in 1941 and the type was retired from the front line in 1942.
Operators
Croatia Croatian Air Force Estonia Estonian Air Force Germany Luftwaffe Greece Royal Hellenic Air Force Spain Spanish Air Force
Specifications (Hs 126B-1)
General characteristics
Crew: Two (pilot and observer/gunner)
Length: 10.9 m (35 ft 7 in)
Wingspan: 14.5 m (47 ft 7 in)
Height: 3.8 m (12 ft 4 in)
Wing area: 31.6 m² (340 ft²)
Empty weight: 2,030 kg (4,480 lb)
Loaded weight: 6,820 lb (3,090 kg)
Powerplant: 1x— Bramo 323 9-cylinder radial engine, 634 kW (850 hp)

Performance
Maximum speed: 356 km/h at 3,000 m (221 mph at 9,850 ft)
Combat radius: 998 km (620 mi)
Service ceiling: 8,530 m (28,000 ft)
Rate of climb: 550 m/min (1,800 ft/min)
Wing loading: 97.8 kg/m² (20.1 lb/ft²)
Power/mass: 0.21 kW/kg (0.13 hp/lb)

Armament
1 x— forward-firing 7.92 mm (.312 in) MG 17 machine gun
1 x— flexible 7.92 mm (.312 in) MG 15 machine gun in the observer/gunner
Up to 150 kg (330 lb) of bombs

Comparable aircraft
LWS-3 Mewa
Westland Lysander

Bibliography
Green, William. Warplanes of the Third Reich. London: Macdonald and Jane's Publishers Ltd., 1970 (fourth impression 1979). ISBN 0-356-02382-6.
Luranc, Zbigniew. Henschel Hs 126 - Skrzydła w Miniaturze (in Polish). Gdańsk, Poland: Wydawnictwo Avia-Press, 1995. ISBN 83-902964-0-3.
Nowarra, Heinz J. Nahaufklx¤rer, 1910-1945: Die Augen des Heeres (in German). Stuttgart, Germany: Motorbuch Verlag, 1981. ISBN 3-87943-808-0.
Pęczkowski, Robert and Panek, Robert. Henschel Hs 126. Sandomierz, Poland/Redbourn, UK: Mushroom Model Publications, 2008. ISBN 83-89450-40-1.
Smith, J.Richard and Kay, Anthony. German Aircraft of the Second World War. London: Putnam & Company Ltd., 1972 (third impression 1978). ISBN 0-370-00024-2.
Wood, Tony and Gunston, Bill. Hitler's Luftwaffe: A pictorial history and technical encyclopedia of Hitler's air power in World War II. London: Salamander Books Ltd., 1977. ISBN 0-86101-005-1.

Henschel Hs 126 Pictures
More airplane video.
Source: WikiPedia