Howard Hughes Video - Picture
Howard Hughes Information
Howard Hughes
Howard Hughes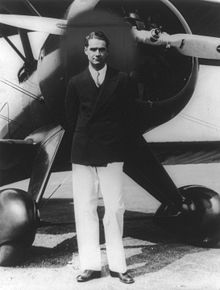 Born: Howard Robard Hughes, Jr. September 24, 1905(1905-09-24) Humble, Texas, U.S.
Died: April 5, 1976(1976-04-05) (aged 70) Houston, Texas, U.S.
Occupation: Chairman of Hughes Aircraft, Industrialist, Aviator, Engineer, Film producer and Director
Years active: 1926-1957
Spouse: Ella Rice (m. 1925-1929) «start: (1925)-end+1: (1930)»"Marriage: Ella Rice to Howard Hughes" Location: (linkback:http://en.wikipedia.org/wiki/Howard_Hughes) Terry Moore (m. 1949-1976) «start: (1949)-end+1: (1977)»"Marriage: Terry Moore to Howard Hughes" Location: (linkback:http://en.wikipedia.org/wiki/Howard_Hughes) (alleged) Jean Peters (m. 1957-1971) «start: (1957)-end+1: (1972)»"Marriage: Jean Peters to Howard Hughes" Location: (linkback:http://en.wikipedia.org/wiki/Howard_Hughes)
: Aviation career
Known for: Hughes Aircraft
Famous flights: Transcontinental airspeed record from Los Angeles to New York City (1937), round the world airspeed record (1938)
Awards: Harmon Trophy (1936 and 1938), Collier Trophy (1938), Octave Chanute Award (1940), Congressional Gold Medal (1939)

For other people called Howard Hughes, see Howard Hughes (disambiguation)
Howard Robard Hughes, Jr. (September 24, 1905 - April 5, 1976) was an American aviator, engineer, industrialist, film producer, director, philanthropist, and was one of the wealthiest people in the world. He gained prominence from the late 1920s as a maverick film producer, making big-budget and often controversial films like The Racket (1928), Hell's Angels (1930), Scarface (1932), and The Outlaw (1943). Hughes was one of the most influential aviators in history; he set multiple world air-speed records, built the Hughes H-1 Racer and H-4 "Hercules" (better known to history as the "Spruce Goose") aircraft, and acquired and expanded Trans World Airlines which would later on merge with American Airlines. Hughes is also remembered for his eccentric behavior and reclusive lifestyle in later life, caused in part by a worsening obsessive-compulsive disorder. His legacy is maintained through the Howard Hughes Medical Institute.
Early years
Hughes' birthplace is recorded as either Humble or Houston, Texas. The date is also uncertain, though Hughes claimed his birthday was Christmas Eve. A 1941 affidavit birth certificate of Hughes signed by his aunt Annette Gano Lummis and Estelle Boughton Sharp states he was born on December 24, 1905, in Harris County, Texas. However, his baptismal record of October 7, 1906, in the parish register of St. John's Episcopal Church, in Keokuk, Iowa, has his birth listed as September 24, 1905, without reference to the place of birth.
His parents were Allene Stone Gano (a descendant of Owen Tudor, second husband of Catherine of Valois, Dowager Queen of England) and Howard R. Hughes, Sr., who patented the two-cone roller bit, which allowed rotary drilling for petroleum in previously inaccessible places. Howard R. Hughes, Sr. made the shrewd and lucrative decision to commercialize the invention, founding the Hughes Tool Company in 1909.
Showing great aptitude in engineering at an early age, Hughes built Houston's first radio transmitter when he was 11 years old. At 12, he was photographed in the local newspaper as being the first boy in Houston to have a "motorized" bicycle, which he had built himself from parts taken from his father's steam engine. He was an indifferent student with a liking for mathematics, flying, and things mechanical, taking his first flying lesson at 14 and later auditing math and aeronautical engineering courses at Caltech.
Allene Hughes died in March 1922 from complications of an ectopic pregnancy. In January 1924, Howard Hughes Sr. died of a heart attack. Their deaths apparently inspired Hughes to include the creation of a medical research laboratory in his will that he signed in 1925, at age 19. Because Howard Sr.'s will had not been updated since Allene's death, Hughes inherited 75 percent of the family fortune. On his 19th birthday, Hughes was declared an emancipated minor, enabling him to take full control of his legacy.
Hughes was an outstanding and enthusiastic golfer from a young age, often scoring near par figures, and held a handicap of three during his twenties. He played frequently with top players, including Gene Sarazen. Hughes rarely played competitively, and gradually gave up his interest in the sport.
Hughes dropped out of Rice University shortly after his father's death. On June 1, 1925, he married Ella Botts Rice (1904-1992), daughter of David Rice and Martha Lawson Botts of Houston, Texas. They moved to Los Angeles, where he hoped to make a name for himself making movies.
Hollywood years
His first two films, Everybody's Acting (1927) and Two Arabian Knights (1928), were financial successes, the latter winning the first Academy Award for Best Director of a Comedy Picture. The Racket (1928) and The Front Page (1931) were also nominated for Academy Awards. Hughes spent US$3.8 million to make the flying film Hell's Angels (1930). He produced another hit, Scarface (1932), a production delayed by censors' concern over its violence. The Outlaw (1943), completed in 1941, which featured Jane Russell, also received considerable attention from industry censors, this time owing to Russell's revealing costumes. Hughes designed a special bra for his leading lady, although Russell decided against wearing the bra because of a mediocre fit.
Hughes' wife returned to Houston in 1929 and filed for divorce. Hughes dated many famous women, including Billie Dove, Bette Davis, Ava Gardner, Olivia de Havilland, Katharine Hepburn, Ginger Rogers and Gene Tierney. He also proposed to Joan Fontaine several times, according to her autobiography No Bed of Roses. Bessie Love was a mistress during his first marriage. Jean Harlow accompanied him to the premiere of Hell's Angels, but Noah Dietrich wrote many years later that the relationship was strictly professional-Hughes personally disliked Harlow. In his 1971 book, Howard: The Amazing Mr. Hughes, Dietrich said that Hughes genuinely liked and respected Jane Russell but never sought romantic involvement with her. According to Russell's autobiography, however, Hughes once tried to bed her after a party. Russell (who was married at the time) refused him and Hughes promised it would never happen again. The two maintained a professional and private friendship for many years. Hughes remained good friends with Tierney - when Tierney's daughter Daria was born deaf and blind with severe mental retardation, due to Tierney being exposed to rubella during her pregnancy - he saw to it that Daria received the best medical care and paid all expenses.
On July 11, 1936, Hughes struck and killed a pedestrian named Gabriel S. Meyer with his car, at the corner of 3rd Street and Lorraine in Los Angeles. Although Hughes was certified as sober at the hospital to which he was taken after the accident, an attending doctor made a note that Hughes had been drinking. A witness to the accident told police that Hughes was driving erratically and too fast, and that Meyer had been standing in the safety zone of a streetcar stop. Hughes was booked on suspicion of negligent homicide and held overnight in jail until his attorney, Neil McCarthy, obtained a writ of habeas corpus for his release pending a Coroner's inquest. By the time of the coroner's inquiry, however, the witness had changed his story and claimed that Meyer had moved directly in front of Hughes's car. Nancy Bayly (Watts), who was in the car with Hughes at the time of the accident, corroborates this version. On July 16, 1936, Hughes was held blameless by a Coroner's jury at the inquest into Meyer's death. Hughes told reporters outside the inquiry, "I was driving slowly and a man stepped out of the darkness in front of me."
On January 12, 1957, Hughes married actress Jean Peters. The couple met in the 1940s, before Peters became a film actress. They had a highly publicized romance in 1947 and there was talk of marriage, but she said she could not combine it with her career. It was later claimed that Peters was "the only woman [Hughes] ever loved", and he reportedly had his security officers follow her everywhere even when they were not in a relationship. This was confirmed by actor Max Showalter, who became a close friend of Peters during shooting of Niagara (1953). Showalter told in an interview that because he frequently met with Peters, Hughes' men threatened to ruin his career if he did not leave her alone.
Aviator and engineer
Hughes was a lifelong aircraft enthusiast, pilot, and aircraft engineer. At Rogers Airport in Los Angeles, he learned to fly from pioneer aviators, including Moye Stephens. He set many world records and designed and built several aircraft himself while heading Hughes Aircraft at the airport in Glendale. Operating from there, the most technologically important aircraft he designed was the Hughes H-1 Racer. On September 13, 1935, Hughes, flying the H-1, set what was believed to be an airspeed record of 352 mph (566 km/h) over his test course near Santa Ana, California, although it is now recognized that Giuseppe Motta had reached 362 mph in 1929 and George Stainforth reached 407.5 mph in 1931. A year and a half later, on January 19, 1937, flying a redesigned H-1 Racer featuring extended wings, Hughes set a new transcontinental airspeed record by flying non-stop from Los Angeles to New York City in 7 hours, 28 minutes and 25 seconds (beating his own previous record of 9 hours, 27 minutes). His average speed over the flight was 322 mph (518 km/h).
The H-1 Racer featured a number of design "innovations": it had retractable landing gear (as Boeing Monomail had five years before) and all rivets and joints set flush into the body of the aircraft to reduce drag. The H-1 Racer is thought to have influenced the design of a number of World War II fighters such as the Mitsubishi Zero, the Focke-Wulf Fw 190 and the F8F Bearcat; although that has never been reliably confirmed. The H-1 Racer was donated to the Smithsonian in 1975 and is on display at the National Air and Space Museum.
On July 10, 1938, Hughes set another record by completing a flight around the world in just 91 hours (3 days, 19 hours), beating the previous record by more than four hours. Taking off from New York City, he continued to Paris, Moscow, Omsk, Yakutsk, Fairbanks, Minneapolis, and continued to New York City. For this flight he did not fly an aircraft of his own design, but a Lockheed Super Electra (a twin-engine transport with a four-man crew) fitted with all of the latest radio and navigational equipment. Hughes wanted the flight to be a triumph of technology, illustrating that safe, long-distance air travel was possible. In 1938, the William P. Hobby Airport in Houston, Texas, known at the time as Houston Municipal Airport, was re-named Howard Hughes Airport, but the name was changed back after people objected to naming the airport after a living person.
He also had a hand in the design and financing of both the Boeing 307 Stratoliner and Lockheed L-049 Constellation.
Hughes received many awards as an aviator, including the Harmon Trophy in 1936 and 1938, the Collier Trophy in 1938, the Octave Chanute Award in 1940, and a special Congressional Gold Medal in 1939 "in recognition of the achievements of Howard Hughes in advancing the science of aviation and thus bringing great credit to his country throughout the world." According to his obituary in the New York Times, Hughes never bothered to come to Washington to pick up the Congressional Gold Medal. It was eventually mailed to him by President Harry S. Truman.
Near-fatal crash of the XF-11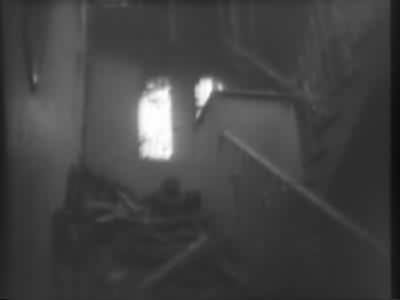 Picture - 1946 newsreel
Hughes was involved in a near-fatal aircraft accident on July 7, 1946, while piloting the experimental U.S. Army Air Force reconnaissance aircraft, the XF-11, over Los Angeles. An oil leak caused one of the contra-rotating propellers to reverse pitch, causing the aircraft to yaw sharply. Hughes tried to save the craft by landing it on the Los Angeles Country Club golf course, but seconds before he could reach his attempted destination, the XF-11 started to drop dramatically and crashed in the Beverly Hills neighborhood surrounding the country club.
When the XF-11 finally skidded to a halt after hitting three houses, the fuel tanks exploded, setting fire to the aircraft and a nearby home at 808 North Whittier Drive, owned by Lt Col. Charles E. Meyer. Hughes managed to pull himself out of the flaming wreckage but lay beside the aircraft until he was rescued by Marine Master Sergeant William L. Durkin, who happened to be in the area visiting friends. Hughes sustained significant injuries in the crash; including a crushed collar bone, multiple cracked ribs, crushed chest with collapsed left lung, shifting his heart to the right side of the chest cavity, and numerous third-degree burns.
However, Hughes was proud that his mind was still working. As he lay in his hospital bed, he decided that he did not like the design of the bed. He called in plant engineers to design a "tailor-made" bed, equipped with hot and cold running water, built in six sections, and operated by 30 electric motors, with push-button adjustments.
Many attribute his long-term addiction to opiates to his use of codeine as a painkiller during his convalescence. The trademark mustache he wore afterward was meant to cover a scar on his upper lip resulting from the accident.
H-4 Hercules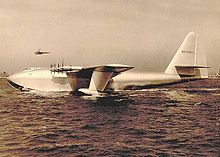 Picture - The Hughes H-4 Hercules with Howard Hughes at the controls
The Hughes H-4 Hercules was the world's largest flying boat, the largest aircraft made from wood, and, at 319 feet 11 inches (97.51 m), had the biggest wingspan of any aircraft ever built (the next largest wingspan is about 30 ft (9 m) shorter). (The Hercules is no longer the longest or heaviest aircraft ever built, however, as both of those titles are currently held by the Antonov An-225).
The Hercules was originally contracted by the U.S. government for use during World War II to transport troops and equipment across the Atlantic as an alternative to sea-going troop transport ships that were vulnerable to German U-boats. However the aircraft was not completed until after the end of World War II.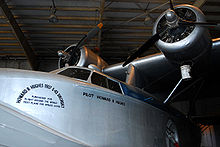 Picture - The Spruce Goose test plane in Brazoria County Airport in Texas
The Hercules flew only once for one mile (1.6 km), and 70 feet (21m) above the water, with Hughes at the controls, on November 2, 1947.
The Hercules was nicknamed the "Spruce Goose" by critics, but was actually made largely from birch (not from spruce), rather than of aluminum, because the contract required the aircraft to be built of "non-strategic materials." It was built in Hughes's Westchester, California facility. Howard Hughes was summoned to testify before the Senate War Investigating Committee to explain why the aircraft had not been delivered to the United States Army Air Forces during the war, but the committee disbanded without releasing a final report. The aircraft was moved to McMinnville, Oregon, where it is now part of the Evergreen Aviation Museum.
Hughes Aircraft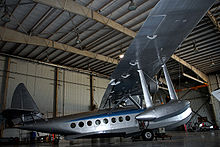 Picture - Brazoria County Airport Texas: The S-43 Sikorsky test plane
Hughes Aircraft Company, a division of Hughes Tool Company, was originally founded by Hughes in 1932, in a rented corner of a Lockheed Aircraft Corporation hangar in Burbank, California, to carry out the expensive conversion of a military aircraft into the H-1 racer. During and after World War II, Hughes fashioned his company into a major defense contractor. The Hughes Helicopters division started in 1947 when helicopter manufacturer Kellett sold their latest design to Hughes for production.
In 1948, Hughes created a new division of the company, the Hughes Aerospace Group. The Hughes Space and Communications Group and the Hughes Space Systems Division were later spun off in 1948 to form their own divisions and ultimately became the Hughes Space and Communications Company in 1961. In 1953, Howard Hughes gave all his stock in the Hughes Aircraft Company to the newly formed Howard Hughes Medical Institute, thereby turning the aerospace and defense contractor into a tax-exempt charitable organization. The Howard Hughes Medical Institute sold Hughes Aircraft in 1985 to General Motors for US$5.2 billion. In 1997, General Motors sold Hughes Aircraft to Raytheon and in 2000, sold Hughes Space & Communications to Boeing. A combination of Boeing, GM and Raytheon acquired the Hughes Research Laboratories.

Picture - Hughes Aircraft Company logo until 1985.
Airlines
In 1939, at the urging of Jack Frye, president of TWA, Hughes quietly purchased a majority share of TWA stock for nearly US$7 million and took control of the airline. Upon assuming ownership, Hughes was prohibited by federal law from building his own aircraft. Seeking an aircraft that would perform better than TWA's fleet of Boeing 307 Stratoliners, Hughes approached Boeing's competitor, Lockheed. Hughes had a good relationship with Lockheed since they had built the aircraft he used in his record flight around the world in 1938. Lockheed agreed to Hughes's request that the new aircraft be built in secrecy. The result was the revolutionary Constellation and TWA purchased the first 40 of the new airliners off the production line.
In 1956, Hughes placed an order for 63 Convair 880s for TWA at a cost of US$400 million. Although Hughes was extremely wealthy at this time, outside creditors demanded that Hughes relinquish control of TWA in return for providing the money. In 1960, Hughes was ultimately forced out of TWA, although he owned 78% of the company and battled to regain control.
Before Hughes' removal, the TWA jet financing issue precipitated the end of Hughes' relationship with Noah Dietrich. Dietrich claimed Hughes developed a plan by which Hughes Tool Company profits were to be inflated in order to sell the company for a windfall that would pay the bills for the 880s. Dietrich agreed to go to Texas to implement the plan on the condition that Hughes agreed to a capital gains arrangement he had long promised Dietrich. When Hughes balked, Dietrich resigned immediately. "Noah," Dietrich quoted Hughes as replying, "I cannot exist without you!" Dietrich stood firm and eventually had to sue to retrieve personal possessions from his office after Hughes ordered it locked.
In 1966, Hughes was forced by a U.S. federal court to sell his shares in TWA because of concerns over conflict of interest between his ownership of both TWA and Hughes Aircraft. The sale of his TWA shares netted him a profit of US$547 million. During the 1970s, Hughes went back into the airline business, buying the airline Air West and renaming it Hughes Airwest.
RKO
In 1948, Hughes gained control of RKO, a struggling major Hollywood studio, by acquiring 25 percent of the outstanding stock from Floyd Odlum's Atlas Corporation. Within weeks of taking control, he dismissed three-quarters of the work force and production was shut down for six months in 1949 while he undertook the investigation of the politics of all remaining studio employees. Completed pictures would be sent back for re-shooting if he felt his star (especially female) was not properly presented, or if a film's anti-communist politics were not sufficiently clear. In 1952, an aborted sale to a Chicago-based group with no experience in the industry disrupted studio operations even further.
Hughes sold the RKO theaters in 1953 as settlement of the United States v. Paramount Pictures, Inc. antitrust case. With the sale of the profitable theaters, the shaky status of the film studio became increasingly apparent. A steady stream of lawsuits from RKO's minority shareholders, charging him with financial misconduct and corporate mismanagement, became an increasing nuisance, especially because Hughes wanted to focus on his aircraft-manufacturing and TWA holdings during the Korean War years. Eager to be rid of the distraction, Hughes offered to buy out all other stockholders.
By the end of 1954, at a cost of nearly US$24 million, he had gained near total control of RKO, becoming the closest thing to a sole owner of a Hollywood studio seen in three decades. Six months later, Hughes sold the studio to the General Tire and Rubber Company for US$25 million. Hughes retained the rights to pictures he had personally produced, including those made at RKO. He also retained Jane Russell's contract. For Howard Hughes, this was the virtual end of his 25-year involvement in motion pictures; though he had all but destroyed a major Hollywood studio, his reputation as a financial wizard emerged unscathed. He reportedly walked away from RKO having made US$6.5 million in personal profit.
General Tire was interested mainly in exploiting the value of the RKO library for television programming, though it made some attempts to continue producing films. After a year and a half of mixed success, General Tire shut down film production at RKO for good at the end of January 1957. The studio lots in Hollywood and Culver City were sold to Desilu Productions later that year for US$6.15 million.
Howard Hughes Medical Institute
In 1953, Hughes launched the Howard Hughes Medical Institute in Chevy Chase, Maryland, formed with the express goal of basic biomedical research, including trying to understand, in Hughes' words, the "genesis of life itself." Hughes' first will, which he signed in 1925 at the age of 19, stipulated that a portion of his estate should be used to create a medical institute bearing his name. Hughes gave all his stock in the Hughes Aircraft Company to the institute, thereby turning the aerospace and defense contractor into a tax-exempt charity. Hughes' internist, Dr. Verne Mason, who treated Hughes after his 1946 plane crash, was chairman of the institute's medical advisory committee. The Howard Hughes Medical Institute's new board of trustees sold Hughes Aircraft in 1985 to General Motors for US$5.2 billion, allowing the institute to grow dramatically.
The deal was the topic of a protracted legal battle between Hughes and the Internal Revenue Service, which Hughes ultimately won. After his death in 1976, many thought that the balance of Hughes' estate would go to the institute, although it was ultimately divided among his cousins and other heirs, given the lack of a will to the contrary. The HHMI was the 4th largest private organization as of 2007 and the largest devoted to biological and medical research, with an endowment of US$16.3 billion as of June 2007.
Nixon scandal
Shortly before the 1960 Presidential election, Richard Nixon was harmed by revelations of a US$205,000 loan from Hughes to Nixon's brother Donald.
In late 1971, Donald Nixon was collecting intelligence for his brother in preparation for the upcoming presidential election. One of Donald's sources was John H. Meier, a former business adviser of Hughes who had also worked with Democratic National Chairman Larry O'Brien.
However, Meier conspired with former Vice President of the United States, Hubert Humphrey, and others to feed disinformation to the Nixon campaign. Meier told Donald that he was sure the Democrats would win the election because Larry O'Brien had a great deal of information on Richard Nixon's illicit dealings with Hughes that had never been released; (O'Brien didn't actually have any such information, but Meier wanted Nixon to think he did.) Donald told his brother that O'Brien was in possession of damaging information that could destroy his campaign.
Glomar Explorer
In 1972, Hughes was approached by the CIA to help secretly recover Soviet submarine K-129 which had sunk near Hawaii four years earlier. Thus the Glomar Explorer, a special-purpose salvage vessel, was born. Hughes' involvement provided the CIA with a plausible cover story, having to do with civilian marine research at extreme depths and the mining of undersea manganese nodules. In the summer of 1974, Glomar Explorer attempted to raise the Soviet vessel.
However, during the recovery a mechanical failure in the ship's grapple caused half of the submarine to break off and fall to the ocean floor. This section is believed to have held many of the most sought-after items, including its code book and nuclear missiles. Two nuclear-tipped torpedoes and some cryptographic machines were recovered, along with the bodies of six Soviet submariners who were subsequently given formal burial at sea in a filmed ceremony. The operation, known as Project Azorian (but incorrectly referred to by the press as Project Jennifer), became public in February 1975 because burglars had obtained secret documents from Hughes' headquarters in June 1974. Though he lent his name to the operation, Hughes and his companies had no actual involvement in the project.
Managing the financial empire
As his empire grew, Hughes worked to minimize the company's taxes. In the early years of Hughes Aircraft, Hughes attempted to move his company from Southern California to Nevada in an effort to take advantage of Nevada's low taxes. Ultimately, Hughes donated all his stock in Hughes Aircraft to the Howard Hughes Medical Institute, thereby turning over the ownership and all profits of the military contractor to tax-exempt charity. In addition to avoiding income taxes, this had the effect of silencing the upper management in Hughes Aircraft, who for many years had clamored for stock in the company as part of their compensation.
Mental illness and physical decline
As early as the 1930s, Hughes displayed signs of mental illness, primarily obsessive-compulsive disorder. Close friends reported that he was obsessed with the size of peas, one of his favorite foods, and used a special fork to sort them by size.
While directing The Outlaw, Hughes became fixated on a minor flaw in one of Jane Russell's blouses, claiming that the fabric bunched up along a seam and gave the appearance of two nipples on each breast. He was reportedly so upset by the matter that he wrote a detailed memorandum to the crew on how to fix the problem. Richard Fleischer, who directed His Kind of Woman with Hughes as executive producer, wrote at length in his autobiography about the difficulty of dealing with the tycoon. In his book, Just Tell Me When to Cry, Fleischer explained that Hughes was fixated on trivial details and was alternately indecisive and obstinate. He also revealed that Hughes' unpredictable mood swings made him wonder if the film would ever be completed.
In December 1947, Hughes told his aides that he wanted to screen some movies at a film studio near his home. Hughes stayed in the studio's darkened screening room for more than four months, never leaving. He subsisted exclusively on chocolate bars and milk, and relieved himself in the empty bottles and containers. He was surrounded by dozens of Kleenex boxes, which he continuously stacked and re-arranged. He wrote detailed memos to his aides on yellow legal pads giving them explicit instructions not to look at him, to respond when spoken to, but otherwise not speak to him. Throughout this period, Hughes sat fixated in his chair, often naked, continuously watching movies, reel after reel, day after day. When he finally emerged in the spring of 1948, his hygiene was terrible, as he had not bathed or cut his hair and nails for weeks. The Screening Room was located at Sunset Blvd. and Doheny Drive in Los Angeles, it was owned by Martin Nosseck and it was called, "Martin Nosseck Projection Theatre". Martin Nosseck, who died in 1980, was also the full time projectionist for Mr. Hughes during that time.
After the screening room incident, Hughes moved into a bungalow at the Beverly Hills Hotel. He also rented out several other rooms for his aides, his wife, and his numerous girlfriends. His erratic behavior continued, however, as he would sit naked in his bedroom with a pink hotel napkin placed over his genitals, watching movies. In one year, he spent an estimated $11 million at the hotel.
In a bout of obsession with his home state, Hughes began purchasing all restaurant chains and four star hotels that had been founded within the borders of Texas. This included, if for only a short period, many unknown franchises currently out of business. Ownership of the restaurants was placed in the hands of the Howard Hughes Medical Institute and all licenses were resold shortly after.
Another time, he became obsessed with the 1968 film Ice Station Zebra and had it running on a continuous loop in his home. According to his aides, he watched it 150 times.
Hughes insisted on using tissues to pick up objects, so that he could insulate himself from germs. He would also notice dust, stains or other imperfections on people's clothes and demand that they take care of it.
Once one of the most visible men in America, Hughes ultimately vanished from public view, although the tabloids continued to follow rumors of his behavior and whereabouts. He was reported to be terminally ill, mentally unstable or even dead.
As a result of numerous plane crashes, Hughes spent much of his later life in pain, eventually becoming severely addicted to codeine, which he injected intramuscularly. Hughes only had his hair cut and nails trimmed once a year. He may have been in severe chronic pain from his extensive injuries, so much so that even the act of tooth brushing was painful, so he avoided it.
A retrospective case study suggests that Hughes' drug situation is more reminiscent of "pseudoaddiction" than true addiction; he suffered chronic pain and used narcotic medicine to control it. He did not inject it intravenously for immediate effect, rather, he injected it into muscle, where it would have more of an effect on pain, however it should be noted that codeine, when injected intravenously, leads to life threatening symptoms and is not by any means a safe route of administration, under any circumstance. He did not use tobacco or other drugs, and rarely consumed alcohol. He used diazepam to control the symptoms of withdrawal when he had not taken enough codeine. At the time, the field of pain management was small and there were few options for long-term pain control. As codeine is a relatively weak narcotic, his pain was probably not controlled effectively.
Toward the end of his life, his inner circle was largely composed of Mormons, as they were the only people he considered trustworthy, even though Hughes himself was not a member of their church.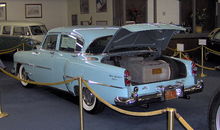 Picture - Hughes equipped this 1954 Chrysler New Yorker with an aircraft-grade air filtration system which took up the entire trunk
Las Vegas baron and recluse
The wealthy and aging Howard Hughes, accompanied by his entourage of personal aides, began moving from one hotel to another, always taking up residence in the top floor penthouse. During the last ten years of his life, from 1966 to 1976, Hughes lived in hotels in Beverly Hills; Boston; Las Vegas; Nassau, Bahamas; Freeport; Bahamas Xanadu Princess Hotel; Bayshore Inn Vancouver, Canada; London, England; Managua, Nicaragua; Acapulco, Mexico and others.
On November 24, 1966 (Thanksgiving Day), Hughes arrived in Las Vegas by railroad car and moved into the Desert Inn. Because he refused to leave the hotel and to avoid further conflicts with the owners of the hotel, Hughes bought the Desert Inn in early 1967. The hotel's eighth floor became the nerve center of his empire and the ninth-floor penthouse became Hughes' personal residence. Between 1966 and 1968, Hughes bought several other hotels/casinos such as the Castaways, New Frontier, The Landmark Hotel and Casino, and the Sands. He bought the small Silver Slipper casino only to reposition the hotel's trademark neon silver slipper, visible from Hughes bedroom, which apparently had been keeping him up at night. An unusual incident marked an earlier Hughes connection to Las Vegas: during his 1954 engagement at the Last Frontier hotel in Las Vegas, flamboyant entertainer Liberace mistook Howard Hughes for his lighting director, instructing him to instantly bring up a blue light should he start to play Clair de lune. Hughes nodded in compliance. Then the hotel's entertainment director arrived to properly introduce Hughes to Liberace.
Hughes wanted to change the image of Las Vegas to something more glamorous than it was. As Hughes wrote in a memo to an aide, "I like to think of Las Vegas in terms of a well-dressed man in a dinner jacket and a beautifully jeweled and furred female getting out of an expensive car." Hughes bought several local television stations (including KLAS-TV).
Hughes' considerable business holdings were overseen by a small panel unofficially dubbed "The Mormon Mafia" because of the many Latter-day Saints on the committee. In addition to supervising day-to-day business operations and Hughes' health, they also went to great pains to satisfy Hughes' every whim. Hughes once became fond of Baskin-Robbins' Banana Ripple ice cream, so his aides sought to secure a bulk shipment for him-only to discover that Baskin-Robbins had discontinued the flavor. They put in a request for the smallest amount the company could provide for a special order, 200 gallons (750 L), and had it shipped from Los Angeles. A few days after the order arrived, Hughes announced he was tired of Banana Ripple and wanted only Chocolate Marshmallow ice cream. The Desert Inn ended up distributing free Banana Ripple ice cream to casino customers for a year. In a 1996 interview, ex-Howard Hughes communicator Robert Maheu said "There is a rumor that there is still some Banana Ripple ice cream left in the freezer. It is most likely true."
As an owner of several major businesses in Las Vegas, Hughes wielded enormous political and economic influence in Nevada and elsewhere. During the 1960s and early 1970s, Hughes disapproved of the underground nuclear testing taking place at the Nevada Test Site. Hughes was concerned about the risk posed by the residual nuclear radiation from the tests, and so attempted to halt the tests. When the tests finally went through despite Hughes' efforts, the detonations were powerful enough that the entire hotel in which he was staying trembled with the shock waves. In two separate, last-ditch maneuvers, Hughes instructed his representatives to offer million-dollar bribes to both presidents Lyndon B. Johnson and Richard Nixon. His aides, however, never offered the bribes, instead reporting to Hughes that Johnson declined the offer and they were unable to contact Nixon.
In 1971, Jean Peters filed for divorce; the two had not lived together for many years. Peters requested a lifetime alimony payment of US$70,000 a year, adjusted for inflation, and waived all claims to Hughes' estate. Hughes offered her a settlement of over a million dollars, but she declined it. Hughes did not insist upon a confidentiality agreement from Peters as a condition of the divorce; aides reported that Hughes never spoke ill of her. She refused to discuss her life with Hughes and declined several lucrative offers from publishers and biographers. Peters would state only that she had not seen Hughes for several years before their divorce and had only dealt with him by phone.
Hughes was living in the Intercontinental Hotel near Lake Managua in Nicaragua, seeking privacy and security, when a magnitude 6.5 earthquake damaged Managua in December 1972. As a precaution, Hughes moved to the Nicaraguan National Palace and stayed there as a guest of Anastasio Somoza Debayle before leaving for Florida on a private jet the following day. He subsequently moved into the Penthouse at the Xanadu Princess Resort on Grand Bahama Island, which he had recently purchased. He lived almost exclusively in the penthouse of the Xanadu Beach Resort & Marina for the last four years of his life.
Hughes had spent a total of US$300 million on his many properties in Las Vegas.
Memoir hoax
In 1972, author Clifford Irving created a media sensation when he claimed to have co-written an authorized autobiography of Hughes. Hughes was such a reclusive figure that he did not immediately publicly refute Irving's statement, leading many people to believe Irving's book was a genuine autobiography. Before the book's publication, however, Hughes finally denounced Irving in a teleconference and the entire project was eventually exposed as a hoax. Irving was later convicted of fraud and spent 17 months in prison. In 1977, The Hoax by Clifford Irving was published in England; it is the story of these events. The 2007 film The Hoax, starring Richard Gere, is based on these events.
Death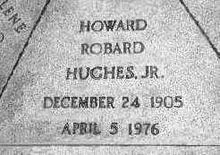 Picture - Howard Hughes's gravestone
Hughes was reported to have died on April 5, 1976, at 1:27 PM on board an aircraft owned by Robert Graf and piloted by Jeff Abrams, en route from his penthouse at the "Acapulco Fairmont Princess Hotel" in Mexico to The Methodist Hospital in Houston, Texas. Alternatively, other accounts indicate that he died in the flight from Freeport Grand Bahamas to Houston. His reclusive activities and drug use made him practically unrecognizable; his hair, beard, fingernails, and toenails were long, his tall 6 ft 4 in (193 cm) frame now weighed barely 90 lb (41 kg), and the FBI had to resort to fingerprints to identify the body. Howard Hughes' alias of "John T. Conover" was used upon the arrival of his body at a morgue in Houston on the day of his death. There, his body was received by Dr. Jack Titus.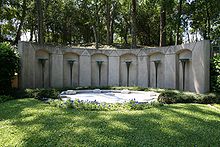 Picture - Hughes Family Gravesite at Glenwood Cemetery
A subsequent autopsy noted kidney failure as the cause of death. Hughes was in extremely poor physical condition at the time of his death. He suffered from malnutrition. While his kidneys were damaged, his other internal organs, including his brain, were deemed perfectly healthy. X-rays revealed five broken-off hypodermic needles in the flesh of his arms. To inject codeine into his muscles, Hughes used glass syringes with metal needles that easily became detached.
Hughes is buried in the Glenwood Cemetery in Houston, Texas, next to his parents.
Estate
Approximately three weeks after Hughes' death, a handwritten will was found on the desk of an official of The Church of Jesus Christ of Latter-day Saints in Salt Lake City. The so-called "Mormon Will" gave US$1.56 billion to various charitable organizations (including US$625 million to the Howard Hughes Medical Institute); nearly US$470 million to the upper management in Hughes' companies and to his aides; US$156 million to first cousin William Lummis; and US$156 million split equally between his two ex-wives Ella Rice and Jean Peters.
A further US$156 million was endowed to a gas-station owner named Melvin Dummar. Dummar told reporters that late one evening in December 1967, he found a disheveled and dirty man lying along U.S. Highway 95, 150 miles (240 km) north of Las Vegas. The man asked for a ride to Las Vegas. Dropping him off at the Sands Hotel, Dummar said the man told him he was Hughes. Dummar then claimed that days after Hughes's death, a "mysterious man" appeared at his gas station, leaving an envelope containing the will on his desk. Unsure if the will was genuine, and unsure of what to do, Dummar left the will at the LDS Church office. In a trial lasting seven months, the Mormon will was eventually rejected by the Nevada court in June 1978 as a forgery. The court declared that Hughes had died intestate.
Hughes' US$2.5 billion estate was eventually split in 1983 among 22 cousins, including William Lummis who serves as a trustee of the Howard Hughes Medical Institute. Dummar was largely discounted by the public as a phony and an opportunist. Jonathan Demme's film Melvin and Howard (starring Jason Robards and Paul Le Mat), was based on Dummar's tale.
The U.S. Supreme Court ruled that Hughes Aircraft was owned by the Howard Hughes Medical Institute, which sold it to General Motors in 1985 for US$5.2 billion. Suits brought by the states of California and Texas claiming they were owed inheritance tax were both rejected by the court. In 1984, Hughes's estate paid an undisclosed amount to Terry Moore, who claimed to have been secretly married to Hughes on a yacht in international waters off Mexico in 1949 and never divorced. Although Moore never produced proof of a marriage, her book, The Beauty and the Billionaire, became a bestseller.
Awards
Congressional Gold Medal (presented August 7, 1939).

Popular culture
Howard Hughes has now emerged as one of the 20th century's most iconic business and aviation figures spawning a wide range of cultural references.
Motion pictures
Howard Hughes flying boat maiden test run and flight, Parts 1 & 2. [soundrecording] (1947). LCCN 20-646215, LCCN 20-646218
Willard Whyte, a billionaire from the 1971 James Bond movie, Diamonds Are Forever, is based on Howard Hughes. Hughes, a friend of producer Albert Broccoli, allowed his hotel and casino to be used in the filming.
The Amazing Howard Hughes (1977), directed by William A. Graham. Tommy Lee Jones stars as Howard Hughes.
Melvin and Howard (1980), directed by Jonathan Demme and starring Jason Robards (a distant cousin) as Howard Hughes and Paul Le Mat as Melvin Dummar. The film won Academy Awards for Best Original Screenplay and Best Supporting Actress (Mary Steenburgen). The film focuses on Melvin Dummar's claims of meeting Hughes in the Nevada desert and subsequent estate battles over his inclusion in Hughes's will. Critic Pauline Kael called the film "an almost flawless act of sympathetic imagination."
Hughes is featured briefly in the 1988 film Tucker: The Man and His Dream, where he is played by Dean Stockwell.
Hughes was portrayed by Terry O'Quinn in Disney's The Rocketeer (1991), substituting for the "mystery inventor" (Doc Savage) in the original comic book version. In the film, Hughes had designed the rocket for use by soldiers, regretted the project, and declined to manufacture any more rockets. In the first scene with Hughes, he is arguing with two War Department people about his decision.
Before The Aviator (2004), there were several attempts to create a biopic based on the life of Hughes. For years, director-actor Warren Beatty wanted to play Hughes and direct a big-screen film of the mogul. It was to be released alongside Beatty's film Reds, but due to the lack of the right script, the project was abandoned. In the 1990s, producers with Touchstone Pictures wanted to do it with John Malkovich, Edward Norton, or Johnny Depp as Hughes, but, due to climbing costs, that venture was abandoned. Castle Rock Entertainment also tried to develop a biopic called Mr. Hughes with Jim Carrey starring and with Christopher Nolan directing and re-writing a script originated by David Koepp and Brian De Palma. When The Aviator began production, the idea was scrapped, and Nolan went on to direct Batman Begins. Some of the details of Hughes as an adult were confirmed in A. Scott Berg's memoir of Katharine Hepburn (Kate Remembered).
The Aviator (2004), directed by Martin Scorsese and starring Leonardo DiCaprio as Hughes. Nominated for 11 Academy Awards, and winning five, the acclaimed film focuses primarily on Hughes' achievements in aviation and in the movies and on the increasing handicaps imposed on him by his obsessive-compulsive behavior, and ends shortly after the successful flight of the Hercules in 1947.
The Hoax (2007), directed by Lasse Hallstrx¶m. The story depicts events in the life of Clifford Irving, an American novelist who became well known in the early 1970s when his "authorized autobiography" of Howard Hughes was exposed as a hoax.
Iron Man, directed by Jon Favreau is an adaptation of a comic book about a wealthy weapons manufacturer, Tony Stark. According to creator Stan Lee, the character's personality and playboy lifestyle were inspired by Hughes, explaining, "Howard Hughes was one of the most colorful men of our time. He was an inventor, an adventurer, a multi-billionaire, a ladies' man and finally a nutcase".
In the animated movie Up, young Charles Muntz was compared by the director to Hughes.

Music
John Hartford's 1972 album Morning Bugle includes the song "Howard Hughes Blues" which describes his solitary life of "poor old Howard Hughes and all of his blues". The song was covered by Laura Cantrell on her 2008 digital-only release, Trains and Boats and Planes.
The soul trio Hues Corporation, whose biggest hit was "Rock the Boat", originally called themselves "Children of Howard Hughes", but changed their name after 1973 for fear of a lawsuit.
The Boomtown Rats released the song "Me And Howard Hughes" on their album A Tonic for the Troops in 1978.
Cello trio Rasputina have a song entitled "Howard Hughes" in Thanks for the Ether (1996).
The band Kansas wrote several songs about the life of Howard Hughes, most notably the song "Closet Chronicles."
The British shoegaze band Ride have released a song titled "Howard Hughes". It is now available on the re-issues of their second album Going Blank Again.

Literature
Howard Hughes appears as a character in Death and Honor (Putnam, 2008), W.E.B. Griffin's fictional account of the clandestine espionage activities of agents of the United States Office of Strategic Services (the "OSS") during World War II. In the novel, Hughes is portrayed as an unofficial intelligence community insider.
Howard Hughes also appears in James Ellroy's Underworld USA Trilogy.
Howard Hughes and his dominion over Las Vegas has a significant role to play in Thomas Pynchon's Inherent Vice.

Television
In the tenth episode of the fifth season of The Simpsons, $pringfield (Or, How I Learned to Stop Worrying and Love Legalized Gambling), Mr. Burns' paranoid and obsessive-compulsive behavior is a parody of Howard Hughes.

Citations
Bibliography
Barkow, Al. Gettin' to the Dance Floor: An Oral History of American Golf. Short Hills, New Jersey: Burford Books, 1986. ISBN 1-58080-043-2.
Barton, Charles. Howard Hughes and his Flying Boat. Fallbrook, CA: Aero Publishers, 1982. Republished in 1998, Vienna, VA: Charles Barton, Inc. ISBN 0-9663175-0-5.
Barlett, Donald L. and James B. Steele. Empire: The Life, Legend and Madness of Howard Hughes. New York: W.W. Norton & Company, 1979. ISBN 0-393-07513-3, republished in 2004 as Howard Hughes: His Life and Madness.
Brown, Peter Harry and Pat H. Broeske. Howard Hughes: The Untold Story. New York: Penguin Books, 1996. ISBN 0-525-93785-4.
Burleson, Clyde W. The Jennifer Project. College Station, Texas: Texas A&M University Press, 1997. ISBN 0-89096-764-4.
Dietrich, Noah and Bob Thomas. Howard: The Amazing Mr. Hughes. New York: Fawcett Publications, 1972. ISBN 0-0-44902-565-1.
Drosnin, Michael. Citizen Hughes: In his Own Words, How Howard Hughes Tried to Buy America. Portland, Oregon: Broadway Books, 2004. ISBN 0-76791-934-3.
Hack, Richard. Hughes: The Private Diaries, Memos and Letters: The Definitive Biography of the First American Billionaire. Beverly Hills, California: New Millennium Press, 2002. ISBN 1-893224-64-3.
Irving, Clifford. The Hoax. New York: E. Reads Ltd., 1999. ISBN 978-0759238688.
Marrett, George J. Howard Hughes: Aviator. Annapolis, Maryland: Naval Institute Press, 2004. ISBN 1-59114-510-4.
Kistler, Ron. I Caught Flies for Howard Hughes. Chicago: Playboy Press, 1976. ISBN 0-87223-447-9.
Lasky, Betty. RKO: The Biggest Little Major of Them All, 2d ed . Santa Monica, California: Roundtable, 1989. ISBN 0-91567-741-5.
Maheu, Robert and Richard Hack. Next to Hughes: Behind the Power and Tragic Downfall of Howard Hughes by his Closest Adviser. New York: Harper Collins, 1992. ISBN 0-06016-505-7.
Moore, Terry. The Beauty and the Billionaire. New York: Pocket Books, 1984. ISBN 0-67150-080-5.
Moore, Terry and Jerry Rivers. The Passions of Howard Hughes. Los Angeles: General Publishing Group, 1996. ISBN 1-88164-988-1.
Phelan, James. Howard Hughes: The Hidden Years. New York, Random House, 1976. ISBN 0-39441-042-4.
Real, Jack. The Asylum of Howard Hughes. Philadelphia: Xlibris Corporation, 2003. ISBN 1-4134-0875-3.
Thomas, Bob. Liberace: The True Story. New York: St. Martin's Press, 1987. ISBN 0-312-01469-4.
Tierney, Gene with Mickey Herskowitz. Self-Portrait. New York: Peter Wyden, 1979. lSBN 0-883261-52-9.
Weaver, Tom. Science Fiction and Fantasy Film Flashbacks: Conversations with 24 Actors, Writers, Producers and Directors from the Golden Age. New York: McFarland & Company, 2004. ISBN 0-78642-070-7.

Additional resources
Photograph collections related to Hughes: Houston Public Library; University of Nevada, Las Vegas; Evergreen Aviation and Space Museum; Charles Barton, Inc.

More airplanes.
Source: WikiPedia