IAR 330 Warbird Information
IAR 330 Puma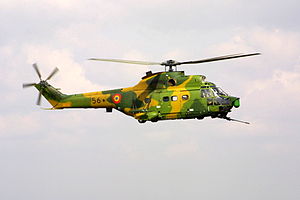 Aircraft Picture - IAR 330 SOCAT
Role: Utility/attack/naval helicopter
First flight: 22 October 1975
Status: Operational
Primary users: Romanian Air Force Romanian Navy Pakistan Army Sudan Air Force
Number built: Ôëą 163
Developed from: AÚrospatiale Puma

The IAR 330 is the Romanian-built version of AÚrospatiale's SA 330 Puma helicopter, manufactured by IAR Bra┼čov. Twenty-four helicopters have been recently upgraded to IAR 330 SOCAT in cooperation with Elbit Systems (Israel).
Production
Despite being a COMECON and Warsaw Pact member, Romania strove for some measure of independence from the USSR. Instead of buying popular Soviet designs, Romania bought a licence to manufacture the French AÚrospatiale SA 330 Puma on 30 July 1974. The first licensed helicopter was flown on 22 October 1975 under the designation IAR-330L.
163 of these helicopters have been built, out of which 104 were assigned to Romania's military, 2 remained in factory and 57 were produced for export (Pakistan, Ivory Coast, United Arab Emirates, Sudan, Ecuador). There is also a SAR (search and rescue) version, fitted with inflatable floaters for emergency landing at sea, which has been built in a small batch. Production is still ongoing at the Industria Aeronautica Romana Ghimbav plant near Bra┼čov.
SOCAT version
In 1990s, the Romanian Air Force decided to enhance combat capabilities of IAR-330L, making it a universal anti-tank and support helicopter. At that time, Romania started to cooperate with Israel on some military programs. The Israeli company Elbit Systems was chosen, and in September 1995 the Romanian Air Force signed the contract to upgrade 24 helicopters with the SOCAT system (Sistem Optronic de Cercetare si Anti-Tanc). The first IAR-330L SOCAT was flown on 26 May 1998, from the airport of IAR S.A. in Ghimbav, near Bra┼čov. On 23 October 1999, the second prototype flew. The first IAR-330L SOCAT was delivered to a combat unit in 2001. In all, 25 SOCATs were made, including the prototype, rebuilt to a serial configuration in 2005.
IAR-330M NATO Puma is a modernized transport version, with SOCAT version's avionics, but without weapons and optronic systems. Among others, it has a weather radar. 12 helicopters IAR-330L were modernized to 330M in 2005-2008.
Naval version
The first IAR 330 Puma NAVAL helicopter was officially unveiled at Ghimbav on 30 January 2007. The Romanian Naval Forces ordered 3 IAR 330 Naval helicopters, the last one should be commissioned early 2008. The helicopter is in a similar configuration to those of the Romanian Air Force, including the SOCAT upgrade package, the Navy Pumas also have flotation gear fitted under the nose and main undercarriage fairings. After completing factory tests and sea trials , they will be operated from Navy frigates for search and rescue, medevac and maritime surveillance missions.
Variants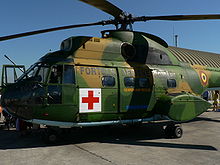 Airplane Picture - Medevac version of the IAR 330
IAR 330L :
IAR 330M :
IAR 330L SOCAT :
IAR 330 NAVAL :

Operators
Cx┤te d'Ivoire - 4 ordered in 2002 and delivered in 2003.
Democratic Republic of the Congo - one delivered in 1971.
Kenya - 9 (up to 16) ordered in 1977 and delivered between 1978-1980.
Lebanon - 6 ordered in 1983 and delivered in 1984 via France.
Pakistan - 4 ordered in 1987 and delivered next year.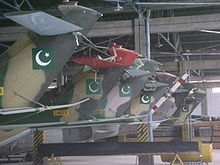 Airplane Picture - Tail Wings of Pakistani Army's IAR-330 PUMA helicopters
Romania - 35 IAR-330 Puma and 23 IAR-330 Puma SOCAT in service as of 2010
Sudan - 10 (up to 15) ordered in 1984 and delivered until 1985.
United Arab Emirates - 10 ordered in 1993 and delivered between 1993-1994.
Notable incidents
An IAR 330 SOCAT crashed on 16 August 2001 during a training flight. The crash occurred at an altitude of 50 metres, wounding the crew.
An IAR 330 SOCAT helicopter crashed on November 7, 2007, in Ungheni, 30 km south of Pite┼čti, Arge┼č County, during a night training mission, killing all three crew members.

Specifications
ÔÇÄ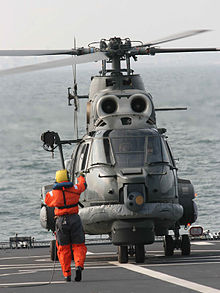 Airplane Picture - IAR 330 Puma Naval version
General characteristics
Crew: three
Length: 15.0 m (49 ft 2 in)
Rotor diameter: 16.2 m (53 ft 1 in)
Height: 4.6 m (15 ft 1 in)
Empty weight: 3,615 kg (7,970 lb)
Useful load: 1,000 kg (2,204lb)
Max takeoff weight: 7,400 kg (16,300 lb)
Powerplant: 2 xŚ TURMO IV B turboshafts, 1,044 kW (1,400 hp) each

Performance
Maximum speed: 263 km/h (142 knots, 164 mph)
Range: 550 km (297 nm, 342 mi)
Service ceiling: 4,800 m (15,750 ft)
Rate of climb: 9.2 m/s (1,810 ft/min)

Armament
IAR-330L
2 x 23mm single barrel NR-23 gun pods (on the sides of the nose) with 400 rounds each (optional)
LPR 57 unguided rocket launcher (optional, on 4 hardpoints)
2 x 7.62 mm caliber door mounted machine guns (usually only one mounted on the starboard side)
Malyutka wire guided ATGM (4 rails above the hardpoints, used only on trials)
50 or 100 kg bombs (4 hardpoints, used only on trials)

Puma SOCAT
Nexter THL-20 20mm chain gun (chin mounted) with 850 rounds
LPR 57 unguided rocket launcher (inner 2 hardpoints)
8 RAFAEL Spike-ER anti-tank guided missiles (outer 2 hardpoints)
Nexter NC-621 20mm gun pod with 180 rounds (outer 2 hardpoints, used only on trials)

Related development
AÚrospatiale Puma

Comparable aircraft
Eurocopter Cougar
Eurocopter Super Puma

IAR 330 Pictures
More airplane video.
Source: WikiPedia