ICA IS-29 Video - Picture
ICA IS-29 Warbird Information
ICA IS-29, IS-31, and IS-33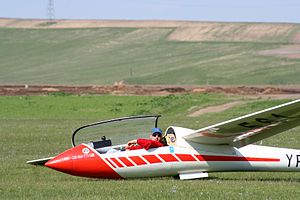 Aircraft Picture - IS-29D2
Role: Club-class Sailplane
National origin: Romania
Manufacturer: ICA
Designer: Iosif Silimon
First flight: April 1970
Number built: >200

The ICA IS-29 was a sailplane built in Romania in the 1970s. The prefix IS comes from Iosif Silimon, the Romanian IAR (Industria Aeronautica Romana) aeronautical engineer who designed it. The 15-metre (49 feet) single place sister of the IS-28 series, the IS-29D2 single-seater has retractable gear, camber-changing flaps and Hx¼tter type airbrakes on the upper wing surface only. The T-tail has a fixed stabilizer and elevator. The -29D model is of all metal construction while the earlier -29B has wooden wings. Developments include 19 metre (62 ft) -29E2 and 20 m (66 ft) -29E3 versions and a flapless, fixed gear 16.5-metre (54 feet) 'club' model -29G.
The IS-29 was also produced in a motorglider version, designated the IS-29EM. This shared the low-set wings and three-point undercarriage of the IS-28M2, and the new wings of the IS-28MA.
Variants
IS-29
IS-29B - wooden wings of 15-metre span
IS-29D
IS-29D2
IS-29D2 Club - Club-class version of IS-29D2
IS-29E - open class version with ballast tanks
IS-29E2 - version with 19-metre wings
IS-29E3 - version with 20-metre wings
IS-29EM - motorglider version
IS-29G - Club-class version with 16.5-metre wings
IS-31 - IS-29 with 20-metre wings and linked flaps and ailerons
IS-33 - IS-29 with tanks for 150 kg (300 lb) of water ballast

Specifications (IS-29D2)
General characteristics
Crew: One pilot
Length: 7.38 m (24 ft 3 in)
Wingspan: 15.00 m (49 ft 3 in)
Height: 1.68 m (5 ft 6 in)
Wing area: 10.4 m (112 ft)
Aspect ratio: 21.5
Empty weight: 235 kg (518 lb)
Gross weight: 360 kg (794 lb)

Performance
Maximum speed: 225 km/h (140 (121 Kts) mph)
Maximum glide ratio: 37:1 at 50 Kts
Rate of sink: 0.61 m/s (120 ft/min)

Soaring Society of America
Taylor, Michael J. H. (1989). Jane's Encyclopedia of Aviation. London: Studio Editions. p. 528.
Hardy, Michael (1982). Gliders and Sailplanes of the World. Shepperton: Ian Allan. pp. 54-55.
Coates, Andrew (1978). Jane's World Sailplanes and Motor Gliders. London: MacDonald and Jane's. p. 124.
Simpson, R. W. (1995). Airlife's General Aviation. Shrewsbury: Airlife Publishing. p. 342.
Jane's All the World's Aircraft 1977-78. London: Jane's Yearbooks. p. 608.

ICA IS-29 Pictures
More airplane video.
Source: WikiPedia