ICA IS-28 Video - Picture
ICA IS-28 Warbird Information
ICA IS-28 and IS-30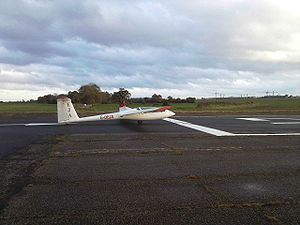 Role: Sailplane
National origin: Romania
Manufacturer: ICA
Designer: Iosif Silimon
First flight: August 1970
Number built: ca. 400
Variants: IAR-46

The ICA IS-28 is a two-seat sailplane produced in Romania in the 1970s. An all-metal aircraft of conventional design with a T-tail, it was originally produced with 15-metre wings, but in 1973, production shifted to the IS-28B with 17-metre wings and numerous aerodynamic refinements. These included a smaller tail with decreased dihedral, decreased dihedral on the wings, and redesigned fuselage contours. This version first flew on 26 April 1973 and was subsequently produced in versions with flaps (IS-28B2) and without (IS-28B1). Around 100 had been built by the early 1980s, with a substantial number sold for export. In April 1979, a world record was set with the IS-28 B2 glider, covering a distance of 829 kilometres on a predetermined out-and-return course.
The IS-28 was also produced as a motorglider, initially as just a powered version of the IS-28B2 (designated the IS-28M1) and then as the more radically redesigned IS-28M2. This version had an entirely new forward fuselage offering side-by-side seating for the two occupants, wings relocated to a low-set position on the fuselage, and tailwheel undercarriage with main units that semi-retracted backwards into the wings. The rear fuselage, empennage, and outer wing panels remained identical with the sailplane version.
The IS-30 is a refined IS-28B2, identical in most respects other than having all-metal control surfaces (where the IS-28 has fabric-covered surfaces) and a re-designed horizontal stabiliser.
Variants
IS-28 - sailplane with 15 metre wings
IS-28B
IS-28B1 - sailplane with 17 metre wings and DFS-style airbrakes
IS-28B2 - similar to IS-28B1 with flaps and Schempp-Hirth-style airbrakes
IS-28M
IS-28M1 (aka IAR-34)- motorglider version of IS-28B1 with Limbach SL.1700E1 engine
IS-28M2 - motorglider with side-by-side seating and three-point undercarriage
IAR-28MA - IS-28M2 with new wing, split flaps and Limbach L.2000E01 engine
IS-30 - all-metal IS-28B2 with new tailplane.
IAR-46 - trainer version of IS-28M2 with reduced wingspan and Rotax 912A engine

Specifications (IS-28B2)
General characteristics
Capacity: 2 seats
Length: 8.36 m (27 ft 5 in)
Wingspan: 17.00 m (55 ft 9 in)
Height: 1.80 m (5 ft 11 in)
Wing area: 18.2 m (196 ft)
Aspect ratio: 15.8
Empty weight: 375 kg (826 lb)
Gross weight: 590 kg (1,300 lb)

Performance
Maximum speed: 230 km/h (142 mph)
Maximum glide ratio: 34
Rate of sink: 0.6 m/s (122 ft/min)

Barnett, Cliff (20 November 1982). "IS-30: Romania's smooth two-seater". Flight International: pp. 1484-85. http://www.flightglobal.com/pdfarchive/view/1982/1982%20-%202596.html. Retrieved 2008-05-07.
Coates, Andrew (1978). Jane's World Sailplanes and Motor Gliders. London: MacDonald and Jane's. p. 124. ISBN 0354011197.
Hardy, Michael (1982). Gliders and Sailplanes of the World. Shepperton: Ian Allen. pp. 54-55.
Simpson, R. W. (1995). Airlife's General Aviation. Shrewsbury: Airlife Publishing. p. 342. ISBN 1853105775.
Taylor, Michael J. H. (1989). Jane's Encyclopedia of Aviation. London: Studio Editions. p. 528. ISBN 0710607105.

ICA IS-28 Pictures
More airplane video.
Source: WikiPedia