Ilyushin Il-112 Video - Demo Reel made for MAKS 2007 - International Aviation and Space Salon
Ilyushin Il-112 Aircraft Information
Ilyushin Il-112
Il-112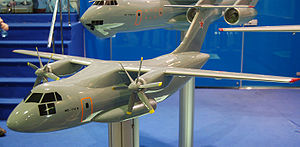 Picture - Il-112 concept
Role: Light military transport
National origin: Russia
Manufacturer: Tashkent Aviation Production Association
Designed by: Ilyushin
First flight: 2011 proposed
Primary user: Russian Air Force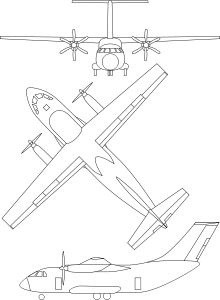 Picture -
The Ilyushin Il-112V is a light military transport aircraft developed by Ilyushin for air landing and airdrop of military cargoes, equipment and personnel. The IL-112V is equipped with the avionics combining the entire equipment complexes and systems into an integrated complex - the on board equipment integrated complex. All aviation information as well as information on the operation of aircraft systems is displayed on 6 LCD monitors.
The aircraft meets all ICAO noise and emission requirements.
The IL-112V can fulfill the assigned missions in any geographic and weather conditions, day and night, standard or adverse weather conditions.
It is scheduled make its maiden flight in 2011. Russian Air Force is expected to place an order of 70 planes.
Specifications
Data from ilyushin.org
General characteristics
Crew: 2
Length: 23.14 m (75 ft 11 in)
Wingspan: 25.74 m (84 ft 5 in)
Height: 8.87 m (29 ft 1 in)
Wing area: 300.0 m² ()
Useful load: 6000 kg (13,000 lb)
Max takeoff weight: 20,000 kg (44,000 lb)
Powerplant: 2x— Klimov TV7-117ST turboprops, 2,100 kW (2,800 hp) each

Performance
Cruise speed: 550-580 km/h (340-360 mph)
Range: 5,000 km with 2 tonne load; 1000 km with max load (3,100 mi with 2 ton load; 600 mi with max load)
Service ceiling: 9,000 m (30,000 ft)

Variants (built and proposed)
Il-112T - Light transport aircraft.

Living Warbirds: The best warbirds DVD series.
Source: WikiPedia