Ilyushin Il-12 Video - Picture
Ilyushin Il-12 Aircraft Information
Ilyushin Il-12
Il-12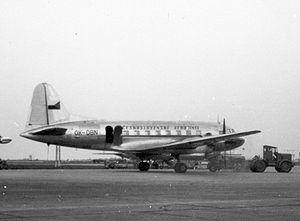 Picture - Ilyushin Il-12 of CSA Czech Airlines on scheduled service at Paris Orly Airport in 1957
Role: Transport aircraft
Manufacturer: Ilyushin
First flight: 1945
Primary user: Aeroflot
Number built: 663
Variants: Ilyushin Il-14

The Ilyushin Il-12 (NATO reporting name "Coach") was a Soviet twin-engined cargo aircraft, developed in the mid-1940s for Aeroflot.
History and development
The aircraft was intended to replace the Lisunov Li-2, which was a licence produced version of the Douglas DC-3. The new aircraft followed a classical layout for a twin engined transport, with a metallic structure, monoplane wings, a conventional tail section. One major improvement over the Li-2 design was the tricycle gear, which allowed better visibility when taxiing and landing. It had increased wing surface compared with the DC-3/Li2, which was necessary owing to the increased power.
The aircraft made its maiden flight on 15 August 1945 , powered by two ACh-31 diesel engines (each producing 1,500 hp). It was soon decided to re-engine the aircraft with Shvetsov ASh-82 radial engines, the revised aircraft flying on 9 January 1946.
It was found to have major problems during testing, having poor engine out characteristics and requiring a strut under the rear fuselage to prevent tipping during loading due to CG problems. Further problems was the use of magnesium near the engines which in case of engine fire could cause a uncontrolled fire, damaging the wing structure. This led to a crash with a complete loss of lives after the wing of the airplane collapsed during flight after an engine fire. The magnesium was replaced by aluminium alloys.
The fuselage had a considerable volume, and was equipped with eight rectangular windows on each side. The crew consisted of 3 and the aircraft could transport 32 soldiers, 32 parachutists or cargo. There was also a civil version, which although designed to carry up to 32 passengers, was limited in Aeroflot service to 21, with normally only 18 carried. This meant that use of the Il-12 for passenger use was un-economic. Some 663 Il-12 were manufactured.
The aircraft was later improved into the Ilyushin Il-14.
Variants
Il-12 : Twin-engined passenger, cargo transport aircraft.
Il-12A : Unmodified Ilyushin Il-12 aircraft.
Il-12B : Modified Ilyushin Il-12 aircraft, fitted with an improved de-icing system, lengthened nosewheel and a small dorsal fin fillet.
Il-12D : Twin-engined military transport aircraft for the Soviet Air Force.

Operators
Bulgaria
TABSO

Czechoslovakia
Czech Airlines

People's Republic of China
CAAC
People's Liberation Army Air Force

Poland
LOT

Romania
TAROM

Soviet Union
Aeroflot
Soviet Air Force
Soviet Navy

North Korea
CAAK

Specifications (Il-12)
Data from The Osprey Encyclopedia of Russian Aircraft from 1875 - 1995
General characteristics
Crew: 3
Capacity: 21-32 passengers
Length: 21.31 m (69 ft 11 in)
Wingspan: 31.7 m (104 ft 0 in)
Height: 8.07 m (26 ft 5ā…¯in)
Wing area: 103 m² (1,109 ft²)
Empty weight: 11,045 kg (24,350 lb)
Max takeoff weight: 17,250 kg (38,029 lb)
Powerplant: 2x— ASh-82FNV 14 cylinder two-row air cooled radial engine, 1,380 kW (1,850 hp) each

Performance
Maximum speed: 407 km/h (220 kn, 253 mph) at 2,500 m (8,200 ft)
Range: 1,500 km with 26 passengers (810 nmi, 932 mi)
Endurance: 4.5 hr
Service ceiling: 6,500 m (21,325 ft)
Climb to 5,000 m (16,400 ft): 15 minutes

Bibliography
Gunston, Bill. The Osprey Encyclopedia of Russian Aircraft from 1875 - 1995. London: Osprey Aerospace, 1995. ISBN 1-85532-405-9.
Stroud, John. Soviet Transport Aircraft since 1945. London:Putnam, 1968. ISBN 0 370 00126 5.

Living Warbirds: The best warbirds DVD series.
Source: WikiPedia