Ilyushin Il-14 Video - Wings of Russia - Civil Carriers
Ilyushin Il-14 Aircraft Information
Ilyushin Il-14
Il-14
Picture - Il-14G of Aeroflot at Arlanda Airport
Role: Airliner
National origin: Soviet Union
Manufacturer: Ilyushin
First flight: 1950
Introduction: 1954 (Aeroflot)
Retired: 1998 (Vietnamese Air Force) 1998 (Syrian Air Force) 2005 (Russian CAA)
Status: Very few operational
Primary users: Soviet Air Force Aeroflot Egyptian Air Force
Number built: 1,122
Developed from: Ilyushin Il-12

The Ilyushin Il-14 (NATO reporting name "Crate") was a Soviet twin-engine commercial and military personnel and cargo transport aircraft that first flew in 1950, and entered service in 1954. Il-14 was also manufactured in East Germany by VVB Flugzeugbau, in Czechoslovakia as the Avia 14, and in China under the Chinese designation Y-6. The Ilyushin Il-14 was typically replaced by the Antonov An-24 and Yakovlev Yak-40.
Design and development
The Il-14 was developed as a replacement for the widespread Douglas DC-3 and its Soviet built version, the Lisunov Li-2. A development of the earlier Ilyushin Il-12, (that first flew in 1945), the Il-14 was intended for use in both military and civil applications. The Il-12 had major problems with poor engine-out behaviour. Also, it had less payload capability than was originally planned (although the Il-12 was intended to carry 32 passengers, in service, it only carried 18, which was uneconomic).
The development into the Il-14 was a vast improvement over the Il-12, with a new wing and a broader tailfin. It was powered by two 1,400 hp (1,900 hp) Shvetsov ASh-82T-7 radial piston engines. These changes greatly improved aerodynamic performance in engine-out conditions. Total production was 1,112 aircraft: 469 in Moscow ( Moscow Machinery Plant Nr.30 ) from 1956 to 1958, 360 in Tashkent ( Factory Nr.84 ) from 1954 to 1958. Licenced production of 80 in East Germany by VEB Dresden ( Factory Nr.803 ) from 1956 to 1959 and 203 in Czechoslovakia by Avia, Prague, from 1956 to 1960. It was rugged and reliable, and thus was widely used in rural areas with poor quality airfields.
It was also used by the East German aircraft industry as a test aircraft for the horizontal stabilizer of the Baade 152.
Variants
Il-14 : Twin-engined passenger, cargo transport aircraft.
Il-14P : Commercial transport aircraft.
Il-14M : Commercial transport aircraft, fitted with a lengthened fuselage, 24-32 seat.
Il-14T : Military transport aircraft.
Il-14G : Freight or cargo aircraft.
Crate-C : Electronic warfare version.
Avia 14 / 14P : Ilyushin Il-14s and Il-14Ps built by Avia under licence in Czechoslovakia.
Avia 14-32 : 32-seat version of the Ilyushin Il-14M.
Avia 14-42 : Enlarged 42-seat version with a pressurised fuselage.
Avia 14T : Freight or cargo version of the Ilyushin Il-14M.
Avia 14FG : Aerial survey aircraft.
Avia 14 Salon : VIP transport aircraft.
Avia 14 Super :
Y-6 : Projected Chinese production version. Aborted after Y-7 development began.

Operators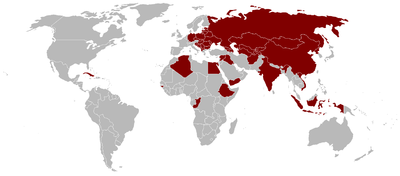 Picture - Countries which have operated the Il-14
The Il-14 soldiered on in the Soviet Union until the 1980s, and also in other Soviet satellite nations including Cuba and Vietnam. However, the unlicenced Chinese built Y-6 remained in the People's Liberation Army Air Force as a trainer until late 1980s.
Military operators
There are no current military operators of the Ilyushin Il-14.
Afghanistan
Afghan Air Force. 26 were supplied to the Afghan Air Force from 1955 onwards. By 1979, the force was reduced to 10, equipping a single squadron.
Albania
Albanian Air Force. 11 have been operated by the Albanian Air Force from 1957. None remain in service as of 1999. 8 Il-14M were delivered from 1957, with four remaining by 1979. A single Avia built Il-14T along with 2 East Germany built Il-14P transports were delivered in 1983 and retired by 1996.
Algeria
Algerian Air Force. 12 were delivered to the from 1962, with the last phased out in 1997. Only four were operational by 1979.
Bulgaria
Bulgarian Air Force. 20 were delivered from 1960, including Il-14M and East Germany built Il-14P examples. The Il-14P was retired by 1974, and only 4 Il-14M remained by 1979.
Cambodia
The Cambodian Air Force operated 2 Il-14s in 1968.
China
More than 50 have been operated by the People's Liberation Army Air Force from 1955, mostly of the Il-14M and locally produced Y-6 variations. Some have been reported in use by the People's Liberation Army Navy as well. Final examples were withdrawn by the late 1990s.
Republic of the Congo
Congolese Air Force. 5 were delivered from 1960 and remained in service until 1997. All were reported on strength in 1979.
Cuba
Cuban Air Force. 20 were delivered from 1961, and served as late as 1992.
Czechoslovakia
Czechoslovakian Air Force. 50 were operated from 1958, though most were locally built examples delivered from 1968. Most were retired prior to the split of Czechoslovakia, though a small number may have served briefly with its successor states.
East Germany
East German Air Force. 30 were delivered, beginning with 11 Ilyushin built aircraft from 1956 and deliveries of East Germany built aircraft commencing the following year and totalling 19 examples. 20 remained by 1979, and all were withdrawn by 1990, with none being passed on to the unified German Luftwaffe.
Egypt
Egyptian Air Force. 70 were operated by the Egyptian Air Force from 1955. Most were Soviet built models, but at least one East Germany built Il-14P was delivered in 1957. Numerous aircraft were destroyed by Israel during conflicts, but 26 survived to the peace of 1979. Acquisition of Western aircraft from then on led to the retirement of the Il-14 by 1994.
Ethiopia
Ethiopian Air Force. 2 were acquired in 1965, with one remaining in service by 1979 and finally retired by 1994.
Guinea-Bissau
4 were in operation in 1979.
India
Indian Air Force. 26 were delivered from 1955 but were withdrawn by 1979.
Indonesia
Indonesian Air Force. 22 were delivered from 1957 and withdrawn by 1975.
Iraq
Iraqi Air Force. 13 Il-14M were delivered in 1958, with 3 remaining by 1979. The last aircraft were withdrawn after the first Gulf War.
Mongolia
Mongolian People's Air Force. 7 were delivered from 1956, with 6 remaining in service by until 1974.
North Korea
North Korean Air Force. About 15 have been operated from 1958 with fewer than 10 in service by 1979 and the last withdrawn by 1998.
North Yemen
6 or more were delivered from 1958, with a single example flying in 1979. This was passed on to the unified Yemen.
Poland
Polish Air Force. 12 or more served from 1955, including Soviet built Il-14P, Il-14S, and Il-14T, as well as East Germany built Il-14P and Il-14T models. These served as late as 1974.
Romania
Romanian Air Force. 33 were delivered from 1955, including 30 East Germany built Il-14P models as well as 3 Il-14M aircraft delivered in 1961. Only 4 remained in service by 1979, with the last Il-14M being retired in 1983. None remained in service by 1993.
South Yemen
4 were delivered from 1966, serving as late as 1988.
Soviet Union
Soviet Air Force and Soviet Naval Aviation. Serving from 1954, 235 were in service in 1979.
Syria
Syrian Air Force. 16 were delivered from 1957, with 8 remaining in service by 1979. Final examples were in service as late as 1998.
Vietnam
Vietnam People's Air Force. 45 were delivered from 1958, with 12 remaining in service by 1979. None remained in service by 1998.
Yemen
Yemen Air Force. 1 was inherited from North Yemen in 1990, serving for a short time before being retired.
Yugoslavia
SFR Yugoslav Air Force. 12 were delivered from 1963, with up to 10 still in service by 1979. None remained in service by 1998.
Picture - Ilyushin Il-14
Civil operators
Very few examples remain airworthy, with some still in use for freight duties, and a handful maintained by aviation clubs and enthusiasts. Today at least one aircraft remains airworthy in Russia, while another is possibly airworthy in the United States.
Bulgaria
Balkan Bulgarian Airlines
Tabso

People's Republic of China
CAAC
Shanxi Airlines
Wuhan Airlines
Zhongyuan Airlines

Cuba
Aerocaribbean
Cubana - One example is displayed at the Museo del Aire (Cuba)

Czechoslovakia
CSA Czech Airlines

Picture - 1961 photograph of an Ilyushin Il-14 operated by East-German airline Interflug
East Germany
Deutsche Lufthansa (Interflug)
Interflug

Hungary
Malev - 10 were operated in Hungary from 1956, two of them by the Hungarian government, eight of them by Malév Hungarian Airlines. The first three of Malév's planes were built in the Soviet Union, with the remaining five Il-14P produced by East Germany. Malév's planes remained operational until 1970, the two planes of the government were retired in 1978. All the Hungarian Il-14 were sold to the Soviet Union for use by the Arctic aviation.

Mali
Air Mali

Mongolia
Mongolian Airlines - UVS-MNR Air Mongol

North Korea
CAAK

Poland
Polskie Linie Lotnicze LOT operated 20 aircraft between 1955 and 1974.

Romania
Tarom

Soviet Union
Aeroflot

Vietnam Vietnam Civil Aviation Department - later as Vietnam Civil Aviation (now Vietnam Airlines) Yemen
Yemen Airlines

Yugoslavia
JAT

Specifications (Il-14)
Data from The Encyclopedia of World Aircraft
General characteristics
Crew: Four (flight crew)
Capacity: 24-28 passengers
Length: 22.30 m (73 ft 2 in)
Wingspan: 31.70 m (104 ft 0 in)
Height: 7.90 m (25 ft 11 in)
Wing area: 99.7 m² (1,073 ft²)
Empty weight: 12,600 kg (27,778 lb)
Max takeoff weight: 18,000 kg (39,683 lb)
Powerplant: 2x— Shvetsov ASh-82T 14 cylinder air-cooled radial engines, 1,417 kW (1,900 hp) each

Performance
Maximum speed: 417 km/h (225 kn, 259 mph)
Range: 1,305 km (705 nmi, 811 mi) (full payload)
Service ceiling: 7,400 m (24,280 ft)

Incidents and accidents
Related development
Ilyushin Il-12

The initial version of this article was based on material from aviation.ru. It has been released under the GFDL by the copyright holder.
Ogden, Bob (2008). Aviation Museums and Collections of The Rest of the World. UK: Air-Britain. ISBN 9780851303949

Living Warbirds: The best warbirds DVD series.
Source: WikiPedia