Ilyushin Il-18 Video - Aborted takeoff
Ilyushin Il-18 Aircraft Information
Ilyushin Il-18
Il-18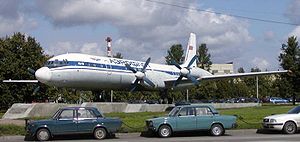 Picture - Il-18 on display at Moscow's Sheremetyevo International Airport
Role: Airliner
Manufacturer: Ilyushin
First flight: 4 July 1957
Status: Operational
Primary users: Aeroflot Air Koryo
Produced: 1959-1978
Number built: 564
Variants: Ilyushin Il-38

The Il-18 (NATO reporting name: "Coot") is a large turboprop airliner that became one of the best known Soviet aircraft of its era as well as one of the most popular and durable, having first flown in 1957 and still in use over 50 years later. The Il-18 was one of the world's principal airliners for several decades and was widely exported. Due to the aircraft's airframe durability, many achieved over 45,000 flight hours. The Il-18's successor was the long range Il-62 jet airliner.
Design and development
Two Soviet aircraft shared the designation Ilyushin Il-18. The first Il-18 was a propeller-driven airliner of 1946 but after a year of test flights that programme was abandoned. The production Il-18 was a passenger aircraft equipped with four turboprop engines and somewhat resembled the Lockheed L-188 Electra and Bristol Britannia. The aircraft was mass manufactured for 12 years. The popularity of the aircraft was ensured, not just because of its reliability and operational economy, but also due to the possibility of increasing the number of passenger seats and flight range for each modification (A, B, V, D and E). The Il-18 was also produced in VIP version («Salon»). Cubana retrofitted their Il-18s with the Bristol Britannia nosewheel and other parts in the nose gear, to improve the handling on poor runways.
Operational history
The first Il-18, equipped with NK-4 turboprop engines, flew on 4 July, 1957. On 17 September, 1958 the aircraft first flew with the new Ivchenko AI-20 engines. Vladimir Kokkinaki was the test pilot. Between 1958 and 1960 twenty-five world records were set by this aircraft, among them flight range and altitude records with various payloads. In 1958 the aircraft was awarded the Brussels World Fair Grand Prix. In April 1979 a monument was unveiled at Sheremetyevo airport to commemorate this remarkable aircraft.
Seventeen foreign air carriers acquired 125 Il-18 aircraft, seating 100-120 passengers. Many are still in service in Cuba, Siberia and the Middle East.
Price
According to Country Studies, Ghana purchased eight Il-18's on credit in 1961, at a price of more than US$1,500,000 each. However, since the operating costs were rather high, four were later returned to the USSR, and others were used by Ghana Airways.
Service life
Calendar: 42 years
Flight cycles: 18,000
Flight hours: 40,000

Variants
Civil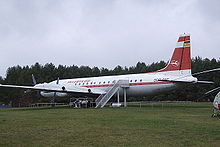 Picture - An example at a museum in Borkheide, Germany
Il-18A
The original production model, powered by either Kuznetsov NK-4 or Ivchenko AI-20 turboprop engines.
Il-18B
First production model, which could seat 84 passengers.
Il-18V
Standard Aeroflot version, which entered service in 1961. The Il-18V was powered by four Ivchenko AI-20K turboprop engines, seating 90-100 passengers.
Il-18I
Equipped with more powerful Ivchenko AI-20M turboprop engines, producing 3,170 kW (4,250 shp). Seating increased to 122 passengers.
Il-18D
Silmilar to Il-18I, but equipped with an extra centre section fuel tank for increased range. The Il-18D is fitted with four 3,169 ekW (4,250 hp) Ivchenko AI-20M turboprop engines.
Il-18E
Similar to the Il-18I, but without the increased fuel capacity.
Il-18T
This designation was given to a number of Aeroflot aircraft, which were converted into cargo transport aircraft.

Picture - Another Il-18 at Sinsheim, Germany
Military
Il-20M Coot-A
ELINT electronic, radar reconnaissance version. Also known as the Il-18D-36 Bizon.
Il-20RT
Naval Elint version.
Il-22 Coot-B
Airborne command post version.
Il-24
ELINT version.
Il-24N
Civilian version of the Il-20 Coot.
Il-38
Maritime reconnaissance, anti-submarine warfare version.
Operators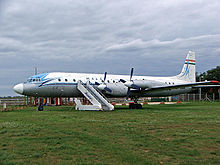 Picture - Malev Il-18 in at an open air aircraft museum at the Budapest Ferihegy International Airport
Civil operators
Afghanistan
Royal Afghan Airlines

People's Republic of China
Civil Aviation Administration of China

Bulgaria
Balkan Airlines

Cuba
Aerocaribbean
Cubana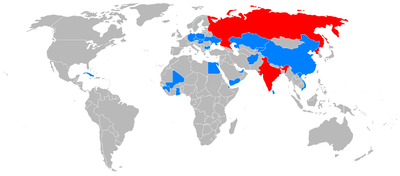 Picture - Il-18 operators (current military operators in red)
Czechoslovakia
Czechoslovak Airlines

Djibouti
Daallo Airlines

Germany
Berline

Germany
German European Airlines

East Germany
Interflug

Egypt
Egyptair (formerly United Arab Airlines)

Ghana
Ghana Airways

Guinea
Air Guinée

Hungary
Malév Hungarian Airlines

Kazakhstan
Irbis Aero

Kyrgyzstan
Anikay Air

Mali
Air Mali

North Korea
Air Koryo 1 passenger/1 cargo versions

Poland
LOT (Nine from 1961)

Romania
Tarom

Soviet Union
Aeroflot

Russia
ASTAir
GVG Airline
NPP-MIR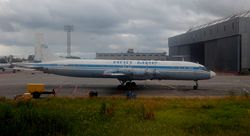 Picture - IL-18 NPP MIR at Talagi Airport
Tretyakovo Airlines
Rossiya

Somalia
Daallo Airlines
Jubba Airways

Sri Lanka
Expo Aviation

Ukraine
Lviv Airlines
Sevastopol Avia

United Arab Emirates
Phoenix Aviation

Vietnam
Vietnam Airlines

Yemen
Yemen Airways

Military operators
Georgia
Georgian Air Force

India
Indian Air Force

North Korea
North Korean Air Force

Poland
Polish Air Force

Russia
Russian Air Force
Russian Naval Aviation

Former military operators Afghanistan
Afghan Air Force (Five were delivered in 1968, and have since been retired.)

Soviet Union
Soviet Air Forces
Soviet Naval Aviation

Yugoslavia
Yugoslavian Air Force
Accidents and incidents
November 16, 1967 - While taking off from Koltsovo Airport, one of the engines of an Aeroflot Il-18 caught fire. Only 200 meters above the ground, the crew lost control of the plane, killing all 8 crew and 122 passengers.

Specifications (Il-18D)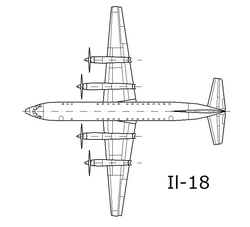 Picture - Layout of Il-18
General characteristics
Crew: 6 or 7 (pilot, co-pilot, flight engineer, flight navigator, and 2 or 3 cabin attendants)
Capacity: 65-120 passengers
Length: 37.40 m (122 ft 8 in)
Wingspan: 37.90 m (124 ft 4 in)
Height: 10.17 m (33 ft 4 in)
Wing area: 140 m² (1,506.4 ft²)
Empty weight: 35,000 kg (77,000 lb)
Max takeoff weight: 64,000 kg (140,800 lb)
Powerplant: 4x— Ivchenko AI-20M turboprop engines, 3,169 kW (4,250 hp) each
* Fuselage diameter: 3.5 m (11 ft 6 in)
Propeller: AW-68 I
Propeller diameter: 4.5 m (14 ft 9 in)
Auxiliary power unit: TG-16M (28 Volt DC)
ICAO standards: Annex 16 Chapter 2
Max. landing weight: 52,600 kg (115,720 lb)
Max. zero-fuel weight: 48,800 kg (107,360 lb)
Max. taxi weight : 64,500 kg (141,900 lb)
Max. fuel tanks capacity: 30,000 l (24,000 kg)

Performance
Maximum speed: 675 km/h (364 kn, 416 mph, or Mach 0.61-0.68 depending on altitude)
Cruise speed: 650 km/h (351 kn, 401 mph, or Mach 0.59-0.66 depending on altitude)
Range: 6,500 km (3,510 nmi, 4,010 mi)
Service ceiling: 10,000 m (32,800 ft)
Range with max.payload: 4,300 km (2,322 nm, 2,650 mi)
Approach minima: ICAO CAT 1 Decision Height 60 m (200 ft) / 800 m (Visibility) or 550 m RVR

Related development
Ilyushin Il-38

Comparable aircraft
Antonov An-10
Bristol Britannia
Lockheed L-188 Electra
Vickers Viscount

Living Warbirds: The best warbirds DVD series.
Source: WikiPedia