Ilyushin Il-22 Video - Picture
Ilyushin Il-22 Aircraft Information
Ilyushin Il-22
Il-22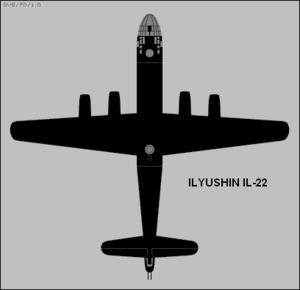 Picture - Ilyushin Il-22 prototype
Role: Bomber
National origin: USSR
Manufacturer: Ilyushin
First flight: 24 July 1947
Number built: 1

The Ilyushin Il-22 was the first jet bomber produced in the USSR in 1946-7. The design was based on documents from the German development Heinkel He 343. Some of the ideas were used, but the Il-22 was significantly larger, had a larger crew and defensive armament. Although only a single example was built, it introduced the Soviet aviation industry to large jet aircraft, and pioneered new methods of manufacture, which ensured that wings and fuselages were manufactured to the correct shape.
Many of the early jet fighters suffered from the aircraft dropping a wing when in high speed, high g turns. This was caused by imperfections, introduced during manufacture, using the traditional inside-out method. The Il-22 wings,front and rear fuselage were constructed from the outside in, whereby the skins were held in jigs and internal structure added later, allowing a high degree of accuracy in the shape/section of components/wings.
The Il-22 also pioneered pylon-mounted engines ahead of the wing leading edge. The major reason for choosing this arrangement was to prevent un-contained engine failures from damaging adjacent engines. Other benefits came from increased flutter resistance and ease of maintenance, as well as ease of introducing a different engine type, which was quite likely given the poor performance and reliability of early jet engines.
The Il-22 was found to be easy to fly with responsive controls. Performance targets were not met however due to the poor performance of the engines which consistently failed to give the required thrust. To boost take-off performance, two 153 kN (3,300 lbf) SR-2 JATO bottles could be fitted to the rear fuselage, testing of which was carried out on 7 February 1948 when Vladimir Kokkinaki flew the Il-22 on the first ever trials of JATO in the USSR. The Il-22 was also shown off at the Aviation Day on 18th August 1947 at Tushino, where it was seen by USAF intelligence officers, gaining the soubriquet of "Type 10".
State acceptance trials were cancelled and the programme was cancelled. The designation Il-22 was re-used later for an Airborne Command Post derivative of the Il-18 turbo-prop airliner.
Variants
Il-24 - Tactical Bomber (prototype 65% complete at cancellation)

Specifications
Data from Gordon, 2004
General characteristics
Crew: 5: pilot, co-pilot/commander, navigator, radio operator/dorsal gunner, and tail gunner
Length: 21.05 m (69 ft 3/4 in)
Wingspan: 23.06 m (75 ft 7-1/8 in)
Wing area: 74.5 m² (801 ft²)
Empty weight: 14,950 kg (32,960 lb)
Gross weight: 24,000 kg (52,910 lb)
Powerplant: 4 x— Lyulka TR-1, 125 kN (2,865 lbf) thrust each

Performance
Maximum speed: 656.5 km/h (407.8 mph)
Range: 865 km (537 miles)
Rate of climb: 9.69 m/s (1907 ft/min)

Armament
2,000 kg (normal load, 4,410 lb) or 3,000 kg (maximum load - 6,610 lb) of bombs
1 x— 23 mm Nudelman-Suranov NS-23 cannon fixed mounting in starboard lower forward fuselage
1 x— 23 mm Nudelman-Suranov NS-23 cannon in a tail barbette.
2 x— 20 mm Berezin B-20 cannon in dorsal turret.

Ilyushin Il-22 (1947)
Ilyushin Il-28

Comparable aircraft
Arado Ar 234
North American B-45
Martin XB-48
Convair XB-46
English Electric Canberra

Gordon, Yefim (2004). OKB Ilyushin. London: Ian Allan. pp. 108 to 112.
"Il-22, S.V.Ilyushin". Russian Aviation Museum. http://ram-home.com/ram-old/il-22.html. Retrieved 2008-10-26.
Lommel, Horst (2000). (German) Vom Hx¶henaufklx¤rer bis zum Raumgleiter 1935 - 1945, Geheimprojekte der DFS. Stuttgart,Germany: Motorbuch Verlag. ISBN 3613020726.

Living Warbirds: The best warbirds DVD series.
Source: WikiPedia