Ilyushin Il-38 Video - Overview
Ilyushin Il-38 Video - Running out of runway on takeoff
Ilyushin Il-38 Aircraft Information
Ilyushin Il-38
Il-38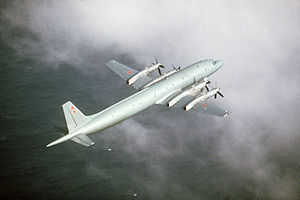 Role: Anti-submarine patrol
Manufacturer: Ilyushin
First flight: 1967
Primary users: Soviet Naval Aviation Russian Naval Aviation Indian Navy
Number built: 176
Developed from: Ilyushin Il-18

The Ilyushin Il-38 (NATO reporting name: "May") is a maritime patrol and anti-submarine warfare aircraft designed in the Soviet Union. It was a development of the Ilyushin Il-18 turboprop transport.
Design and development
Ilyushin's Il-18 played a significant role in developing the USSR's air services in the 1960s and 1970s, and has also been adopted for a variety of military roles, ranging from transport to command post, ELINT and maritime patrol.
The most well known military adaptation of the Il-18 is the maritime patrol/ASW Il-38 May. An aerodynamic prototype of the Il-38 first flew on 28 September 1961, with the first production aircraft following in September 1967. Production, which continued until 1972, was limited to 58 aircraft, as the longer range and more versatile Tupolev Tu-142 derivative of the Tupolev Tu-95 strategic bomber had entered service.
Details of the Il-38 are limited, but the airframe is stretched by 4 m (13 ft) over the Il-18 and the wings are moved forward. The tail contains a MAD, while under the forward fuselage a Berkut ("Golden Eagle") search radar (named "Wet Eye" by NATO) is housed in a bulged radome. There are two internal weapons bays, one forward of the wing, housing sonobouys and one behind the wing housing weapons.
About thirty remain in service with Russian naval aviation, while five were delivered to India in 1975.
The Il-38s of the Indian Navy have been sent back to Russia for upgrades. They will incorporate the new Sea Dragon avionic suite, incorporating a new radar, a Forward looking infrared (FLIR) turret under the nose and a electronic intelligence (ELINT) system housed in a box-like structure mounted on struts above the forward fuselage. Three aircraft have been delivered to the Indian Navy. The new version is designated Il-38 SD.
There are reports of efforts towards adding the capability to fire the Indo-Russian Brahmos cruise missile from this aircraft. Mockups have been displayed with air-launched Brahmos attached to underwing pylons on the Indian Navy aircraft.
Operational history
The Il-38 was operated by units in the Soviet Northern, Pacific and Baltic fleets. In March 1968 a squadron of Il-38s deployed to Cairo in Egypt, flown by Soviet crews but in Egyptian markings, until being withdrawn in 1972. Il-38s continued to deploy overseas through the Cold War, flying from Aden in South Yemen, Asmera in what was then Ethiopia, Libya and Syria. Two Il-38s were attacked and at least one was destroyed by Eritrean People's Liberation Front fighters in 1984 at Asmera. Following the end of the Cold War and the break-up of the Soviet Union, Il-38s continue in service with the Russian Navy's Arctic and Pacific Fleets.
India received three ex-Soviet Naval Aviation Il-38s in 1977, with two more arriving in 1983. Indian modifications included fitting pylons to the fuselage side to carry the Sea Eagle Anti-ship missile.
Operators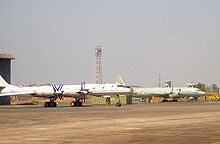 Picture - Il-38 of the Indian Navy at the Arakkonam Naval Air Station.
India
Indian Navy

Russia
Russian Naval Aviation

Soviet Union
Soviet Naval Aviation

Specifications (Il-38)
General characteristics
Crew: Ten
Length: 39.60 m (129 ft 11 in)
Wingspan: 37.42 m (122 ft 9 in)
Height: 10.16 m (33 ft 4 in)
Wing area: 140 m² (1,506 ft²)
Empty weight: 33,700 kg (74,140 lb)
Max takeoff weight: 63,500 kg (139,700 lb)
Powerplant: 4x— Progress AI-20M turboprops, 3,170 kW (4,250 hp) each

Performance
Maximum speed: 650 km/h (353 kn, 406 mph)
Range: 9,500 km (5,130 nmi, 5,937 mi)
Service ceiling: 10,000 m (32,800 ft)
Rate of climb: 320 m/min (1,050 ft/min)

Armament
20,000 lb (9,000 kg) of disposable stores, including depth-charges, mines, torpedoes and bombs.

Related development
Ilyushin Il-18

Comparable aircraft
P-3 Orion

Lake, Jon. "Russia's Submarine Killer: Ilyushin IL-37 May". Air International, February 2005, Vol 68 No.2. Stamford, UK:Key Publishing. pp. 30-36.

Living Warbirds: The best warbirds DVD series.
Source: WikiPedia