Ilyushin Information
Ilyushin
Industry: Aerospace and defense
Founded: January 13, 1933
Headquarters: Moscow, Russia
Key people: Sergey Vladimirovich Ilyushin, founder
Products: Military, transport and civilian aircraft
Parent: United Aircraft Corporation
Website: Official website

Open Joint Stock Company «ILYUSHIN Aviation Complex» (JSC IL), operating as Ilyushin (ILyushin)(Russian: Ğ˜Ğ»ÑŒÑŽÌÑˆĞ¸Ğ½) or Ilyushin Design Bureau, is a Russian design bureau and aircraft manufacturer, founded by Sergey Vladimirovich Ilyushin. Ilyushin was established under the Soviet Union. Its operations began on January 13, 1933, by order of P. I. Baranov, People's Commissar of the Heavy Industry and the Head of the Main Department of Aviation Industry. In Soviet/Russian nomenclature, aircraft from Ilyushin are prefixed Il. The head office of Ilyushin is located in Moscow.
Aviation Industries Ilyushin is a subsidiary established in 1992 to act as Ilyushin's marketing and customer service arm.
Ilyushin has developed aircraft for widely varying roles over the years. The Russian government is planning to merge Ilyushin with Mikoyan, Irkut, Sukhoi, Tupolev, and Yakovlev as a new company named United Aircraft Corporation.
Notable aircraft
Notable Ilyushin aircraft include:
I-21
Il-1
Il-2 Shturmovik, NATO codename "Bark"
DB-3
Il-4 "Bob",
Il-6
Il-8
Il-10 Shturmovik, NATO codename "Beast"
Il-12 "Coach"
Il-14 "Crate"
Il-16
Il-18 "Clam" (1947)
Il-18 "Coot"
Il-20 "Coot-A"
Il-20 (1948)
Il-22 (1947)
Il-22
Il-28 "Beagle" and "Mascot"
Il-30 tactical bomber.
Il-32 Sailplane
Il-36 Prototype
Il-38 "May" maritime patrol and anti-submarine warfare aircraft.
Il-40 "Brawny" ground-attack aircraft.
Il-46 bomber.
Il-54 "Blowlamp" transonic bomber.
Il-62 "Classic" long range jet airliner.
Il-76 "Candid", strategic airlifter.
A-50 Shmel (from Beriev), an AWACS variant of the Il-76. NATO codename Mainstay.
A-60
Il-78 "Midas", an aerial refuelling variant of the Il-76.
Il-80 "Maxdome" airborne command post.
Il-86 "Camber" medium-range wide-body jet airliner.
Il-96 long-haul widebody airliner.
Il-102 experimental jet powered ground-attack aircraft.
Il-103 light training aircraft.
Il-106 heavy military transport.
Il-108 (project abandoned)
Il-112 light military transport aircraft.
Il-114 regional aircraft.
UAC/HAL Il-214 medium-lift military transport aircraft.
Irkut MS-21 short- to and mid-range jet airliner.

Gallery

Picture - Il-2 Shturmovik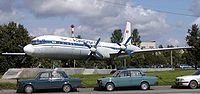 Picture - Il-18 'Coot' on display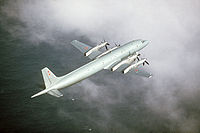 Picture - Il-38 'May'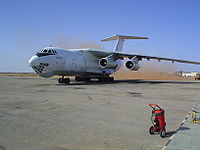 Picture - Il-76 'Candid'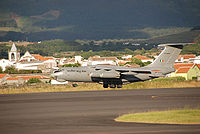 Picture - Il-78 'Midas'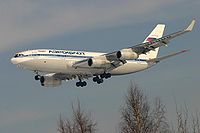 Picture - Il-96
List of aircraft
List of military aircraft of the Soviet Union and the CIS
Aircraft manufacturer

Ilyushin Pictures and Ilyushin for Sale.
Living Warbirds: The best warbirds DVD series.
Source: WikiPedia