IVL Haukka Video - Picture
IVL Haukka Aircraft Information
IVL Haukka
Haukka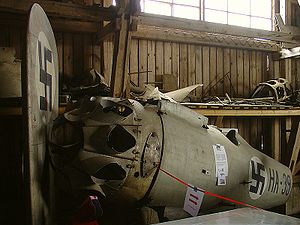 Role: Fighter aircraft
Manufacturer: Ilmailuvoimien Lentokonetehdas
First flight: I: March 17, 1927
Primary user: Finnish Air Force
Number built: I: 1 II: 2

IVL Haukka were a series of Finnish biplane fighters designed by Kurt Berger at IVL in 1927. "Haukka" is Finnish for "Hawk".
Versions
IVL D.26 Haukka I - the first prototype aircraft, which made its maiden flight on March 17, 1927. Only one aircraft was manufactured.
VL D.27 Haukka II - a further developed version of the D.26. Two aircraft were manufactured at the aircraft factory at Suomenlinna (which now had shortened its name from IVL to VL). These aircraft were used by the Finnish Air Force in its Maalentoeskaadri for a couple of years. During this time the FAF had begun the purchasing of foreign fighters, which eventually halted the series production of the Haukka II.

Survivors
Two Haukkas are preserved, one D.26 at Px¤ijx¤t-Hx¤me Aviation museum, and one D.27 at Hallinportti Aviation Museum.
Operators
Finland
Finnish Air Force

Specifications (D.27)
Data from Thulinista Hornettiin
General characteristics
Crew: 1
Length: 7 m (22 ft 11 in)
Wingspan: 9.6 m (31 ft 6 in)
Height: m (ft in)
Wing area: m² (ft²)
Empty weight: kg (lb)
Loaded weight: kg (lb)
Useful load: kg (kg)
Max takeoff weight: 1,290 kg (2,838 lb)
Powerplant: 1x— Gnome-Rhone Jupiter IV radial engine, 358 kW (480 hp)

Performance
Never exceed speed: km/h (knots, mph)
Maximum speed: 249 km/h (134 knots, 154 mph)
Cruise speed: km/h (knots, mph)
Stall speed: km/h (knots, mph)
Range: km (nm, mi)
Service ceiling: m (ft)
Rate of climb: m/s (ft/min)
Wing loading: kg/m² (lb/ft²)
Power/mass: W/kg (hp/lb)

Sources
Hallinportti Aviation museum: I.V.L. D.26 Haukka I ja D.27 Haukka II" brochure, summer 2005.

IVL Haukka Pictures
More aircraft.
Source: WikiPedia