Soko J-21 Jastreb Video - Picture
Soko J-21 Jastreb Aircraft Information
Soko J-21 Jastreb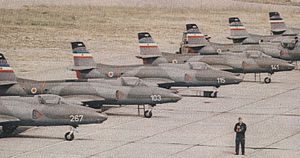 Picture - J-21 Jastreb
Role: Multi-Role & Reconnaissance
Manufacturer: SOKO
First flight: May 1961
Status: Active service with Libya
Primary users: Yugoslav Air Force Libyan Air Force
Produced: 1964-1985
Developed from: G-2 Galeb

For other uses of "J21", see J21 (disambiguation).
The Soko J-21 Jastreb (English: Hawk) is a single-seat attack/reconnaissance aircraft designed in Yugoslavia in the 1960s. It is closely related to the similar 2-seat G-2 Galeb basic/advanced jet trainer, light attack aircraft. The aircraft were built by SOKO, in Mostar (present-day Bosnia and Herzegovina), until the 1980s. They were used by the Yugoslav Air Force until its demise in 1991; remaining aircraft were passed on to the newer air forces of the Republika Srpska and the Federal Republic of Yugoslavia.
Service history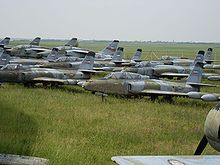 Picture - Several J-21s at the Museum of Aviation in Belgrade
Balkans
When they were first designed in the 1960s, they were primarily used by the SFR Yugoslav Air Force as a trainer jet, although they were combat capable as attack aircraft. The J-21 was also used as a reconnaissance/spy jet in the former Yugoslav Air Force. After the breakup of the SFRJ, many J-21s were passed onto the Republika Srpska and the Federal Republic of Yugoslavia, in which some were deployed in combat in the Yugoslav Wars from 1991-1995.
During the Croatian war of independence on 21 September 1991, two JNA Jastrebs flew over the Dalmatian city of Å ibenik. Croat soldiers opened fire on both planes. One J-21 was shot down with a Strela 2M SAM, while the other escaped.
In the early years of the Yugoslav Wars, especially in Bosnia and Herzegovina, the J-21 Jastreb was used by the Republika Srpska Air Force, which were being challenged by NATO fighter jets over Bosnia and Herzegovina.
See also Banja Luka incident
After the Dayton Peace Accords were signed in 1995, the war in the former Yugoslav territories ended, and the J-21s were no longer used in combat. As a part of a SALT (Strategic Arms Limitation Treaty), the Federal Republic of Yugoslavia withdrew its remaining 66 J-21 Jastreb aircraft from service. Some of these aircraft were transported to the Museum of Aviation in Belgrade where they are still a part of the exhibition.
Zaire
See also First Congo War
According to some reports, France and Yugoslavia supported Mobutu's government during the First Congo War. Yugoslavia agreed to deliver three J-21s and one G-2 aircraft, as well as four MiG-21s, while three Mil Mi-24s were purchased in Ukraine. All of these aircraft were based at Gbadolite.
With few exceptions it remains unknown exactly what happened with each of these aircraft and how were they used after their arrival in Zaire, in late 1997. The MiG-21s arrived in kit form and were put together by group of Russian or Ukrainian technicians at Gbadolite. In the case of Mi-24s it is known that one hit a power line and crashed on 27 March 1997, killing the three crewmen and four passengers. In 1997 one of the Serbian mercenaries, called Turcinovic, was killed while flying an ultra-low-level pass over Gbadolite in a J-21 Jastreb and clipping a lamp post with his wing. The wreckage of his aircraft fell directly into a column of young soldiers on a parade, killing dozens of them.
Variants
J-1 Jastreb : Single-seat ground-attack, reconnaissance aircraft.
J-1E : Export version for Libya.
RJ-1 : Single-seat tactical reconnaissance aircraft.
RJ-1E : Export version of the RJ-1 Jastreb.
JT-1 : Two-seat training aircraft.

Operators
Current operators
Libya
Libyan Air Force - 34 aircraft

Libyan Republic
Free Libyan Air Force - 2 defected to the rebels on the 25th of February 2011

Former operators
Republika Srpska
Republika Srpska Air Force - Operated 11 J-21s

Yugoslavia
Yugoslav Air Force

FR Yugoslavia
FR Yugoslav Air Force

Zaire
Zaire Air Force - 3 J-21s

Specifications (J-1)
Data from
General characteristics
Crew: 1 pilot
Length: 10.88 m (35 ft 8.5 in)
Wingspan: 10.56 m or 11.68 m with tip tanks (34 ft 8 in or 38 ft 4 in)
Height: 3.64 m (11 ft 11.5 in)
Wing area: 19.43 m² (209.15 ft²)
Max takeoff weight: 5,100 kg (11,220 lb)
Powerplant:
1 x— BMB (Rolls-Royce/Bristol Siddeley) Viper Mk 531 Turbojet, 1,361 kg (3,000 lb, 13.32 kN)
2 x— solid-propellant JATO units, 4.45 kN (1,000 lb) each
Internal fuel load: 440 kg (970 lb)
External fuel load: 2 x— 275 liter (72.6 US gal or 60.5 Imp gal) in jettisonable wing-tip fuel tanks

Performance
Maximum speed: 820 km/h (442 knots, 510 mph) at 6,000 meters (19,685 ft)
Cruise speed: 740 km/h (399 knots, 460 mph) at 5000 meters (16,405 ft)
Range: 1,520 km (820 nm, 945 mi) with tip tanks
Service ceiling: 12,000 m (39,370 ft)
Rate of climb: 1,260 m/min (4,134 ft/min)
G limit: -4 to +8

Armament
K-14C or K-14A gun sight
800 kg of assorted munitions

Ikarus 452

Related development
G-2 Galeb

Soko J-21 Jastreb Pictures
More airplane videos.
Source: WikiPedia