Jean-Marie Le Bris - Picture
Jean-Marie Le Bris Information
Jean-Marie Le Bris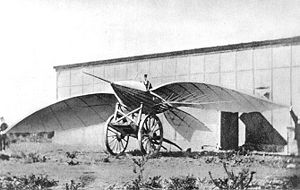 Picture - Le Bris and his flying machine, Albatros II, photographed by Nadar, 1868.
Jean-Marie Le Bris (1817 - 1872) was a French aviator, born in Concarneau, Brittany, who accomplished a glider flight in December 1856.
Life and works
A sailor and sea captain, Jean-Marie Le Bris sailed around the world observing the flight of the Albatross bird. Although he sailed around the world, his true ambition was to fly. He caught some of the birds and analysed the interaction of their wings with air, identifying the aerodynamic phenomenon of lift, which he called "aspiration".
Le Bris built a glider, inspired by the shape of the Albatross bird and named L'Albatros artificiel ("The artificial Albatross"). During 1856 he flew briefly on the beach of Sainte-Anne-la-Palud (Finistx¨re), by being pulled by a running horse, facing towards the wind so that people can not say he flew using the wind. He thus flew higher than his point of departure, a first for heavier-than-air flying machines, reportedly to a height of 100 m (330 ft), for a distance of 200 m (660 ft).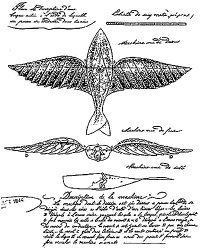 Picture - The 1857 flight patent by Le Bris
In 1868, with the support of the French Navy, he built a second flying machine, which he tried three times in Brest without great success. It was almost identical to his first flying machine, except that it was lighter and had a system to shift weight distribution. His flying machine became the first ever to be photographed, albeit on the ground, by Nadar in 1868, although the first well-documented glider was built by George Cayley and flown by an employee during 1853 (see First flying machine for sketchy reports of earlier attempts). Also in Great Britain, Stringfellow had built small unmanned gliders during 1848. However Le Bris invented more effective flight controls, which could act on the incidence of wings and which were patented during March 1857.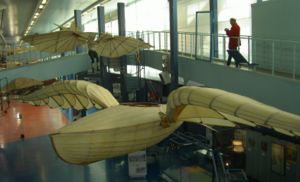 Picture - Le Bris's glider replica
List of early flying machines
Timeline of aviation - 19th century
History of aviation
Félix du Temple

Jean-Marie Le Bris Pictures
More aircraft.
Source: WikiPedia