Grumman JF Duck Video - Overview - Spanish?
Grumman JF Duck Aircraft Information
Grumman JF Duck
JF Duck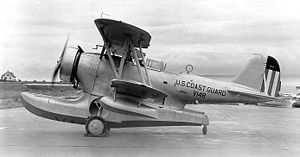 Picture - Grumman JF-2 Duck in United States Coast Guard service.
Role: Utility amphibian
Manufacturer: Grumman Columbia Aircraft Corporation
First flight: 25 April 1933 (XJF-1 prototype)
Introduced: 1935
Primary users: United States Navy United States Coast Guard United States Marine Corps
Number built: 632
Variants: Grumman J2F Duck

The Grumman JF "Duck" was a single-engine amphibious biplane. It first flew on 25 April 1933 and was produced from 1934 until 1936, when production switched to the J2F Duck and later variants. The only obvious external clue to differ an JF from an early J2F is the deletion of the inter-aileron strut between the wings on the J2F.
Design and development
The Duck's main pontoon was part of the fuselage, making it a flying boat, though it appears more like a standard aircraft with an added float.
Operational history
Variants
XJF-1
Prototype with 700 hp Pratt & Whitney R-1535-62 engine, one built (BuNo 9218).
JF-1
Production variant with 700 hp Pratt & Whitney R-1830-62 Twin Wasp engine, 27 built (BuNos 9434-9455, 9523-9527).
JF-2
Variant for the United States Coast Guard powered by a 750 hp Wright R-1820-102 Cyclone engine, 15 built (BuNo 0266, 00371-00372, 01647, USCG V141-V155).
JF-3
JF-2 for the U.S. Navy, five built (BuNos 9835-9839).
JF-4
JF-5
JF-6
Grumman G15-G-20
Grumman AO-10
Operators
United States
U.S. Navy
U.S. Coast Guard
U.S. Marine Corps - Operated one JF-2

Argentina
Argentine Navy - Operated eight JF-2s

Specifications (JF)
General characteristics
Crew: one, pilot
Length: 32 ft 7 in (9.93 m)
Wingspan: 39 ft 0 in (11.89 m)
Height: 15 ft 1 in ()
Wing area: 409 sq ft ()
Useful load: 851 lb (386 kg)
Powerplant: 1x— Pratt & Whitney R-1830, 700 hp (522 kW)

Performance
Service ceiling: 21,500 ft (6,550 m)

Related development
Grumman J2F Duck

Comparable aircraft
Loening O-19
Loening O-11
Loening OA-1
Keystone-Loening C2H

Bibliography
Thruelsen, Richard. The Grumman Story. New York: Praeger Publishers, Inc., 1976. ISBN 0-275-54260-2.
Treadwell, Terry. Ironworks: Grumman's Fighting Aeroplanes. Shrewsbury, UK: Airlife Publishers, 1990. ISBN 1-85310-070-6.

Grumman JF Duck Pictures and Grumman JF Duck for Sale.
Living Warbirds: The best warbirds DVD series.
Source: WikiPedia