John Joseph Montgomery - Picture
John Joseph Montgomery Information
John Joseph Montgomery
Born: February 15, 1858(1858-02-15) Yuba City, California
Died: October 31, 1911(1911-10-31) (aged 53) Evergreen, California
Resting place: Colma, California
Occupation: aviation pioneer, inventor, professor, physicist
Spouse: Regina Cleary

John Joseph Montgomery (February 15, 1858 - October 31, 1911) was an aviation pioneer, inventor, professor at Santa Clara College.
On August 28, 1883 he made the first manned, controlled, heavier-than-air flights of the United States, in the Otay Mesa area of San Diego, California (after European pioneers such as George Cayley's coachman in 1853, or Jean-Marie Le Bris in 1856). Later, in 1905, Montgomery's pilot Daniel Maloney made a series of remarkable flights in the vicinity of Aptos and Santa Clara using tandem wing Montgomery gliders launched from balloons. These flights demonstrated the controllability of the Montgomery design and were the highest flights achieved by man to date. John Montgomery was issued U.S. Patent #831,173 on September 18, 1906 for his invention of an aeroplane. He was a member of the Aero Club of Illinois (1910) and member of the research committee of the Technical Board of the Aeronautical Society of New York (1911).
Montgomery died in the crash of his glider "The Evergreen" on October 31, 1911 and was buried at Holy Cross Cemetery in Colma, California on November 3, 1911.
In 1946, John J. Montgomery's life was portrayed in the movie Gallant Journey starring Glenn Ford and Janet Blair, and directed by William Wellman.
Recognition and Honors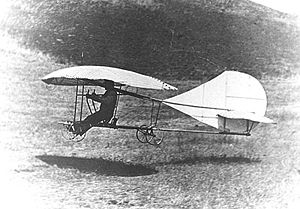 Picture - John J. Montgomery landing "The Evergreen" monoplane glider (1911).
Two California Historical Landmarks (#711: Montgomery Memorial, Otay Mesa(32.577449 -117.052631); #813: Montgomery Hill, San Jose)(37.302289 -121.758084) near Evergreen Valley College have been named in his honor as has one section of the Interstate 5 freeway (John J. Montgomery Freeway) in San Diego, California and a recreation center near the location of his first successful glides (Montgomery-Waller Recreation Center, San Diego, California). The Montgomery Memorial in San Diego features a silver static test wing panel for the B-32 Dominator mounted upright that is visible for miles. California schools that have been named in his honor:
Chula Vista Elementary School District:
John J. Montgomery Elementary School, Chula Vista, California

Evergreen Elementary School District:
John J. Montgomery Elementary School, San Jose, California

San Diego Unified School District:
Montgomery Middle School, San Diego, California

Sweetwater Union High School District:
Montgomery High School, San Diego, California
Montgomery Middle School, San Diego, California

and one Civil Air Patrol Squadron (John J. Montgomery Memorial Cadet Squadron 36). San Diego's Montgomery Field (MYF), one of the busiest airports for small planes in the United States, is named for him as well.
John J. Montgomery was inducted into the National Aviation Hall of Fame in 1964 and the U.S. Soaring Hall of Fame in 2002.
In 1996, Montgomery's 1883 glider was recognized as an International Historic Mechanical Engineering Landmark by the American Society of Mechanical Engineers. On March 19, 2005, John J. Montgomery was the focus of a Centennial Celebration of Soaring Flight, held in Aptos, California at the location of some of his early glider experiments.
On March 15, 2008, a sculpture was unveiled at San Felipe and Yerba Buena roads in San Jose, California as a tribute to the pioneering aviation accomplishments of John Montgomery. The 30-foot-tall steel structure of a glider wing was placed on a 32-foot-diameter plaza designed by San Francisco artist Kent Roberts.
On April 5, 2008, a celebration of the 125th anniversary of John Montgomery's first glides took place at the Hiller Aviation Museum in San Carlos, California. [1]
Aviation history
Allan Haines Loughead
Zachariah Montgomery
Thomas Scott Baldwin
Joseph Bayma
George Thomas Montgomery
List of Santa Clara University people

Publications
Montgomery, John J. Discussions on the Various Papers on Soaring Flight Proceedings of the International Conference on Aerial Navigation, Chicago, Aug. 1-4. 1893 pp. 246-249.

Montgomery, John J. Soaring Flight, manuscript, 1895.

Montgomery, John J. The Mechanics Involved in a Bird's Wing in Soaring and Their Relation to Aeronautics, Address to the Southern California Academy of Sciences, Los Angeles, Nov. 9, 1897.

Montgomery, John J. The Aeroplane, The Aeroplane Advertising Co., Santa Clara, CA

Montgomery, John J. New Principles in Aerial Flight, Scientific American, November 25, 1905.

Montgomery, John J. Principles Involved in the Formation of Winged Surfaces and the Phenomenon of Soaring, presented at the Aeronautics Congress, New York, Oct. 28-29, 1907. Published in Aeronautics Vol. 3, No. 5, November, 1908.

Montgomery, John J. Some Early Gliding Experiments in America, Aeronautics, Vol. 4, No. 1, 1909, pp. 47-50.

Montgomery, John J. Our Tutors in the Art of Flying, Aeronautics, September 22, 1915, pp. 99-100 (article printed posthumously).

The Montgomery Aeroplane, Scientific American, May 20, 1904, pp. 404.

Most Daring Test of Flying-Machine Ever Made, Popular Mechanics, June Vol. 7, No. 6, 1905.

The Montgomery Aeroplane, Popular Mechanics, July Vol. 7, No. 7, 1905 pp. 703-707.
Josselyn, Winsor He Flew in 1883, Harper's Magazine, Vol. 181, June, 1940.

Spearman, Arthur Dunning John J. Montgomery: Father of Basic Flying. Santa Clara University 1967 and 2nd ed. 1977.

More airplanes.
Source: WikiPedia