John Stringfellow - Picture
John Stringfellow Information
John Stringfellow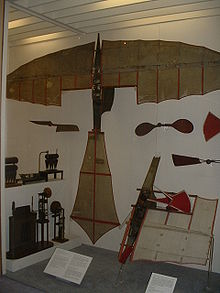 Picture - John Stringfellow's flying machine in the Science Museum, London.
John Stringfellow (1799 - 13 December 1883) was born in Sheffield, England and is known for his work on the Aerial Steam Carriage with William Samuel Henson.
Stringfellow worked in Chard, Somerset, England as a maker of bobbins and carriages for the lace industry. Together with Henson, he had ambitions of creating an international company, the Aerial Transit Company, with designs showing aeroplane travel in exotic locations like Egypt and China. Despite their efforts, the designs were flawed with Stringfellow's ideas centred around monoplane and triplane models and Henson's ideas centred around an underpowered steam-powered vehicle. The two achieved popular attention, nonetheless, as Stringfellow did achieve the first powered flight, in 1848, in a disused lace factory in Chard, with a 10 foot (3m), steam-driven flying machine.
A bronze model of that first primitive aircraft stands in Fore Street in Chard. The town's museum has a unique exhibition of flight before the advent of the internal combustion engine and before the manned powered flight made famous by the Wright Brothers. Stringfellow also invented and patented compact electric batteries, which were used in early medical treatment. Stringfellow's work was featured in an exhibition in 1868 at The Crystal Palace in London.
Aviation history
George Cayley, aviation pioneer

Notes and references
Harald Penrose, An Ancient Air: A Biography of John Stringfellow of Chard, The Victorian Aeronautical Pioneer (Shrewsberry, England: Airlife Publishing, Ltd., 1988), 183p., illus. ISBN 1 85310 047 1

John Stringfellow Pictures
More aircraft.
Source: WikiPedia