John William Dunne - Picture
John William Dunne Information
John William Dunne
John William Dunne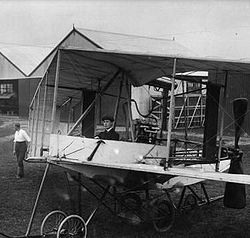 Born: 1875 Curragh Camp, County Kildare, Ireland
Died: 24 August 1949 Banbury England
Occupation: Aviator Engineer Author Philosopher
Spouse: Cicely Marion Violet Joan Twisleton-Wykeham-Fiennes
Children: John Geoffrey Christopher Dunne Rosemary Elizabeth Cecily Dunne
Parents: General Sir John Hart Dunne Julia Elizabeth Dunne

John William Dunne FRAeS (1875-1949) was an Anglo-Irish aeronautical engineer and author. In the field of parapsychology, he achieved a preeminence through his theories on dreams and authoring books preoccupied with the question of the nature of time. As a pioneering aeronautical engineer in the early years of the 20th century, Dunne worked on many early military aircraft, concentrating on tailless designs, producing inherently stable aircraft.
Biography
John William Dunne was born at Curragh Camp, County Kildare, Ireland, the third son of General Sir John Hart Dunne KCB (1835-1924) and Julia Elizabeth Dunne, Anglo-Irish aristocrats. His later life and career was in England. From an early age, he was interested in scientific areas, and inspired by a Jules Verne novel, at the age of 13, he envisioned a flying machine that needed no steering. He was particularly interested in the flight of the Zanortia seed, whose parachute seeds fly through the air as they are deposited by the wind.
Military career
In 1900 Dunne joined the Imperial Yeomanry and fought in the Second Boer War as a sub-lieutenant under General Roberts. He was invalided home with typhoid. While on medical leave in 1901, he began to study the science of aerodynamics and flight earnestly, first observing birds in flight. Encouraged by family friend, H.G. Wells, he designed and built a number of test models based on a "tailless" configuration.
Aeronautics
Called back to serve a second tour in 1903, Dunne was diagnosed with heart disease, causing him to again return from the Boer War. Despite poor health, he continued his study of flight and by 1904, was ready to proceed to the construction of gliders and eventually powered aircraft to prove his theories of flight control and stability of a tailless design. Assigned to the Army Balloon Factory in South Farnborough in 1905, he sought out the assistance of Colonel John Capper, the unit's commanding officer. With Capper as a mentor, Dunne had an experienced engineer who could help him design the first British military flying machine. After months of building and testing models, all featuring a distinctive "arrowhead" shape, Dunne built a passenger-carrying glider.
The D.1-A was constructed under great secrecy, and in July 1907, was shipped by rail to the village of Blair Atholl in the Scottish Highlands for flight testing. With Colonel Capper as passenger, the D.1-A flew one successful eight-second flight conducted in the hills north of the village. Dunne crashed at the end of the flight and Capper was slightly injured but the experimental glider had demonstrated the stability Dunne considered so essential.
Experiments supported by the British Army Council during 1907 and 1908 continued with the D.1-B powered airplane (a modified D.1-A), crashing on its first flight. The D.2 training glider, designed in 1907, was not constructed while the Dunne-Huntington powered triplane, designed in 1907-1908, was flown successfully in 1911. The D.3 man-carrying glider was flown successfully in 1908 and the D.4 powered airplane, flown in 1908, had limited success (in Dunne's words: "more a hopper than a flyer").
By 1908, the British Army Council was not willing to continue to support Dunne's efforts and he left the Balloon Factory. With his friends' financial investment, he formed a small company, the Blair Atholl Aeroplane Syndicate, to continue his experiments. By 1910, the Dunne D.5, a vast improvement over previous designs, was completed.
Like previous models, the D.5 was a tailless V-shaped biplane, with sharply swept back wings. A central nacelle housed the pilot (and passenger) along with a rear-mounted engine that drove two pusher propellers. The swept wings provided inherent stability incorporating a "twist" and designed in camber with the angle of incidence changing gradually from root to tip so that the angle at the tip was less than that at the root.
On 20 December 1910, Dunne serving as test pilot, demonstrated the extraordinary stability of the D.5 to an amazed audience that included Orville Wright. He continued his design efforts for another three years, until ill health finally forced his retirement from flying and experiments. In recognition of his achievements as a pioneering designer, Dunne was invested as a Fellow, Royal Aeronautical Society (F.R.Ae.S.). Although his design philosophy of inherent stability was proven, aircraft design proceeded along an entirely different path.
In the early 1920s Dunne assisted Geoffrey Hill in designing the tailless Westland Pterodactyl.
Death
He died on 24 August 1949.
Dunne aircraft designs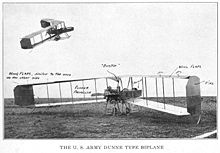 Picture - A Dunne-style biplane in the US Army, c. 1917
Dunne created the first practical and stable tailless aircraft, which also first used the swept-wing planform.
Dunne D.1 (1907, flown as a glider; the powered version was badly damaged on the launch apparatus.)
Dunne D.2 (proposed smaller glider version of the Dunne-Huntington biplane, not built.)
Dunne-Huntington biplane (design 1906-1907, flying 1910, modified and improved 1913; large canard foreplane leading some to refer to it as a triplane.)
Dunne-Capper monoplane (1907, flown as glider; powered in 1911.)
Dunne D.3 (1908 glider.)
Dunne D.4 (1908, powered biplane using D.1 wings. Achieved short hops.)
Dunne D.5 (1910, powered biplane; built by Short Brothers, the alternatively named Short-Dunne 5 was the first tailless aircraft to fly. It flew well but following an accident, was rebuilt in modified form as the D.8.)
Dunne D.6 (1911 monoplane.)
Dunne D.7, (1911-1912 monoplane. The D.7-bis was a two-seater version of the D.7.)
Dunne D.8 (1912, rebuilt and modified D5, following an accident; flew from Eastchurch to Paris in 1913; license built by Nieuport and Burgess.)
Dunne D.9 (1913 monoplane; crashed first flight; some sources claim the D.9 was a biplane design and five examples were under construction through 1912-1913.)
Dunne D.10 (1912, shorter span version of D.8.)
Burgess-Dunne (D.8 and derived variants manufactured under license in U.S; land- and seaplane versions; flew with US and Canadian forces.)

Philosophical work
Dunne believed that he experienced precognitive dreams. The first he records occurred in 1898, in which he dreamed of the time on his watch before waking up and checking it. Twenty such experiences, some quite dramatic, led him to undertake a scientific investigation into the phenomenon, and from this he developed a new theory of consciousness and time.
Through years of experimentation with precognitive dreams and hypnagogic states Dunne posited that our experience of time as linear was an illusion brought about by human consciousness. Dunne argued that past, present and future were in fact simultaneous and only experienced sequentially because of our mental perception of them. It was his belief that in the dream state, the mind was not shackled in this way and was able to perceive events in the past and future with equal facility.
Dunne's landmark An Experiment with Time (1927) recounts his own experiments with dreaming, from which he concluded that precognitive elements frequently occur in dreams. The book has been frequently reprinted. In The Serial Universe (1934), The New Immortality (1938), Nothing Dies (1940) and other works, he further elaborated on the concept of "serialism," where he postulated that an infinite regress, or series of dimensions exist within time, giving any present moment extensions into the past and future.
Dunne's work provided a scientific explanation for ideas of consciousness being explored on a wide scale at the time. Such figures as Aldous Huxley and J. B. Priestley enthusiastically embraced his ideas. Priestley based his plays Time and the Conways, An Inspector Calls and Dangerous Corner, on them. There are also parallels between Dunne's theory of Time and that put forward in T. S. Eliot's Four Quartets although whether Eliot was directly influenced by Dunne is not clear.
Published works
Sunshine and the Dry-Fly (1924)
An Experiment with Time (1927)
The Serial Universe (1934)
The League of Northwest Europe (1936)
The Jumping Lions of Borneo (1937)
The New Immortality (1938)
An Experiment with St. George (1938)
Nothing Dies (1940)
Intrusions? (1955)

Later years
Dunne died on 24 August 1949, at age 73, in Banbury, England.
Bibliography
Angelucci Enzo and Paolo Matricardi. World Aircraft: Origins World War 1. London: Sampson Low, 1977. ISBN 0-52888-165-5.
Goodall, Michael H. and Albert E. Tagg. British Aircraft Before the Great War. Atglen, PA: Schiffer Publishing Ltd, 2001. ISBN 0-7643-1207-3.
Jane, F.T., ed. Jane's All the World's Aircraft 1913. London: Sampson Low, 1913, (reprinted David & Charles. 1969).
Milberry, Larry. Aviation in Canada: The Pioneer Decades, Vol. 1. Toronto: CANAV Books, 2008. ISBN 978-0-0921122-19-0.
Poulsen, C.M. "Tailless trials, Tribute to a British Pioneer: The Dunne Biplanes and Monoplane.", "p. 557.", "p. 558." Flight, 27 May 1943, pp, 556-558.
Wooldridge, E.T. "The History of Flight: Early flying wings (1870-1920)." century-of-flight.net. Retrieved: 2 May 2010.

John William Dunne Pictures
More aircraft.
Source: WikiPedia