Junkers Ju 287 Video - World War II pictures
Junkers Ju 287 Video - World War II Pictures
Junkers Ju 287 Aircraft Information
Junkers Ju 287
Ju 287
Manufacturer: Junkers
Designed by: Philipp von Doepp
First flight: 8 August 1944
Number built: 2
Variants: OKB-1 EF 131

Captured by US with Me 262A-1a
The Junkers Ju 287 was a German flying testbed built to develop the technology required for a multi-engine jet bomber. It was powered by four Junkers Jumo 004 engines, featured a revolutionary forward-swept wing and was built largely from scavenged components from other aircraft. The flying prototype and an unfinished second prototype were captured by the Red Army in the closing stages of World War II and the design was further developed in the Soviet Union after the end of the war.
Development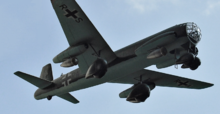 Picture - Placement of turbojets, booster rockets and undercarriage of Ju 287 V1 (Model)
The Ju 287 was intended to provide the Luftwaffe with a bomber that could avoid interception by outrunning enemy fighters. The swept-forward wing was suggested by the project's head designer, Dr. Hans Wocke as a way of providing extra lift at low airspeeds - necessary because of the poor responsiveness of early turbojets at the vulnerable times of take-off and landing. The first prototype was intended to evaluate the concept, and was cobbled together from the fuselage of a Heinkel He 177, the tail of a Ju 388, main undercarriage from a Ju 352, and nosewheels taken from crashed B-24 Liberators. Two of the Jumo 004 engines were hung under the wings, with the other two mounted in nacelles added to the sides of the forward fuselage.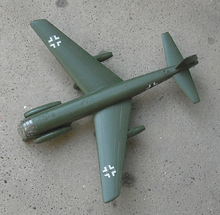 Picture - Top view (Model)
Flight tests began on 8 August 1944, with the aircraft displaying extremely good handling characteristics, as well as revealing some of the problems of the forward-swept wing under some flight conditions. Tests also suggested that the aircraft would benefit from concentrating more engine mass under the wings, a feature that was to be incorporated on the subsequent prototypes. These were to have been powered by Heinkel HeS 011 engines, but because of the development problems experienced with that motor, the BMW 003 was selected in its place. The second and third prototypes were to have six of these engines, the former with a cluster of three under each wing, the latter with two under each wing and one on each side of the fuselage, as the first prototype had. These machines were to have all-new, purpose-designed fuselages, and the third prototype was also to carry armament and serve as the development aircraft for a production version.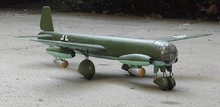 Picture - Side view (Model)
Before the second prototype was complete, though, the Junkers factory was over-run. Wocke and his staff, along with the two prototype aircraft, were taken to the Soviet Union. There, the second prototype (returned to its original Junkers in-house designation, EF 131) was eventually finished and flown on 23 May 1947, but by that time, jet development had already overtaken the Ju 287. A final much-enlarged derivative, the EF 140, was tested in prototype form in 1949 but soon abandoned.
Specifications (Ju 287 V1)
Data from
General characteristics
Crew: two, pilot and co-pilot
Length: 18.30 m (60 ft)
Wingspan: 20.11 m (65 ft 11 in)
Height: 4.70 m (15 ft)
Wing area: 61 m² (655 ft²)
Empty weight: 12,500 kg (27,500 lb)
Loaded weight: 20,000 kg (44,000 lb)
Powerplant: 4 (prototype #1) or 6 (prototype #2)x— Junkers Jumo 004B-1 turbojets, 8,825 kN (1,984 lbf) each

Performance
Maximum speed: 555 km/h (329 mph)
Range: 1,570 km (980 mi)
Service ceiling: 9,400 m (30,000 ft)
Rate of climb: 580 m/min (1,890 ft/min)

Armament
Guns: 2 x— 13 mm (.51 in) MG 131 machine guns in tail turret
Bombs: 4,000 kg (8,818 lb) of bombs (proposed)

Related development
OKB-1 EF 131

Bibliography
Hitchcock, Thomas H. Junkers 287 (Monogram Close-Up 1). Acton, MA: Monogram Aviation Publications, 1974. ISBN 0-914144-01-4.

Living Warbirds: The best warbirds DVD series.
Source: WikiPedia