Junkers K 47 Video and Picture
Junkers K 47 Aircraft Information
Junkers K 47
K 47 and A 48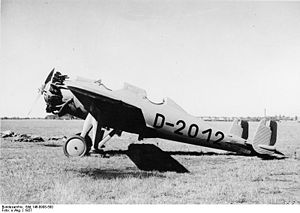 Picture - Junkers A 48 dy
Role: Fighter
National origin: Germany
Manufacturer: Junkers
Designed by: Karl Plauth and Hermann Pohlmann
First flight: 15 September 1929
Primaryuser: China
Number built: 23

The Junkers K 47 was a fighter developed in Germany during the late 1920s, a civil development of which was designated the A 48.
Design and development
Designed to meet a requirement of the Turkish government for a new fighter, the K 47 was a strut-braced, low-wing monoplane of conventional design. Two open cockpits accommodated the pilot and tail-gunner, and the empennage was designed with twin vertical surfaces to maximise the rearward field of fire. The main units of the fixed, tailskid undercarriage shared part of the truss structure that braced the wings. The design was originally undertaken by Karl Plauth, but completed after his death by Hermann Pohlmann.
Operational history
By the time the K 47 prototype was complete, Turkey had already lost interest in the type, but with the Soviet Union indicating interest, work continued. Eventually, however, the Soviet government only purchased two or three examples, and the only operational use of the type was China, which bought ten or twelve aircraft, naming the type the Tien Chu. Demonstrations were also carried out in Romania, Portugal, and Latvia without any resulting orders, although one aircraft may have been purchased by Japan. Three aircraft were used by the Reichswehr clandestine training facility at Lipetsk and a small number of the unarmed civil version were purchased by the DVS.
K 47s were also used in trials to investigate dive bombing, experiments that would be formative of Pohlmann's thinking in designing the Ju 87. Indeed, the second Ju 87 prototype was fitted with a K 47 tail.
Specifications (K 47)
Data from
General characteristics
Crew: Two, pilot and gunner
Length: 8.55 m (28 ft 1 in)
Wingspan: 12.40 m (40 ft 1 in)
Height: 2.40 m (7 ft 11 in)
Wing area: 22.8 m² (245 ft²)
Empty weight: 1,050 kg (2,310 lb)
Gross weight: 1,635 kg (3,600 lb)
Powerplant: 1 x— BMW-built Pratt & Whitney Hornet, 440 kW (590 hp)

Performance
Maximum speed: 300 km/h (190 mph)
Range: 490 km (310 miles)
Service ceiling: 4,250 m (14,000 ft)

Armament
1 x— fixed, forward-firing 7.92 mm (.312 in) LMG 08/15 machine gun
1 x— trainable, rearward-firing 7.92 mm (.312 in) machine gun

Taylor, Michael J. H. (1989). Jane's Encyclopedia of Aviation. London: Studio Editions. pp.546.
The Hugo Junkers Homepage
German Aircraft Between 1919-1945

Living Warbirds: The best warbirds DVD series.
Source: WikiPedia