KAI T-50 Golden Eagle Videos
KAI T-50 Golden Eagle Video - Promotional video
KAI T-50 Golden Eagle Aircraft Information
KAI T-50 Golden Eagle
T-50 Golden Eagle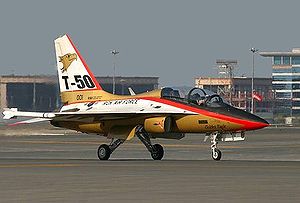 Role: Advanced trainer Multirole fighter
Manufacturer: Korea Aerospace Industries
First flight: 20 August 2002
Introduced: 22 February 2005
Status: Active
Primary user: Republic of Korea Air Force
Number built: 60+
Unit cost: US$21 million as of 2008

The T-50 Golden Eagle is a family of South Korean supersonic advanced trainers and multirole fighters, developed by Korea Aerospace Industries beginning in the late 1990s. The T-50 is South Korea's first indigenous supersonic aircraft and one of world's few supersonic trainers. Currently, KAI is upgrading four T-50 Golden Eagle trainers into prototypes of advanced multirole fighters designated FA-50.
Development
The T-50 program was originally intended to develop an indigenous trainer aircraft capable of supersonic flight, to train and prepare pilots for the KF-16 and F-15K, replacing trainers such as T-38 and A-37 that were then in service with the Republic of Korea Air Force. Prior South Korean aircraft programs include the propeller-driven KT-1 basic trainer produced by Daewoo Aerospace (now part of KAI), and license-manufactured KF-16. In general the T-50 series of aircraft closely resembles the KF-16 in configuration.
The mother program, code-named KTX-2, began in 1992, but the Ministry of Finance and Economy suspended KTX-2 in 1995 due to financial constraints. The basic design of the aircraft was set by 1999. The development of the aircraft was funded 13% by Lockheed Martin, 17% by Korea Aerospace Industries (KAI), and 70% by the government of South Korea.
The aircraft was formally designated as T-50 Golden Eagle in February 2000. The T-50A designation was reserved by the U.S. military to prevent to it from being inadvertently assigned to another aircraft model. Final assembly of the first T-50 took place between 15 January and 14 September 2001. The first flight of the T-50 took place in August 2002, and initial operational assessment from 28 July to 14 August 2003. KAI and Lockheed Martin are currently pursuing a joint marketing program for the T-50 variant internationally. The South Korean air force placed a production contract for 25 T-50s in December 2003, with aircraft scheduled to be delivered between 2005 and 2009. Original T-50 are equipped with the AN/PG-67(v)4 radar from Lockheed Martin.
The program has expanded beyond a trainer concept to include the TA-50 light attack aircraft, as well as the FA-50 multirole fighter comparable to KF-16. The TA-50 variant is a more heavily armed version of the T-50 trainer, intended for lead-in fighter training and light attack roles. The TA-50 is designed to operate as a full-fledged combat platform for precision-guided weapons, air-to-air missiles, and air-to-ground missiles. TA-50 can mount additional utility pods for reconnaissance, targeting assistance, and electronic warfare. The General Electric F414M engine has been suggested as the new engine for the T-50 family.
The FA-50 is the most advanced version of the T-50. It equips a modified Israeli EL/M-2032 pulse-Doppler radar with further Korean-specific augmentations by LIG Nex1, and has bigger internal fuel capacity, enhanced avionics, a longer radome and a tactical datalink. The EL/M-2032 was chosen over Lockheed Martin's preferred AN/APG-67(V)4 radar or the AESA SELEX Vixen 500E. In December 2008, South Korea awarded a contract to Korea Aerospace Industries to convert four T-50s to FA-50 standards by 2012. The Republic of Korea Air Force has requested to have 60 FA-50 fighters in service by 2013, and plans to acquire a total of 150 FA-50 fighters to replace F-4 Phantom II and Northrop F-5 fighters.
Design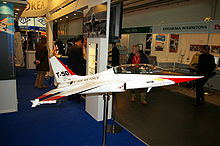 Picture - A display model of the T-50 Golden Eagle in 2007
The T-50 Golden Eagle design is largely derived from the Lockheed Martin F-16 Fighting Falcon, and they have many similarities: use of a single engine, speed, size, cost, and the range of weapons. KAI's previous engineering experience in license-producing the KF-16 has substantially benefited T-50 in the designing stage.
The T-50's central processing unit and its operating system are developed by MDS Technology. The T-50's avionics operating system is the first and only real-time operating system to be developed by an Asian company, and is given the DO-178B certification. Samsung Thales and LIG Nex1 are the main avionics and electronic warfare equipment developers for T-50 and its variants. Other South Korean companies such as DoDAAM Systems and Aeromaster are responsible for the aircraft's secondary avionics, including store management computers, avionics testing equipment, flight data recorders, portable maintenance aids, data analysis software, post-flight data processing system, and aircraft structure and engine management software. The cockpit panels, switches, and joysticks are produced by South Korea's FirsTec and Sungjin Techwin.
Hanwha supplies the mechanical parts for the flight control system, and WIA supplies the undercarriage. The T-50 is equipped with a Honeywell H-764G embedded global positioning/inertial navigation system and HG9550 radar altimeter. The aircraft is the first trainer to feature the digital fly-by-wire control interface (triple redundant). The trainer can carry two pilots in tandem seating. The high-mounted canopy developed by Hankuk Fiber is applied with stretched acrylic, providing the pilots with good visibility, and has been tested to offer the canopy with ballistic protection against 4-lb objects impacting at 400 knots.
The altitude limit is 14,600 metres (48,000 ft), and airframe is designed to last 8,000 hours of service. There are seven internal fuel tanks with capacity of 2,655 litres (701 US gal), five in the fuselage and two in the wings. An additional 1,710 litres (452 US gal) of fuel can be carried in the three external fuel tanks.
The T-50 Golden Eagle uses a single General Electric F404-102 turbofan engine license-produced by Samsung Techwin, upgraded with a Full Authority Digital Engine Control (FADEC) system jointly developed by General Electric and Korea Aerospace Industries. The engine consists of three-staged fans, seven axial stage arrangement, and an afterburner. The aircraft has a maximum speed of Mach 1.4~1.5. Its engine produces a maximum of 78.7 kN (17,700 lbf) of thrust with afterburner.
Weapon systems
TA-50 mounts a General Dynamics A-50 20mm cannon internally behind the cockpit. The cannon is a three-barreled version of the M61 Vulcan, with 205 rounds of linkless ammunition. AIM-9 Sidewinders can be attached at each of the wingtip rails, and additional weapons can be mounted to underwing hardpoints. Compatible air-to-surface weapons include the AGM-65 Maverick missile, Hydra 70 and LOGIR rocket launchers, CBU-58 and Mk-20 cluster bombs, and Mk-82, -83, and -84 general purpose bombs.
FA-50 can be externally fitted with Rafael's Sky Shield ECM pods and LITENING targeting pods to further improve the fighter's electronic warfare and targeting capabilities. Other improved weapon systems over TA-50 include SPICE multifunctional guidance kits, Textron CBU-97/105 Sensor Fuzed Weapon with WCMD tail kits, JDAM, and JDAM-ER for more comprehensive air-to-ground operations, and AIM-120 missiles for BVR air-to-air operations. FA-50 has provisions for, but does not yet integrate, Python and Derby missiles, also produced by Rafael.
Operational history
The T-50 was competing for a Polish Air Force order for 16 aircraft with ex-Finnish Air Force BAE Hawk 51s, refurbished by the Finnish defence company, Patria. In 2010 a new tender for advanced jet trainer and lead-in fighter trainer aircraft was issued. Competing aircraft are M-346, Hawk T2/128, and T-50 and FA-50. The winner of this competition is planned to begin replacing the PZL TS-11 Iskra by 2013.
Indonesia is considering the T-50 to replace the BAe Hawk and A-4 Skyhawk as the T-50 has excellent interoperability with the current Indonesian F-16s. In 2010, Indonesia announced that T-50 was shortlisted as one of three candidates for its advanced jet trainer requirement, along with Yak-130 and L-159. Indonesia plans to buy 16 of these advanced trainer aircraft.
Iraq was negotiating the acquisition of T-50 trainer jets, having first publicly expressed official interest during the Korea-Iraq summit in Seoul on 24 February 2009. In April 2010, Iraq has reopened the jet lead-in fighter-trainer competition for 24 aircraft, in which TA-50 will compete.
Israel has been evaluating the T-50 as a possible replacement for its TA-4H Skyhawk trainers since 2003.
Singapore evaluated the T-50 against the Italian Alenia Aermacchi M-346 and the BAE Hawk for a $500 million trainer acquisition program contract for 12-16 aircraft. The Singapore Ministry of Defense eventually selected the M-346 aircraft ahead of T-50 and BAE Hawk in July 2010.
The United Arab Emirates is seeking 35-40 fighter-trainers. In February 2009, UAE selected the M-346 over the T-50. But in January 2010, UAE reopened the trainer contest.
Variants
T-50
Advanced trainer version.
T-50B
Aerobatic specialized T-50 version for Black Eagles aerobatic team.
T-50P
Multirole all-weather two-seater version proposed for Polish Air Force.
TA-50
Tactial trainer/light attack version.
FA-50
Multirole all-weather version under development to replace F-5E/F by 2013. Originally named A-50.
Operators
Republic of Korea Armed Forces
Republic of Korea Air Force operates 50 T-50s, 10 T-50Bs, and 4 TA-50s.

Specifications
Data from Korea Aerospace, Lockheed Martin
General characteristics
Crew: 2
Length: 12.98 m (42 ft 7 in)
Wingspan: 9.17 m (30 ft 1 in)
Height: 4.78 m (15 ft 8.25 in)
Empty weight: 6,450 kg (14,200 lb)
Max takeoff weight: 13,500 kg (29,700 lb)
Powerplant: 1x— General Electric F404 afterburning turbofan
Dry thrust: 53.07 kN (11,925 lbf)
Thrust with afterburner: 78.7 kN (17,700 lbf)

Performance
Maximum speed: Mach 1.4~1.5
Range: 1,851 km (1,150 mi)
Service ceiling: 16,760 m (55,000 ft)
Thrust/weight: 0.96
Max g limit: -3 g / +8 g

Armament
Guns: 1x— A-50 3-barreled 20 mm M197 Gatling gun
Rockets: Hydra 70, LOGIR
Missiles:
Air-to-air: AIM-9 Sidewinder, AIM-120 AMRAAM
Air-to-ground: AGM-65 Maverick
Bombs: Mk 82, Mk 83, and Mk 84 general purpose bombs with SPICE, JDAM, or JDAM-ER guidance kits; CBU-97/105 sensor fuzed weapons, laser-guided bombs

KAI KT-1

Related development
F-16 Fighting Falcon
AIDC F-CK-1 Ching-kuo
Mitsubishi F-2

Comparable aircraft
JAS 39 Gripen
HAL Tejas
JF-17 Thunder
Alenia Aermacchi M-346
AMX International AMX
BAE Hawk
Dassault/Dornier Alpha Jet
Hongdu L-15
T-38 Talon
Yakovlev Yak-130
HAL HJT-36

KAI T-50 Golden Eagle Pictures and KAI T-50 Golden Eagle for Sale.
Living Warbirds: The best warbirds DVD series.
Source: WikiPedia