Kaman K-225 Video - Picture
Kaman K-225 Warbird Information
Kaman K-225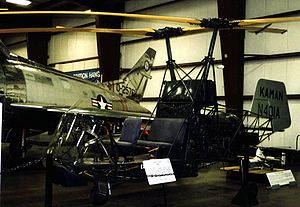 Aircraft Picture - K-225 displayed at the New England Air Museum, Windsor Locks, Connecticut, in June 2005
Role: Experimental helicopter
Manufacturer: Kaman Aircraft
First flight: July 1949
Status: Retired
Primary user: United States Navy, United States Coast Guard
Unit cost: $25,000

The Kaman K-225 was an experimental helicopter developed by Kaman Aircraft. One was modified to become the world's first gas turbine powered helicopter.
Design and development
The K-125 was Charles Kaman's first helicopter, which utilized intermeshing rotors and Kaman's patented servo-flap stability control. The K-125 first flew on 15 January 1947.
The K-190 and K-225 were an improved versions of the K-125, which first flew in April and July 1949 respectively. The U.S. Navy bought two and the Coast Guard one for $25,000 each. Later, they received the H-22 designation.
A modified K-225 equipped with a Boeing 502 (YT50) engine became the world's first gas turbine powered helicopter in December 1951. This aircraft is now at the Smithsonian.
Variants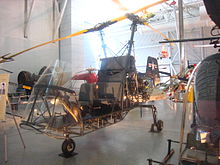 Airplane Picture - KA-255
K-125
first prototype
K-190
improved prototype version of K-125 and licensed in April 1949
K-225
improved prototype version of K-125 (and K-190) and licensed in July 1949
H-22
production designation for the K-225
Specifications ()
Engine: Gas turbine
Rotors: twin (Length: 11.58m, Width: 7.01m, Height: 3.35m
Empty weight: 816kg

Related development
HH-43 Huskie

Comparable aircraft
Flettner Fl 282

"Hall of Fame/Inventor Profile: Charles Kaman". National Inventors Hall of Fame. http://www.invent.org/hall_of_fame/190.html. Retrieved 2009-01-27.

Kaman K-225 Pictures
More airplane video.
Source: WikiPedia