Kaman K-MAX Video - Picture
Kaman K-MAX Warbird Information
Kaman K-MAX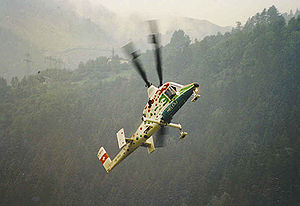 Aircraft Picture - A HELOG Heliswiss Kaman K-Max
Role: Medium lift helicopter
Manufacturer: Kaman Aircraft
First flight: 23 December 1991
Status: Active
Number built: 38+

The Kaman K-MAX (Company designation K-1200) is an American helicopter with intermeshing rotors built by Kaman Aircraft. It is optimized for external load operations, and is able to lift a payload of over 6,000 pounds, which is more than the helicopter's empty weight.
Development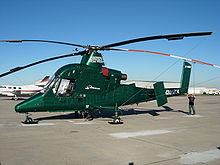 Airplane Picture - Kaman K-1200 "K-MAX" operated by Timberline Helicopters
The K-MAX series are the latest in a long line of Kaman synchropters, the most famous of which is the HH-43 Huskie. The first turbine-powered helicopter was also a Kaman synchropter.
The K-1200 K-MAX "aerial truck" is the world's first helicopter specifically designed, tested, and certified for repetitive external lift operations and vertical reference flight (Kaman received IFR Certification in 1999), an important feature for external load work. Other rotorcraft used for these tasks are adapted from general-purpose helicopters, or those intended to primarily carry passengers or internal cargo. The aircraft's narrow, wedge-shaped profile and bulging side windows gives the pilot a good view of the load looking out either side of the aircraft.
The transmission has a reduction ratio of 24 in three stages, and is designed for infinite life. The rotor blades are built with a wooden spar and fiberglass trailing edge sections. Wood was chosen for its damage tolerance, fatigue resistance and to take advantage of field experience and qualification data amassed from a similar spar on the HH-43 helicopter, built for the U.S. Air Force in the '50s and '60s.
The K-MAX relies on the two primary advantages of synchropters over conventional helicopters. The first of these is the most efficient of any rotor-lift technology; the other is the synchropter's natural tendency to hover. This increases stability, especially for precision work in placing suspended loads. At the same time, the synchropter is more responsive to pilot control inputs, making it possible to easily swing a load thus to scatter seed, chemicals, or water over a larger area.
A K-MAX has been used for demolition work by having a wrecking ball as sling load.
An unmanned remote-control version, the K-MAX Unmanned Multi-Mission Helicopter, is planned for hazardous missions. It could be used in combat to deliver supplies to the battlefield, as well as civilian situations involving chemical, biological, or radiological hazards.
An unmanned prototype was shown in 2008 for potential military heavy-lift resupply use, and again in 2010. In December 2010 NAVAIR awarded a $46 million contract to Kaman for two aircraft, and in 2011 they completed a 5-day Quick Reaction Assessment.
38 K-1200 K-MAX helicopters have been built. As of May 2008, 13 of these were not airworthy or have been written off in accidents.
Operators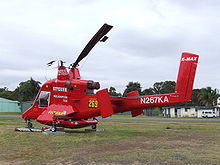 Airplane Picture - Superior Helicopter Kaman K-Max configured for aerial firefighting, showing the arrangement of the rotors
Colombia
Colombian National Army Aviation

United States Swanson Group Aviation Germany HELOG
Specifications (K-MAX)
Data from K-MAX Performance and Specs
General characteristics
Crew: 1
Capacity: 6,000 lb (2,722 kg) external load
Length: 51 ft 10 in (15.8 m)
Rotor diameter: 48 ft 3 in (14.7m)
Height: 13 ft 7 in (4.14 m)
Empty weight: 5,145 lb (2,334 kg)
Useful load: 6,855 lb (3,109 kg)
Max takeoff weight: 12,000 lb (5,443 kg)
Powerplant: 1 x— Honeywell T53-17 turboshaft, 1,800 shp ()

Performance
Maximum speed: 100 knots (185.2 km/h)
Cruise speed: 80 knots (148.2 km/h)
Range: 267 nm (494.5 km)

Related development
HH-43 Huskie

Comparable aircraft
Kamov Ka-26
Kamov Ka-226

Kaman K-MAX Pictures
More airplane video.
Source: WikiPedia