Kamov Ka-10 Video - Picture
Kamov Ka-10 Warbird Information
Kamov Ka-10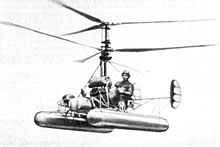 Airplane Picture - Kamov Ka-10
The Kamov Ka-10 (NATO reporting name Hat) was a Soviet single-seat observation helicopter that first flew in 1950.
It was a development of Ka-8, not much more than an open rig with an engine and coaxial rotors. Only 12 units were built.
Variants
Ka-10 : Single-seat observation helicopter.
Ka-10M : Improved version fitted with twin tail fins and rudders.

Operators
Soviet Union

The initial version of this article was based on material from aviation.ru. It has been released under the GFDL by the copyright holder.
Kamov Ka-10 Pictures
More airplane video.
Source: WikiPedia