Kamov Ka-126 Video - Picture
Kamov Ka-126 Warbird Information
Kamov Ka-126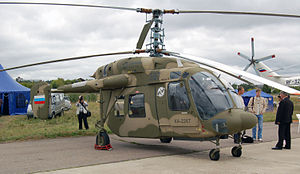 Role: Light utility
Manufacturer: Industria Aeronautică Romx¢nă
Designer: Kamov
First flight: 22 December 1988
Introduction: 1989
Status: Active
Produced: 1989-1991
Number built: 17
Developed from: Kamov Ka-26
Developed into: Kamov Ka-226

The Kamov Ka-126 (NATO reporting name Hoodlum) is a Soviet light utility helicopter with co-axial rotors. Evolved from Ka-26 with engine pods removed from stub wings, fitted with one TVO-100 turboshaft engine positioned on top of fuselage, modified rotor blades, new fuel system.
Development
Development began 1984 with the signing of governmental Romanian-Soviet agreement in the field od aeronautical construction for cooperation in manufacturing an utility helicopter derived from Kamov Ka-26 helicopter.In October 1985 the signing of the collaboration protocol for the manufacturing of the single engine turbine powered KA 126 helicopter. In 1986 Industria Aeronautică Romx¢nă(IAR) starts the helicopter manufacturing preparation. Early mockup had two small turboshafts above cabin; single turboshaft adopted subsequently; ground test vehicle completed early 1986; In 22 December 1988 was maiden flight of the IAR Built Ka 126 with TV100 engine produced by Turbomecanica București and VR126 main gear built by I. Avioane Bacau today Aerostar. After building 17 ka 126 production was stopped and after 1991 the program was cancelled.
Proposed Ka-128, differing only in power plant and addition of an intermediate gearbox, has been abandoned.
A variant with a two engine was developed in Ka-226.

All the Ka-26/126/128/226 variants are codenamed "Hoodlum".
Design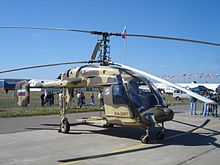 Airplane Picture -
The fuselage of the Ka-126 consists of a fixed, bubble-shaped cockpit containing the pilot and co-pilot, plus a removable, variable box available in medevac, passenger-carrying and cropduster versions. The helicopter can fly with or without the box attached, giving it much flexibility in use. Compared with Ka-26 has turboshaft engine, significant increase in payload/endurance/range, and greater year-round utilisation; updated equipment includes new low-volume spraygear. Contrarotating coaxial three-blade rotors; hinge rotor head with 'rake'-type blade attachment. Load-carrying rear section and electrothermal anti-icing; rotor brake standard; non-folding blades. Three-stage gearbox with planetary gear trains, of alloy steel and aluminium casting, flange mounted with four load-carrying bolts. Accessories include cooling fan, hydraulic pump and AC generator; engine input 6,000rpm. Non-retractable four-wheel type landing gear. Main units, at rear, carried by stub-wings. All four units embody oleo-pneumatic shock-absorber. Forward wheels of castoring type, self-centring, no brakes. Rear wheels have pneumatic brakes. Mainwheel tyres size 595 x 185 mm, pressure 2.45 bars; forward wheel tyres size 300 x 125 mm, pressure 3.43 bars. Skis optional. Provision for large inflatable pontoons, across front of aircraft forward of front wheels and under each mainwheel.
POWER PLANT: One 522kW Mars (Omsk) TV-O-100 turboshaft, installed centrally in streamline fairing above cabin. Electronic-hydraulic automatic two-channel control system, with manual control in case of electronic governor failure. Front driveshaft with plate coupling to gearbox. Fuel in two forward and one aft tank, total capacity 800 litres. Provision for two external tanks, on sides of fuselage, total capacity 320 litres. Single-point main tank refuelling, on port side of aft tank.
ACCOMMODATION: Fully enclosed cabin, with rearward-sliding door each side; normal operation by single pilot; second seat and dual controls optional. Cabin ventilated, and warmed and demisted by air from combustion heater, which also heats passenger cabin when fitted. Air filter on nose of agricultural version. Space aft of cabin, between main landing gear legs and under transmission, can accommodate variety of interchangeable payloads. Cargo/passenger pod accommodates four or six persons on folding sidewall seats, with provision for seventh passenger beside pilot; two clamshell doors at rear of pod, emergency exit each side and hatch in floor. Ambulance pod accommodates two stretcher patients, two seated casualties and medical attendant. For agricultural work, chemical hopper (capacity 1,000 litres) and dust spreader or spraybars are fitted in this position, on aircraft's CG. Aircraft can also be operated with either an open platform for hauling freight or hook for slinging loads at end of a cable or in a cargo net.
Variants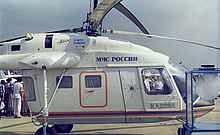 Airplane Picture -
Ka-126 Hoodlum-B
One or two crew utility light helicopter, powered by a 720-shp (537-kW) OMKB "Mars" (Glushenkov) TVD-100 turboshaft engines. First flown in 1986, and built under licence by IAR in Romania. 2 prototypes and 15 series helicopter built.
V-60
A prototype light armed escort helicopter based on the Ka-126.
Ka-128
One prototype, powered by a 722-shp (538-kW) Turbomeca Arriel 1D1 turboshaft engine.
Kamov Ka-226
Powered by two 450-shp (335-kW) Rolls-Royce (Allison ) 250-C20R/2 turboshaft engines.
Operators
Civil operators
Russia
Gazpromavia

Soviet Union
Aeroflot

Specifications (Ka-126)
General characteristics
Crew: 2
Capacity: 6 passengers (cargo/passenger pod)
Payload: 1000 kg () (chemical hopper)1000L
1,100 kg (2,425 lb) (flying crane)
Length: 7.75 m (25 ft 5 in)
Rotor diameter: 2x 13.00 m (42 ft 8 in)
Height: 4.15 m (13 ft 7½ in)
Disc area: 265.5 m² (2,856 ft²)
Empty weight: 1,950kg (4,300lb)
Loaded weight: 3000kg (6613lb)
Powerplant: 1 x— 1 x Omsk TVO-100 turboshaft turboshaft, 530 kW (720 hp)

Performance
Maximum speed: 190 km/h
Cruise speed: 170 km/h
Range: 660 km (215 nmi,) (7 passengers, 30 min reserves)
Endurance: 5 hr
Service ceiling: 4650 m ()

Related development
Kamov Ka-26
Kamov Ka-226

Comparable aircraft
K-MAX

R. Simpson "Airlife's Helicopter and Rotorcraft", 1998

Kamov Ka-126 Pictures
More airplane video.
Source: WikiPedia