Kamov Ka-137 Video - Picture
Kamov Ka-137 Warbird Information
Kamov Ka-137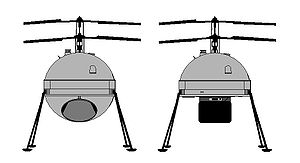 Role: Unmanned Aerial Vehicle (UAV)
Manufacturer: Kamov
First flight: 1998

The Kamov Ka-137, previously designated MBVK-137, is an unmanned multipurpose helicopter designed for many roles, including reconnaissance, patrol, police and ecology, emergency, and data transmitting. Three versions of the Ka-137 were made - one ship-based, one automobile-based, and another carried by the Ka-32 helicopter. The aircraft uses a piston engine, driving a coaxial-rotor system and features a tailess, sphere-shaped fuselage with four-leg leaf-spring landing gear. Sensors and other equipment located in a special equipment compartment.
Specifications
General characteristics
Crew: 1 ground operator
Capacity: 80 kg (176 lb) internal cargo
Diameter: 1.30 m (4 ft 3 in)
Main rotor diameter: 5.30 m (17 ft 5 in)
Height: 2.30 m (7 ft 7 in)
Main rotor area: 8.3 m (90 ft)
Gross weight: 280 kg (620 lb)
Powerplant: 1 x— Hirth 2706-R05, 50 kW (65 hp)

Performance
Maximum speed: 175 km/h (110 mph)
Range: 530 km (850 miles)
Endurance: 4 hours
Service ceiling: 5,000 m (16,400 ft)

Jane's Unmanned Aerial Vehicles and Targets
Military Parade "Russia's Arms Catalog", 2002

Kamov Ka-137 Pictures
More airplane video.
Source: WikiPedia