Kamov Ka-8 Video - Picture
Kamov Ka-8 Warbird Information
Kamov Ka-8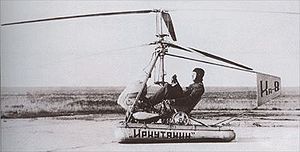 Airplane Picture - Kamov Ka-8
The Kamov Ka-8 (Irkutyanin) was a tiny Soviet helicopter that first flew in 1947.
It was a precursor of the Ka-10. The Ka-8 was a single-seat helicopter with a 27hp M-76 engine, boosted to 45hp by using alcohol for fuel.
The initial version of this article was based on material from aviation.ru. It has been released under the GFDL by the copyright holder.
Kamov Ka-8 Pictures
More airplane video.
Source: WikiPedia