Kawanishi H8K Video - Picture
Kawanishi H8K Warbird Information
Kawanishi H8K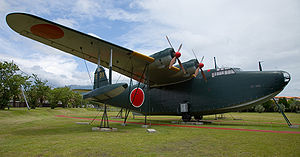 Aircraft Picture - Kawanishi H8K2 at Kanoya museum, Japan
Role: Four engine long-range flying boat
Manufacturer: Kawanishi
First flight: January 1941
Introduction: February 1942
Retired: 1945
Primary user: IJN Air Service
Produced: 1941-1945
Number built: 167

The Kawanishi H8K (Type 2 Large Flying Boat. Nishiki Daitei, Nishiki Taitei) was an Imperial Japanese Navy flying boat used during World War II for maritime patrol duties. The Allied reporting name for the type was "Emily".
Design and development
At the same time the type's predecessor, the Kawanishi H6K, was going into service in 1938 the Navy ordered the development of a larger, longer-ranged patrol aircraft under the designation Navy Experimental 13-Shi Large-size Flying Boat. The result was a large, shoulder-winged design that is widely regarded as the best flying boat of the war. Despite this, initial development was troublesome, with the prototype displaying terrible handling on the water. Deepening of the hull, redesigning of the planing bottom and the addition of spray strips under the nose rectified this Two further prototypes -actually pre-production aircraft- joined the development program in December 1941.
The IJNAF accepted the first production version as the H8K1, Navy Type 2 Flying Boat, Model 11, of which 14 would be built.
The improved H8K2 variant soon appeared, and its extremely heavy defensive armament earned it deep respect among Allied aircrews. The H8K2 was an upgrade over the H8K1, having more powerful engines, slightly revised armament, and an increase in fuel capacity. This was to be the definitive variant, with 112 produced.
36 examples of a dedicated transport version, the H8K2-L, were also built, capable of carrying 62 troops. This aircraft was also known as Seiku (ć™´ç©ş, "Clear Sky"). The side defensive blisters, ventral defensive hatch, and dorsal turret were discarded. To increase the available space within the aircraft, its hull tanks were removed, thus reducing its range.
Operational history

Airplane Picture - Kawanishi H8K Emily taking off
The H8K entered production in 1941 and first saw operational use on the night of 4 March 1942 in a second raid on Pearl Harbor. Since the target lay out of range for the flying boats, this audacious plan involved a refuelling by submarine at French Frigate Shoals, some 550 miles north-west of Hawaii, en route. Two planes from the Yokohama Kokutai (Naval Air Corps) attempted to bomb Pearl Harbor, but, due to poor visibility, did not accomplish any significant damage.
H8K2s were used on a wide range of patrol, reconnaissance, bombing, and transport missions throughout the Pacific war. The H8K2 was given the Allied code name "Emily".
Variants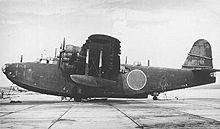 Airplane Picture - A Kawanishi H8K Flying Boat ashore.
H8K1 Prototype
One experimental prototype and two evaluation aircraft.
H8K1 (Navy Type 2 Flying Boat, Model 11)
First operative model of series, 14 built.
H8K1-L
Redesignation of the first prototype, after it was converted into a transport aircraft.
H8K2 (Navy Type 2 Flying Boat, Model 12)
Version with more powerful engines and major armament, equipped with Air-to-Surface-Vessel search radar, 112 built.
H8K2-L Seiku ("Clear Sky") (Navy Type 2 Transport Flying Boat, Model 32)
Transport version of H8K1. Armed examples were equipped with two 20 mm Type 99 cannons and transport capacity of 29-64 passengers. 36 built.
H8K3 (Navy Type 2 Flying Boat, Model 22)
Experimental version, H8K2 modified. Equipped with retractable floats in wingtips, sliding hatch side gun locations in place of the blisters and a retractable dorsal turret, all in an effort to increase speed, 2 prototypes.
H8K4 (Navy Type 2 Flying Boat, Model 23)
H8K3 re-engined with 1,825 hp Mitsubishi Kasei 25b engines, 2 converted.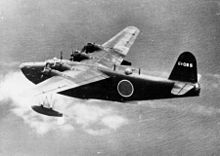 Airplane Picture - An H8K in flight, before being shot down by a U.S. Navy PB4Y-1, 2 July 1944.
Operators
Japan
Imperial Japanese Navy Air Service

Survivors
Four aircraft survived until the end of the war. One of these, an H8K2, was captured by U.S. forces at the end of the war and was evaluated before being eventually returned to Japan in 1979. It was on display at Tokyo's Museum of Maritime Science until 2004, when it was moved to Kanoya Air Base in Kagoshima.
The submerged remains of an H8K can be found off the west coast of Saipan, where it is a popular scuba diving attraction known erroneously as the "B-29", or the "Emily". Another wrecked H8K lies in Chuuk Lagoon, Chuuk, in Micronesia. This aircraft is located off the south-western end of Dublon Island.
Specifications (Kawanishi H8K2)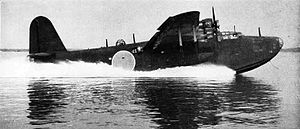 Airplane Picture - A captured Japanese Kawanishi H8K Emily taking off at the U.S. Navy Naval Air Test Center at Patuxent River, Maryland (USA), in 1946-47.
Data from Jane's Fighting Aircraft of World War II
General characteristics
Crew: 10
Length: 28.15 m (92 ft 4 in)
Wingspan: 38.00 m (124 ft 8 in)
Height: 9.15 m (30 ft)
Wing area: 160 m˛ (1,721 ft˛)
Empty weight: 18,380 kg (40,436 lb)
Loaded weight: 24,500 kg (53,900 lb)
Max takeoff weight: 32,500 kg (71,500 lb)
Powerplant: 4 x— Mitsubishi Kasei 22 radial engines, 1,380 kW (1,850 hp) each

Performance
Maximum speed: 465 km/h (290 mph)
Range: 7,150 km (4,440 mi)
Service ceiling: 8,760 m (28,740 ft)
Rate of climb: 8.1 m/s (1,600 ft/min)
Wing loading: 153 kg/m˛ (31 lb/ft˛)
Power/mass: 0.22 kW/kg (0.14 hp/lb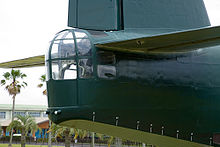 Airplane Picture - The tail gunner position (without gun)
)Armament
Guns:
5x— 20 mm Type 99 cannon (one each in bow, dorsal, and tail turrets, plus one each in two waist blisters)
5x— 7.7 mm (.303 in) Type 97 machine guns in fuselage hatches
Bombs: 2x— 800 kg (1,764 lb) torpedoes or 1,000 kg (2,205 lb) of bombs or depth charges

Avionics
Mark VI Model 1 ASV radar

Comparable aircraft
Short Sunderland
Boeing 314
Martin M-130

Bibliography
Bridgeman, Leonard. "The Kawanishi H8K2 "Emily"" Jane's Fighting Aircraft of World War II. London: Studio, 1946. ISBN 1-85170-493-0.
Francillon, Ph.D., René J. Japanese Aircraft of the Pacific War. London: Putnam & Company, 1970 (2nd edition 1979). ISBN 0-370-30251-6.
Green, William. Warplanes of the Second World War, Volume Five: Flying Boats. London: Macdonald & Co.(Publishers) Ltd., 1962. ISBN 0-356-01449-5.
Raymer, E.C. Descent Into Darkness. Presidio Press, 1996. ISBN 0-89141-580-0.
Richards, M.C. "Kawanishi 4-Motor Flying-Boats (H6K 'Mavis' and H8K 'Emily')". Aircraft in Profile Volume 11. Windsor, Berkshire, UK: Profile Publications Ltd., 1972.
Van der Klaauw, Bart. Water- en Transportviegtuigen Wereldoorlog II (in Dutch). Alkmaar, the Netherlands: Uitgeverij de Alk. ISBN 90-6013-6772.

Kawanishi H8K Pictures
More airplane video.
Source: WikiPedia