Kawasaki Ka 87 Video - Picture
Kawasaki Ka 87 Aircraft Information
Kawasaki Ka 87
Do N, Ka 87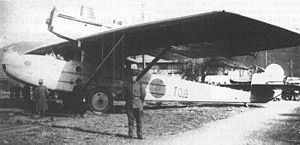 Role: Bomber
Manufacturer: Kawasaki
Designed by: Richard Vogt of Dornier
First flight: 19 February 1926
Primary user: Imperial Japanese Army Air Force
Number built: 28

The Dornier N was a bomber aircraft designed in Germany in the 1920s for production in Japan. Production started in Japan in 1927 of 28 aircraft as the Kawasaki Ka 87 (also known as the Type 87 Night Bomber). Designed and built as a landplane, its layout was strongly reminiscent of the Dornier flying boats of the same period; a parasol-wing, strut-braced monoplane with two engines mounted in a Push-pull nacelle above the wing. Some of the 28 examples built saw action in Manchuria in 1931.
Specifications
General characteristics
Crew: 4
Length: 18.50 m (60 ft 8 in)
Wingspan: 26.80 m (87 ft 11 in)
Height: 5.82 m (19 ft 1 in)
Wing area: 121.0 m² (1,300 ft²)
Empty weight: 4,400 kg (9,700 lb)
Gross weight: 7,650 kg (16,900 lb)
Powerplant: 2 x— BMW VI piston engine, 447 kW (600 hp) each

Performance
Maximum speed: 180 km/h (112 mph)
Range: 660 km (410 miles)
Service ceiling: 5,000 m (16,400 ft)

Armament
5 x— machine guns
1 x— 600 kg (1,320 lb) bomb

Taylor, Michael J. H. (1989). Jane's Encyclopedia of Aviation. London: Studio Editions. pp. 328.

Kawasaki Ka 87 Pictures
More aircraft.
Source: WikiPedia