Kawasaki Ki-28 Video - Picture
Kawasaki Ki-28 Aircraft Information
Kawasaki Ki-28
Ki-28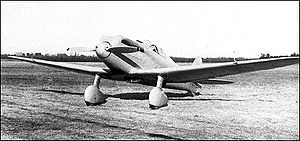 Picture - The sole prototype of the Kawasaki Ki-28
Role: Experimental Fighter Aircraft
Manufacturer: Kawasaki Kōkūki Kogyo KK
First flight: 1936
Primary user: IJA Air Force
Number built: 1

The Kawasaki Ki-28 (キ28, Ki-Nijuhachi) was an experimental fighter aircraft designed for the Japanese Imperial Army and meant as a replacement for the Kawasaki Ki-10. It flew in 1936, but was never produced for actual use as the Army choose the Nakajima Ki-27.
Design & Development
The Ki-28 was initially produced by Kawasaki Kōkūki Kōgyō KK in response to Japanese army specifications for a fighter to replace the existing Kawasaki Ki-10. In mid-1935, Kawasaki, Mitsubishi and Nakajima were instructed to build competitive prototypes. The Kawasaki design was based on its earlier, but unsuccessful Ki-5. It was a low-wing cantilever monoplane of all-metal construction, except for fabric-covered control surfaces, with a conventional tail unit, fixed tailskid landing gear and powered by a 596 kW (800 hp) Kawasaki Ha 9-II-Ko liquid-cooled inline V12 engine.
Service trials proved that the Kawasaki Ki-28 was the fastest of the three contenders, but the Nakajima Ki-27 was by far the most maneuverable and had the lowest wing-loading, and on this basis was selected by the Imperial Japanese Army Air Force. Despite losing to the Ki-27, the Ki-28 provided Kawasaki with valuable experience which would later help with development of the Kawasaki Ki-60 and Kawasaki Ki-61 fighters.
Operators
Military operators
Japan
Imperial Japanese Army Air Force

Specifications
Data from Famous Aircraft of the World, no.76: Japanese Army Experimental Fighters (1); Japanese Aircraft, 1910-1941
General characteristics
Crew: 1
Length: 7.9 m (25.92 ft)
Wingspan: 12 m (39.37 ft)
Height: 2.60 m (8.53 ft)
Wing area: 19 m² (204.52 ft²)
Empty weight: 1,420 kg (3,130 lb)
Loaded weight: 1,760 kg (3,880 lb)
Useful load: 340 kg (750 lb)
Powerplant: 1x— Kawasaki Ha-9-II-Ko liquid-cooled in-line piston V-12 engine, 800 hp (597 kW)
Propellers: 1 propeller
Propeller diameter: 2.90 m (10 ft)

Performance
Maximum speed: 485 km/h (262 kn, 301 mph)
Range: 1,000 km (540 nmi, 620 mi)
Service ceiling: 11,000 m (36,000 ft)
Wing loading: 92.6 kg/m² (18.97 lb/ft²)
Power/mass: 0.33 kW/kg (0.45 hp/kg; 0.20 hp/lb)
Time to altitude: 5 min. 10 sec. to 5,000 metres (16,000 ft)

Armament
Guns: 2 x— 7.7 mm (.303 in) machine guns

Bibliography
Mikesh, Robert C.; Shorzoe Abe (1990). Japanese Aircraft, 1910-1941. Annapolis, MD: Naval Institute Press. ISBN 1-55750-563-2.
Unknown Author(s). Famous Aircraft of the World, no.76: Japanese Army Experimental Fighters (1). Tokyo, Japan: Bunrin-Do Co. Ltd., August 1976.
Wieliczko, Leszek A. and Zygmunt Szeremeta. Nakajima Ki 27 Nate (bilingual Polish/English). Lublin, Poland: Kagero, 2004. ISBN 83-89088-51-7.

Kawasaki Ki-28 Pictures
More aircraft.
Source: WikiPedia