Kawasaki Ki-32 Video - Picture
Kawasaki Ki-32 Aircraft Information
Kawasaki Ki-32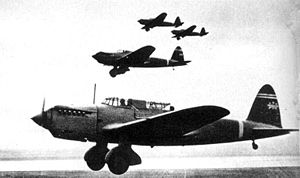 Picture - Ki-32 Mary (Army Type 98 Light Bomber)
Role: Light bomber
Manufacturer: Kawasaki Kōkūki Kogyo KK
First flight: March 1937
Introduced: 1938
Retired: 1942
Primary users: IJA Air Force Manchukuo Air Force
Number built: 854

The Kawasaki Ki-32 (九八式軽爆撃機, Kyuhachi-shiki keibakugekiki) was a Japanese light bomber aircraft of World War II. It was a single-engine, two-seat, mid-wing, cantilever monoplane with a fixed tailwheel undercarriage. An internal bomb bay accommodated a 300 kg offensive load, supplemented by 150 kg of bombs on external racks. During the war, it was known by the Allies by the code-name Mary.
Design and development
The Ki-32 was developed in response to a May 1936 Imperial Japanese Army specification to replace the Kawasaki Ki-3 light bomber with a completely indigenously designed and built aircraft. Mitsubishi and Kawasaki were requested to build two prototypes each by December 1936. The specification called for a top speed of 400 km/h (250 mph) at 3,000 meters; normal operating altitude from 2,000 to 4,000 meters, the ability to climb to 3,000 meters within 8 minutes and an engine to be selected from the 825 hp (620 kW) Mitsubishi Ha-6 radial, 850 hp (630 kW) Nakajima Ha-5 radial, or 850 hp (630 kW) Kawasaki Ha-9-IIb liquid-cooled inline engines, a normal bomb load of 661 lb (299.8 kg) and a maximum of 992 lb (450.0 kg), one forward-firing machine gun and one flexible rearward-firing machine gun, the ability to perform 60-degree dives for dive bombing, and a loaded weight less than 7,275 lb (3,299.9 kg).
The first Kawasaki prototype flew in March 1937; seven more prototypes were produced. Being very similar in layout and performance, main difference between the Kawasaki Ki-32 and its Mitsubishi Ki-30 rival was in the choice of an engine. The Mitsubishi design used the Nakajima Ha-5 14-cylinder air-cooled radial engine, whereas Kawasaki opted for their own Kawasaki Ha-9-11 inline V12 engine.
Problems were encountered with the Kawasaki design, particularly with engine cooling, and the Mitsubishi Ki-30 received the production order. In spite of this, the pressing need for more aircraft in the Second Sino-Japanese War, which had started at full scale in July 1937, resulted in the Ki-32's entry into production as well, 12 months behind its rival. Ironically, the number of Ki-32s built was much higher than that of the successful Ki-30.
The Ki-32 entered production in 1938, designated Army Type 98 Single-engine Light Bomber, Kawasaki manufactured 854 Ki-32s before production ceased in May 1940.
Operational history
The Ki-32 saw extensive war service in the Second Sino-Japanese War, equipping the 3rd, 6th, 10th, 35th, 45th, 65th and 75th Sentai. It also saw combat during the Battle of Nomonhan against the Soviet Union in 1938-1939. Its last combat action was bombing Commonwealth forces during the Japanese Invasion of Hong Kong.
Ki-32s were during World War II also supplied to the Manchukuo Air Force to replace their obsolescent Kawasaki Type 88/KDA-2 light bombers; they were the main bomber of that service through the conflict.
After their withdrawal from front-line service in 1942 the Ki-32s were used in a training role.
Operators
Japan
Imperial Japanese Army Air Force
No. 3 Hikō Sentai IJAAF
No. 6 Hikō Sentai IJAAF
No. 10 Hikō Sentai IJAAF
No. 35 Hikō Sentai IJAAF
No. 45 Hikō Sentai IJAAF
No. 65 Hikō Sentai IJAAF
No. 75 Hikō Sentai IJAAF

Manchukuo
Manchukuo Air Force

Indonesia
In 1945, Indonesian People's Security Force (IPSF) (Indonesian pro-independence guerrillas) captured a small number of aircraft at numerous Japanese air bases, including Bugis Air Base in Malang (repatriated 18 September 1945). Most aircraft were destroyed in military conflicts between the Netherlands and the newly proclaimed-Republic of Indonesia during the Indonesian National Revolution of 1945-1949.

Specifications
Data from The Concise Guide to Axis Aircraft of World War II; Japanese Aircraft of the Pacific War
General characteristics
Crew: 2
Length: 11.65 m (38 ft 2.5 in)
Wingspan: 15.0 m (49 ft 2½ in)
Height: 2.90m (9 ft 6 in)
Wing area: 34.00 m² (365.98 ft²)
Empty weight: 5,181 kg (2,350 lb)
Max takeoff weight: 3,760 kg (8,290 lb)
Powerplant: 1x— Kawasaki Ha-9-IIb liquid-cooled inline V12 engine, 634 kW (850 hp)

Performance
Maximum speed: 423 km/h (228 knots, 263 mph) at (3,940 m) 12,900 ft
Cruise speed: 300 km/h (162 knots, 186 mph)
Range: 1,965 km (1,060 nm, 1,220 mi)
Service ceiling: 8,920 m (29,265 ft)
Rate of climb: 7.6 m/s (1500 ft/min)
Wing loading: 104.1 kg/m² (21.3 lb/ft²)

Armament
Guns: 2x— 7.7 mm (0.303 in) machine guns
Bombs: 450 kg (990 lb)

Comparable aircraft
Fairey Battle
Mitsubishi Ki-30

Bibliography
Francillon, Ph.D., René J. (1979). Japanese Aircraft of the Pacific War. London: Putnam & Company Ltd.. ISBN 0-370-30251-6.
Gunston, Bill (1999). The Illustrated Directory of Fighting Aircraft of World War II. London: Zenith Press. ISBN 0-86101-390-5.
Jowett, Philipp (2005). Rays of the Rising Sun, Volume 1: Japan's Asian Allies 1931-45, China and Manchukuo. London: Helion and Company Ltd.. ISBN 1-87462-221-3.
Lake, Jon (2002). Great Book of Bombers. Zenith Press. ISBN 0-76031-347-4.
Mikesh, Robert C.; Shorzoe Abe (1990). Japanese Aircraft, 1910-1941. Annapolis, MD: Naval Institute Press. ISBN 1-55750-563-2.
Mondey, David (2002). The Concise Guide to Axis Aircraft of World War II. Book Sales Press. ISBN 1-85152-966-7.

Living Warbirds: The best warbirds DVD series.
Source: WikiPedia