Kawasaki P-1 Video - Picture
Kawasaki P-1 Aircraft Information
Kawasaki P-1
XP-1 (P-X)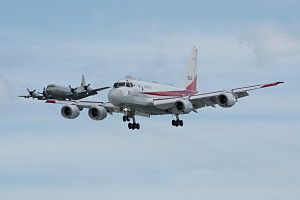 Picture - XP-1 with P-3Cā€Ž
Role: Maritime patrol aircraft
Manufacturer: Kawasaki
First flight: 28 September 2007
Introduction: 2012
Status: In development/flight testing
Primary user: Japan Maritime Self-Defense Force

The Kawasaki XP-1 (previously P-X) is a Japanese military aircraft currently under development and intended as a replacement for the P-3C maritime patrol aircraft operated by the Japan Maritime Self-Defense Force.
Development
With its P-3C aircraft having been in service for twenty years, the JMSDF began to look for a replacement maritime patrol aircraft. Lockheed and the United States had been working on the Lockheed P-7 to replace its own P-3s, but the program had been cancelled. Since other similar aircraft (such as the Nimrod) did not meet the JMSDF's requirements, they decided to develop their own aircraft.
The project was intended to share many design components with the Kawasaki C-X, another local design intended to replace the C-1 and C-130H cargo aircraft. However, due to the very different roles of the two aircraft, only minimal similarities have been achieved. The merit rather lies in the sharing of development resources, allowing a large reduction in development costs. Total development costs included C-X are 345 billion Yen ($3 billion) at 2007.
Design
Like the Nimrod and S-3 Viking, the P-1 is a jet-powered design. The XP-1 is powered by four IHI F7-10 turbofan engines mounted under the low-set wings.
The P-X and C-X designs were originally independent, but it was later decided to make certain components common to both designs. Common components shared with the C-X are cockpit windows, outer wing, and horizontal stabilizer. Other internal shared parts include auxiliary power unit, cockpit panel, flight control system computer, anti collision light, and gear control unit. Development costs decreased by about 25 billion yen ($218 million) due to shared components. Unit costs and operational costs are expected to be lower thanks to this initiative.
The P-1 will also have an artificial intelligence (AI) system to assist TACCO operation. Similar to the SH-60K, an advanced combat direction system able to show the TACCO operator the best flight course to attack a submarine will also be onboard.
Fly-by-light will be an important feature, decreasing electro-magnetic disturbances to the sensors compared to fly-by-wire. The P-1 will be the first production aircraft to be equipped with such a flight control system.
Sensors on the P-1 will be used to detect submarines and small vessels, such as Toshiba HPS-106 Active Electronically Scanned Array (AESA), magnetic anomaly detector (MAD), and Infrared/Light detection systems. The aircraft will share operational capabilities with the P-8, with some sensors being the same(i.e. CAE-designed MAD system).
The P-1 will have a bomb bay for anti-submarine weapons, as well as eight external pylons to carry ASMs or bombs.
Operational history
On August 31, 2007 the Ministry of Defense revealed that they will procure four production airframes. The request in the Heisei20 (FY2008) budget is 67.9 billion YEN, or about 566 million US dollars. This will make the unit price for each aircraft at $141.5 million.
The XP-1's first flight took place in Gifu Air Base in Japan on 28 September 2007. The flight took about one hour, and ended successfully. The P-X was redesignated as XP-1 at this time.
As of March 2010, Kawasaki Heavy Industries has delivered four XP-1 maritime patrol test aircraft to Japan's defence ministry.
Specifications (XP-1)
Data from flightglobal.com
General characteristics
Crew: Flight: 2 Mission: 11
Length: 38.0 m (124 ft 8 in)
Wingspan: 35.4 m (114 ft 8 in)
Height: 12.1 m (39 ft 4 in)
Max takeoff weight: 79,700 kg (176,000 lb)
Powerplant: 4x— IHI Corporation XF7-10 turbofan, 13,500 lbs (60 kN) each

Performance
Cruise speed: 833 km/h (450 knots, 516 mph)
Range: 8,000 km (4,320 nm, 4,970 mi)
Service ceiling: 44,200 ft (13,520 m)

Armament
Bombs: 20,000+ lb (9,000+ kg)
Missiles: AGM-84 Harpoon, ASM-1C, AGM-65 Maverick
Sonobuoys: 30+ Pre-loaded, 70+ Deployable from inside
Other: MK-46 and Type 97 and new(G-RX5) torpedoes, mines, depth charges

Related development
Kawasaki C-2
Kawasaki YPX

Comparable aircraft
BAE Systems Nimrod MRA4
Boeing P-8 Poseidon
Lockheed P-3 Orion
Bombardier Aerospace DHC-8-MPA-D8
Breguet Atlantique
EADS CASA C-295 MPA
Ilyushin Il-38

Kawasaki P-1 Pictures
More aircraft.
Source: WikiPedia