Kawasaki P-2J Video - Picture
Kawasaki P-2J Aircraft Information
Kawasaki P-2J
P-2J Neptune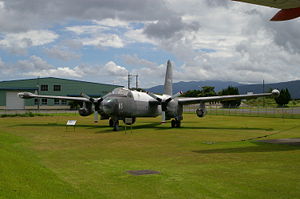 Picture - A P-2J displayed at Kanoya Air Base of JMSDF
Role: ASW and maritime patrol aircraft
Manufacturer: Lockheed Kawasaki Aerospace Company
First flight: 21 July 1966
Introduced: 1969
Retired: 1996
Primary user: Japan Maritime Self Defense Force
Produced: 1966-1979
Number built: 83
Developed from: P-2 Neptune

The Kawasaki P-2J (originally P2V-Kai) was a Maritime patrol and ASW aircraft developed for the Japan Maritime Self Defense Force. A turboprop-powered version of the radial-engined P-2 Neptune, the P-2J was developed as an alternative to buying the larger and more expensive P-3 Orion, which would eventually replace the P-2J in the 1980s.
Design and development
The Kawasaki-built P-2J (originally P2V-Kai, where "Kai" means kaizen - "modification") was the last version of the Neptune to be produced. Work on the P-2J was begun in 1961. The first P-2J, converted from a P2V-7 (P-2H) performed its initial flight on 21 July 1966, and the last of a further 82 production P-2Js was delivered in March 1979.
The Wright radial engines of the Lockheed P-2s were replaced with 2,125 kW (2,850 HP) General Electric T64-10 turboprop engines built under license in Japan, using three-bladed propellers instead of the four-bladed units of late-model P-2s. The booster turbojets J3-IHI-7C, designed in Japan by Ishikawajima-Harima, and designated produced 13.7 kN (3,085 lbf) thrust. The new engines gave the P-2J a top speed of 650 km/h (403 mph).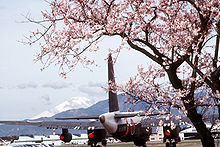 Picture - A Japanese P-2J (note the twin-wheel main gear) framed by cherry blossoms at the Naval Air Facility, Atsugi, Japan in 1985
The P-2J had accommodations for up to 12 crewmen. The forward fuselage was extended 4 feet 3 inches (1.29 m), with the tail surfaces being enlarged and their shape modified. AN/APS-80 search radar was fitted in a smaller radome. Updated avionics systems were installed, and these systems were much more compact than those used in other versions of the Neptune. The lighter avionics load permitted greater fuel capacity. The P-2J's main gear was fitted with two wheels each, rather than the one large wheel of the earlier models.
Operational history
The P-2J was phased out in the 1980s in favor of the P-3C Orion, which eventually replaced the Neptune in the ocean-patrol air fleets of the West. The last maritime reconnaissance squadron re-equipped with the Orion in 1993, but the P-2J remained in service for electronic reconnaissance and target support purposes.
Variants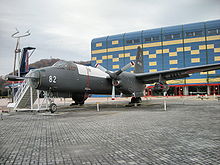 Picture - A P-2J at the Kakamigahara Aerospace Science Museum
P-2J
Originally called the P2V-Kai
T64 turboprop engines, IHI J3 engine pods, improved ASW/ECM gear, APS-80 search radar standard, increased fuel capacity, various other improvements; 1 converted from a P-2H, and 82 new-builds.
EP-2J
P-2J converted for ELINT. Two converted.
UP-2J
P-2J converted for drone support, target towing and test purposes. Four converted.
Operators
Japan
Japan Maritime Self Defense Force

Specifications (P-2J)
Data from Combat Aircraft since 1945
General characteristics
Crew: 10-12
Length: 29.23 m (95 ft 11 in)
Wingspan: 30.87 m (101 ft 3.5 in)
Height: 8.93 m (29 ft 3.5 in)
Wing area: 92.9 m² (1,000 ft²)
Empty weight: 19,278 kg (42,500 lb)
Max takeoff weight: 34,020 kg (75,000 lb)
Powerplant:
2x— Ishikawajima-Harima J3-IHI-7C turbojet, 13.7 kN (3,085 lbf) each
2x— IHI-built General Electric T64-10 turboprop, 2,125 kW (2,850 shp) each
Propellers: 3 bladed propeller, 1 per engine

Performance
Maximum speed: 650 km/h (350 knots, 403 mph)
Cruise speed: 402 km/h (217 knots, 250 mph) (max)
Range: (max) 4,445 km (2,400 nm, 2,765 mi)
Service ceiling: 9,150 m (30,000 ft)
Rate of climb: 548 m/min (1,800 ft/min)

Armament
3,629 kg (8,000 lb) including free-fall bombs, depth charges, and torpedoes; 16 x 5 in rockets under the wings
Related development
P-2 Neptune

Comparable aircraft
Avro Shackleton
Breguet Atlantique
P-3 Orion

Donald, David; Lake, Jon (editors) (1996). Encyclopedia of World Military Aircraft (Single volume edition ed.). London: Aerospace Publishing. ISBN 1 874023 95 6.
Michell, Simon (1994). Jane's Civil and Military Aircraft Upgrades 1994-95. Coulsdon, Surrey, UK: Jane's Information Group. ISBN 0 7106 1208 7.
Taylor, John W. R. (1966). Jane's All The World's Aircraft 1966-67. London: Sampson Low, Marston & Company.
Sullivan, Jim, P2V Neptune in action. Squadron/Signal Publications: Carrollton, TX, 1985.
Wilson, Stewart (2000). Combat Aircraft since 1945. Fyshwick, ACT, Australia: Aerospace Publications Pty Ltd. ISBN 1-875671-50-1.

Kawasaki P-2J Pictures
More aircraft.
Source: WikiPedia