Kawasaki T-4 Video - Picture
Kawasaki T-4 Aircraft Information
Kawasaki T-4
T-4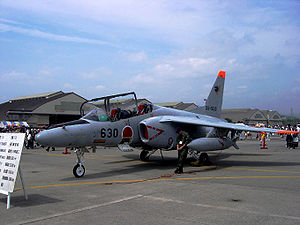 Picture - T-4 in MCAS Iwakuni on Friendship Day
Role: Intermediate trainer aircraft
Manufacturer: Kawasaki
First flight: July 29, 1985
Introduced: 1988
Produced: 4+208

The Kawasaki T-4 is a subsonic intermediate jet trainer aircraft used by the Japan Air Self-Defense Force. It is currently used by the JASDF's Blue Impulse aerobatic team. The first XT-4 prototype flew on July 29, 1985. The first production aircraft was delivered in 1988.
History
In November 1981, Kawasaki was selected as main contractor to design and produce an aircraft relating to the MT-X program. This program was launched to replace the Lockheed T-33 and Fuji T-1 jet trainer aircraft in service in the Japan Air Self Defense Force. The initial program planned the build of 220 aircraft and entry into service in 1988.
Variants
XT-4: Prototype. 4 built.
T-4: Two-seat intermediate jet trainer aircraft. 208 built.

Operators
Japan Japan Air Self-Defense Force
Specifications (T-4)
Data from Jane's Aircraft Recognition Guide
General characteristics
Crew: two pilots in tandem
Length: 13.0 m (42 ft 8 in)
Wingspan: 9.94 m (32 ft 7 in)
Height: 4.6 m (15 ft 1 in)
Empty weight: 3,790 kg (8,360 lb)
Max takeoff weight: 7,500 kg (16,530 lb)
Powerplant: 2x— Ishikawajima-Harima F3-IHI-30 turbofans, 16 kN (3,520 lb) each

Performance
Maximum speed: 1,038 km/h (645 mph)
Range: 1,670 km (900 nm)

Armament
Two hardpoints for training bombs, rockets

Comparable aircraft
Dassault Breguet Dornier Alpha Jet
BAE Hawk
Aero L-59
PZL I-22 Iryda
Soko G-4 Super Galeb
CASA C-101
IA-63 Pampa

Kawasaki T-4 Pictures
More aircraft.
Source: WikiPedia