Koolhoven F.K.43 Video - Picture
Koolhoven F.K.43 Aircraft Information
Koolhoven F.K.43
F.K.43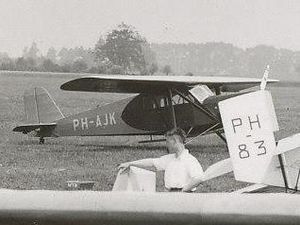 Role: passenger transport
Manufacturer: Koolhoven
First flight: 1931
Introduction: 1931
Primary users: KLM Royal Netherlands Air Force Royal Air Force
Number built: 20
Developed from: Koolhoven F.K.41

Koolhoven F.K.43 was a small four-seat, single-engined monoplane passenger aircraft manufactured by Koolhoven in the Netherlands. It was a direct successor of the F.K.41.
It was a quite successful design with good flying qualities. KLM purchased twelve aircraft and used it as a flying taxi and for pilot training. Two of these where build by Aviolanda.
At the outbreak of World War II, four F.K.43s were requisitioned by the Royal Netherlands Air Force. One of these escaped destruction by flying to England, where it was taken into use as a liaison aircraft by the Royal Air Force. After the war another eight aircraft were manufactured by Fokker (the aircraft were called "Fokhovens"). Only one, heavily modified aircraft has survived until today. It is today located at a museum in Raamsdonkveer.
Specifications (F.K.43)
General characteristics
Crew: 1
Capacity: 3 passengers
Length: 8.3 m (27 ft 2¾in)
Wingspan: 10.9 m (35 ft 9 in)
Height: ()
Max takeoff weight: 1,140 kg ()
Powerplant: 1x— de Havilland Gipsy Major 2-blade, 97 kW (130 hp)
Propellers: 1 propeller, 1 per engine

Performance
Maximum speed: 190 km/h (103 knots, 118 mph)

Koolhoven F.K.43 Pictures
More aircraft.
Source: WikiPedia