Stinson L-5 Sentinel Video - Picture
Stinson L-5 Sentinel Aircraft Information
Stinson L-5 Sentinel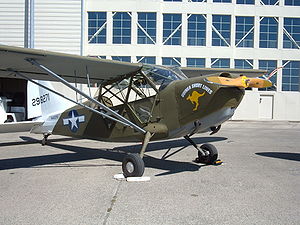 Role: Liaison / Observation / Light plane
Manufacturer: Stinson
Produced: 1942-1945
Number built: over 3,896
Developed from: Stinson YO-54

The USA light aircraft L-5 Sentinel began life as the pre-war Stinson Model 105. The model 105 was nicknamed Voyager, built by the Stinson division of Consolidated Vultee. When World War II broke out, the Voyager was redesigned and then entered into service as a liaison aircraft. It also flew in the artillery spotter role and as an air ambulance. The later model L-5s had their fuselages modified to accommodate one stretcher patient.
The L-5 was manufactured between October 1942 and September 1945, during which time a total of over 3,896 of these unarmed, two-seat aircraft were built for the United States armed forces, making it the second most widely used light observation aircraft of the war. Personnel in all service branches commonly referred to it as the "Flying Jeep".
The L-5 was primarily constructed from steel tubing and plywood and was covered with doped cotton fabric.
Operational history
Capable of operating from forward unimproved airstrips, the L-5 "Sentinel" delivered information and needed supplies to the front line troops. On the return trip, she would evacuate the badly wounded soldiers to rear area field hospitals for medical attention.
Variants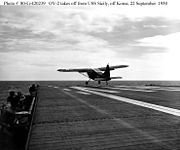 Picture - USMC OY-2 takes off from the USS Sicily, 1950.
Five versions were produced for the U.S. Army Air Force (USAAF); the L-5, L-5B, L-5C, L-5E and L-5G. There was no L-5A variant as is often reported, as the designation was intended for conversions of some L-5s modified with 24V electrical systems. The conversions were cancelled when the modification became standard on all subsequent models. The L-5 carried a pilot and observer in a tandem seating configuration. The L-5B through L-5G models were modified to carry a litter patient or light cargo, or a rear seat passenger sitting in the normal position. The Navy and Marine versions of the airplane were the 0Y-1 and 0Y-2. The latter differed from all others in that it had a 24 volt electrical system instead of the previously standard 12 volts. The British procured 40 L-5s, known as Sentinel Is, and 60 L-5Bs known as Sentinel IIs.
O-62
Observation, artillery spotting and liaison aircraft, powered by a Lycoming 0-435-1 piston engine. 275 built.
L-5
Observation, artillery spotting and liaison aircraft. 1,538 built, 79 transferred to USN/USMC as 0Y-1.
L-5A
Cancelled conversions of L-5 with 24V electrical systems
L-5B
729 aircraft with rear fuselage hatch to permit loading of a stretcher or cargo; twin-float capability. 60 transferred to RAF as Sentinel Mk II, 40 transferred to USN/USMC as 0Y-1.
L-5C
200 L5-B were equipped K-20 reconnaissance cameras.
L-5D
L-5s modified in 1943 to L-5C standard
L-5E
750 STOL variants with larger brakes and ailerons drooped 15° as flap extensions; 152 transferred to USN/USMC as 0Y-2.
L-5G
L-5E airframe powered by 142-kW (190-hp) Lycoming 0-435-11 piston engines with controllable pitch propellers. 115 built, 785 cancelled by end of the war. Electrical system converted to a 24-volt system. Final production model redesignated U-19B.
XL-5
One test and evaluation aircraft, powered by a Lycoming 0-435-2 piston engine.
U-19A
L-5 variants still in service redesignated U-19A by the USAF in 1962.
U-19B
One L-5E used as a glider tug at the United States Air Force Academy in 1962.
0Y-1
306 L-5 and L-5Bs transferred to the United States Marine Corps and United States Navy.
0Y-2
152 transfers of L-5E to USN/USMC; 30 0Y-1 conversions to 24V electrical system.
Sentinel Mk I
40 L-5s supplied to the RAF under Lend-Lease.
Sentinel Mk II
60 L-5Bs supplied to the RAF under Lend-Lease.
Aircraft markings
Standard camouflage as delivered from the factory was non-specular medium gray undersides with olive drab above, broken around the edges of the wing and tail surfaces with medium green. Stars, or "stars and bars" were applied to both sides of the fuselage and on the upper left and lower right wingtips. The USAAF number appeared on both sides of the fuselage in either yellow or black. Most aircraft were repainted silver during the post-WWII period. A variety of unit identification markings including nose art were applied in the field. Interior surfaces were generally finished in chromate green or a slightly darker "interior green".
Units using this aircraft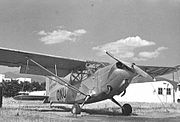 Picture - UN liaison service in Greece during the Greek Civil War
The USAAF, US Marines, and US Navy used this aircraft in the European, Pacific, and Far East theaters during World War II, and in Korea during the Korean War. The Royal Air Force operated 100 Sentinels in India and Burma.
After WWII, the Philippine Army Air Corps used this aircraft from 1945 to 1947. This aircraft remained in service after 1 July 1947 when the PAAC was renamed the Philippine Air Force. The Italian Air Force operated approximately 100 L-5's from 1946 into the 1950s. Many other countries also received L-5's after the war, particularly India.
Postwar use and current status
After World War II, the L-5 was widely used by the Civil Air Patrol for search and rescue work. Today there are about 300 known examples left world wide and less than half are in flying condition. A restored, flying example of the 0Y-1 variant (VH-NOY) is located in Coolangatta, Queensland, Australia. This example was built for the USAAF but was finally supplied to the US Navy, serving until 1949. A group called the Sentinel Owners and Pilots Association is dedicated to the preservation and enjoyment of this aircraft type.
Operators
Australia
Royal Australian Air Force - The RAAF operated one L-5 Sentinel, on loan from the USAAF. The aircraft was in service with the RAAF from 1944 to 1946.

Italy
Italian Air Force

Japan
National Security Force
Japan Ground Self-Defense Force

South Korea
Republic of Korea Air Force

Philippines
Philippine Army Air Corps
Philippine Air Force

Taiwan
ROC Air Force

Thailand
Royal Thai Air Force

United Kingdom
Royal Air Force
No. 27 Squadron RAF
No. 117 Squadron RAF
No. 194 Squadron RAF

United States
Civil Air Patrol
United States Army Air Force
United States Air Force
United States Marine Corps
United States Navy

Survivors
Jimmy Doolittle Air & Space Museum, Travis Air Force Base, Fairfield, California

Specifications (L-5)
Data from March Field Air Museum web site
General characteristics
Crew: 2 (pilot and observer)
Length: 24 ft 1 in (7.34m)
Wingspan: 34ft 0 in (10.36m)
Height: 7 ft 11 in (2.41m)
Wing area: 155 ft² (14.40m²)
Empty weight: 1550 lb (702kg)
Loaded weight: 2020 lb (916kg)
Useful load: lb (kg)
Max takeoff weight: 2050 lb (929kg)
Powerplant: 1 x— Lycoming O-435-1, 185hp (kW)

Performance
Never exceed speed: 145 knots (163 mph)
Stall speed: 38 knots (42 mph, km/h)
Range: 375 nm no reserve ()
Service ceiling: 15,800 ft (4,815.60m)
Rate of climb: ft/min (m/s)
Wing loading: lb/ft² (kg/m²)
Power/mass: hp/lb (W/kg)

Armament
none
Stinson L-5 Sentinel Pictures
More airplane videos.
Source: WikiPedia