Lavochkin La-150 Video - Wings of Russia - Fighters - The Jet Era
Lavochkin La-150 Aircraft Information
Lavochkin La-150
Lavochkin La-150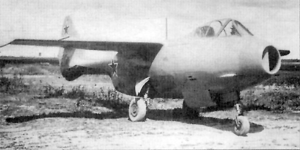 Picture - Pre-flight test plane
Role: Jet fighter
Manufacturer: Lavochkin
Designed by: Semyon Lavochkin
First flight: September 1946
Retired: 1947
Status: Project cancelled
Primary user: Soviet Air Force
Number built: 8

Lavochkin La-150 (a.k.a. Izdeliye 150 - Aircraft or Article 150; USAF reporting code Type 3) was the Lavochkin bureau's response to Joseph Stalin's order of February 1945 to design and build a single-seat jet fighter around a Junkers Jumo 004B turbojet. (Note:- All Lavochkin's jet aircraft were referred to in house, and at government level, as "Izdeliye 150" etc.. The use of the La-prefix was actually introduced by western intelligence bureau to help avoid confusion)
The La-150 was of distinctive pod-and-boom layout with a shoulder-mounted wing. Like the competitive designs from the Mikoyan-Gurevich and Yakovlev bureau, the La-150 was awarded a prototype/pre-series aircraft order, the first of the prototypes flying in September 1946 powered by the Soviet derivative of the Jumo engine, the RD-10 rated at 900 kgf (1,984 lbf). Unique among first-generation Soviet jet fighters in having a fuselage-mounted undercarriage, the La-150 featured a somewhat complex, overly robust and heavy structure and was, in consequence, underpowered. Excessive dihedral effect resulting from the wing positioning was rectified on the second, and subsequent, prototypes by drooping the wingtips, but excessive oscillation of the tail surfaces at high speeds resulting from inadequate stiffness of the tailboom could not be overcome. In the event, only five airframes were completed.
Operators
Soviet Union
Soviet Air Force

Variants
La-VRD Not a variant, as such, but Lavochkins first toe-dip into jet-engined aircraft. Intended to use L'yulka's S-18 turbojet. Delayed development of the S-18 and the Lavochkin bureau's move back into Moscow forced cancellation of the project.
La-150M - One La-150 was modified to produce the La-150M. the major differences were a separate wing, with dow-turned wingtips, which could be removed from the fuselage, a wider cockpit and various equipment changes.
La-150F One La-150 was modified with a Izdeliye YuF(Yoomo Forseerovannyy) - Article Yumo (004) uprated, afterburning RD-10. Confusingly this engine was also named RD-10F,(x  la Yakovlev), but the afterburner was a completely different design.

Specifications (La-150)
Data from Gordon, Yefim. Early Soviet Fighters.Midland Publishing.Hinkley. ISBN 1 85780 139 3
General characteristics
Crew: 1, pilot
Length: 9.42 m (30 ft 11 in)
Wingspan: 8.20 m (26 ft 10.83 in)
Height: 2.6 m (8 ft 6.36 in)
Wing area: 12.15 m² (130.64 ft²)
Empty weight: 2,156 kg (4,753 lb)
Loaded weight: 2,973 kg (6,554 lb)
Powerplant: 1x— RD-10 turbojet, 8.8 kN (1,984 lbf)

Performance
Maximum speed: 878 km/h (475 kts)
Range: 493 km (306 mi)
Service ceiling: 12,600 (41,338)
Rate of climb: 22.1 (4,349)
Wing loading: 244.6 kg/m² (50.22 lb/ft²)
Thrust/weight: 0.303

Armament
2 x— 23 mm NS-23 cannon with 75 rpg

Lavochkin La-152
Lavochkin La-156

Comparable aircraft
Mikoyan-Gurevich MiG-9

Gunston, Bill. The Osprey Encyclopedia of Russian Aircraft 1875-1995. London:Osprey, 1995. ISBN 1 85532 405 9.
Gordon,Yefim. Early Soviet Jet Fighters. Midland Publishing. Hinkley. ISBN 1 85780 139 3

Living Warbirds: The best warbirds DVD series.
Source: WikiPedia